New Details About Insomniac's Fuse, Formerly Known as Overstrike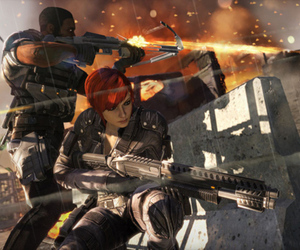 Any new IP from Insomniac Games (developers of the hugely popular Ratchet & Clank and Resistance franchises) is enough to raise eyebrows and expectations, and Overstrike was no different when it was revealed at E3 2011 – shortly after which it dropped almost completely off the radar.
Though many believed it KIA, EA and Insomniac recently gave it the kiss of life, bringing it back to the world with a new name but the same delicious art style.
Now known as Fuse, the 3rd-Person, 4-player shooter is all about teamwork (and explosions, natch). Set in a future where a volatile energy source (the titular Fuse) is the catalyst for war and conflict and various other nasty pastimes, the game pits crack mercenary team Overstrike 9 against an evil organisation called Raven, and gives you a choice of four characters with varying skills, weapons and abilities.
Leading man Dalton Brooks carries a Mag-shield that acts as cover on the fly and has a special attack to "liquify" enemies; scientist Izzy Sinclair can heal and support team-mates; detective Jacob Kimble is your area-of-effect man, keeping enemies at bay with a kind of futuristic chain-lightning; and finally Naya Devereaux is a world-class thief with the rather useful ability to create miniature black holes. Oh, and she can cloak herself when in danger. Nifty.
When playing alone, the LEAP action allows you to switch seamlessly between all four characters to complete multiple objectives and take down multiple targets at once, and killing enemies will earn you a form of XP with which to upgrade weapons and skills.
With more than a hint of Microsoft's last-gen co-op shooter Brute Force about it (anyone else remember that?), it's Fuse's bright, vibrant, cartoonish art style that sets it apart, even more-so than its interesting protagonists or sci-fi setting. But regardless of whether it's the gorgeous visuals, intense cooperative gunplay or off-the-wall characters that ultimately capture our imagination, we're just glad it's back.
Fuse is expected to launch on Xbox 360 and Playstation 3 in March 2013.