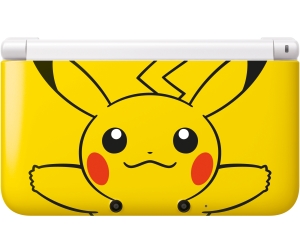 Nintendo hopes you're dreaming of a Yellow Christmas this year with an all new range of Nintendo 3DS XL colours.
As it customary in the roll up to Christmas, Nintendo are looking to sell a few more Nintendo 3DS XL consoles by putting them in pretty new cases. From 16th November, you'll be able to purchase a Limited Edition White Nintendo 3DS XL, while on December 7th you'll be able to buy the Limited Edition Pikachu Nintendo 3DS XL console.
The White Nintendo 3DS XL comes in two flavours; one with Mario Kart 7 pre-installed, while the other has the brilliant Super Mario 3D Land pre-installed.
If Pokémon is more your thing, the Pikachu Nintendo 3DS XL is a standalone system, featuring a yellow casing with the popular character on the top case.
Both are available while stocks last!
[nggallery id=1136]
Both versions of the White Nintendo 3DS XL are available on November 16, while the Yellow Pikachu Nintendo 3DS XL will be available on December 7.