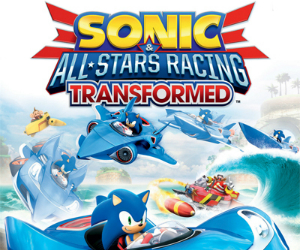 Sonic and his buddies' latest kart racer is out now on some platforms and SEGA has released some new trailers to get you buzzed for what appears to be a damn fine game.
The first trailer details the gameplay itself and the large roster of SEGA characters to choose from in Sonic & All-Stars Racing Transformed. The main hook is obviously the transforming, where karts become aircrafts and boats, respectively.
The other video you can see below is a Behind-The-Scenes with Danica Patrick. Now, in Europe, Patrick mightn't be a household name, but she's a well known NASCAR driver in the States.
Watch as Ms. Patrick does some voice over work for the game, plays Sonic & All-Stars Racing Transformed and gets in a car with a hedgehog behind the wheel.
Sonic & All-Stars Racing Transformed is available now for PlayStation 3 and Xbox 360. The game will be released on November 30 in Europe and is available now for Nintendo Wii U. The game will be released on December 7 in Europe and December 11 in North America for PlayStation Vita and Nintendo 3DS. Windows PC and iOS versions will be coming at a later date