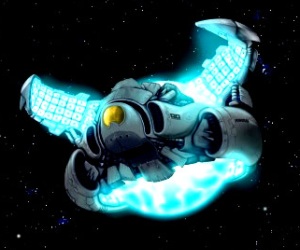 So, following our bout of code-breaking last week, we signed up to email updates for FuturLab's cryptic curio, FanPoweredFlight.net, and waited with great anticipation for an update. Two days and twenty-one hours later, we received an email signed John Marsden (FuturLab's creative director) directing us to a new site playing a brand new video.
As you can see from the video below, it's anything but subtle, and while it doesn't clarify precisely what "fan-powered flight" means, we can piece it together. In response to possibly overwhelming demand, FuturLab are working on either a new enhanced version of Velocity or a full sequel. Given that the PlayStation Minis title already works fine on either the Vita or PS3, there's not much incentive to buy it again without a host of new content. More levels are likely, as well as alternate modes (Velocity co-op, anyone?) and improved features. Or it's a sequel, in which case you'll have to bear with us while we attempt to stop whooping and air-punching. Check out the video:
We'll bring you more info as it becomes available.
Velocity is available to download on PlayStation 3 or PS Vita via PlayStation Network, priced at £3.99.