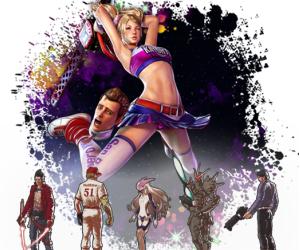 The makers of Lollipop Chainsaw, No More Heroes and more have been acquired by GungHo Online Entertainment.
Who are GungHo, you ask? Well, funnily enough, we brought you news of a GungHo release, this morning. Though you may know them better for the MMORPG, Ragnarok Online, as Dokuro is published by the American division of the company that opened last year.
GungHo say the combination of Grasshopper Manufacture's planning and development, combined with GunGho's skills in the online games and management departments will help them produce ever higher quality products.
Terms of the actual deal haven't been disclosed, however.
We weren't expecting this story, but what do you make of it?
UPDATE: We've been sent some quotes from the parties involved.
Kazuki Morishita, President and CEO of GungHo Online Entertainment:
We believe the strength of a publisher lies in its creative talent so with the addition of GRASSHOPPER MANUFACTURE and SUDA51 we are adding some of the most innovative talent in today's gaming world to our stellar family of independently-operated studios. SUDA51 projects are known to put a unique spin on every game so coupled with our proven ability to support development with AAA resources including a tailored online experience, we believe gamers will benefit from this collaboration.
GRASSHOPPER Founder and Managing Director, Goichi Suda:
By joining GungHo Online Entertainment, we are aligning ourselves with a strong, established publishing force that will support our vision to further create inspired new games that appeal players across the world. The GRASSHOPPER team and I have many new ideas to share with our fans as we move forward so this union with GOE will help us realize our future plans.