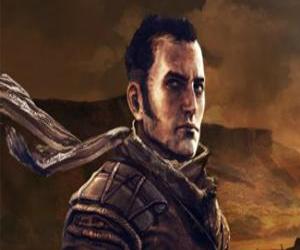 Mars is just one of those places that gets a bad rep from fiction, like the Congo or the Arctic. If you go there, bad things will happen. In Total Recall (the Arnie version, at least), it's all about the mutants and alien technology and rebels; in Red Faction, it's all about explosions, alien technology and rebels; in John Carter, it's all about Taylor Kitsch, alien technology and rebels. Oh, and genocide.
Well, Mars War Logs, the new Action-RPG from Spiders Games and Focus Home Interactive, might not feature so many actual rebels, but it does feature alien technology, explosions, mutants and an awful lot of Mad Max-style get-up.
It follows Roy Temperance, who – along with his awesome name and band of morally-ambiguous companions – gets dragged into a conflict of some kind with an enemy of some kind. Ok, so we don't know much about the plot yet, but Spiders are keeping us interested with plenty of screens and loads of trailers, the latest of which gives us an insight into the real-time combat which, if we're fair, actually looks pretty good, eschewing the pace-murdering turn-based slog of the otherwise-great Of Orcs and Men (on which Spiders worked alongside lead developers Cyanide).
The trailer looks at the classes (mage-like Technomancer, sneaky Renegade and brutish Fighter), the loot and gear, the crafting system and Roy's ability to fight alongside his companions. Check it out below.
Mars War Logs will be available to download on Xbox 360 (via Xbox Live), PlayStation 3 (via the PlayStation Network) and Windows PC (via Steam) in Spring 2013.