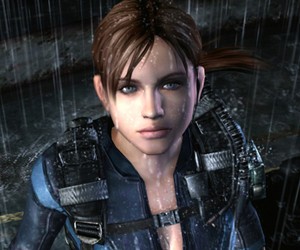 Resident Evil Revelations' console release will feature two new character's and two new creatures. The Wii U version will also feature Miiverse elements.
Rachel, undead Jessica Rabbit impersonator, made her debut in the 3DS version of Resident Evil Revelations as a lifeless cadaver, but will be playable in the console version through Raid mode.
She joins fan favourite and gas mask fanatic Hunk as the second new playable character in this console version.
Further additions include the Wall Blister, a humongous new enemy, alongside a second new adversary that will assault players in the later stages of Raid mode.
The Wii U version will benefit further from both Gamepad and Miiverse integration.
The game will accurately translate the 3DS' dual screen setup through the gamepad, allowing instant map and weapon access during gameplay. Alternatively players can play with a Classic Controller Pro or off TV on just the Gamepad.
Wii U players will also be able to post messages to Miiverse upon death, and create thoughts for the game's enemies purely with the intent of taunting other players.
Resident Evil Revelations may not quite measure up to Resident Evil 4, but it is undoubtedly the best Resident Evil since Mikami's final contribution to the series and well worth a play.
Character and enemy additions are welcome, if slightly par for the course, but the extra Miiverse elements sound like wonderful experiments with Wii U's unique connectivity, and is precisely the sort of thing that could actually help the Wii U establish itself. Honestly, it's just nice to see a company giving it some thought…
[nggallery id=1385]
Resident Evil Revelations will be released on May 24 in Europe and May 21 in North America for Windows PC, Xbox 360, PlayStation 3 and Nintendo Wii U. The game is available now for Nintendo 3DS