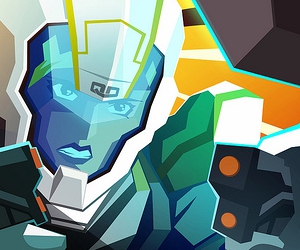 Velocity Ultra is an expanded Vita version of the celebrated PS Mini, Velocity, that adds numerous improvements. Even ones the developers aren't too keen on.
Velocity is a shoot 'em up that involves quickly teleporting around the screen to avoid both bullets and scenery.
This expanded release adds leaderboards, PSN Trophies, a gorgeous, unified pulp-manga art style and numerous elements of 'smoothing out the rough edges'.
You can also tap the Vita's screen to teleport and aim bombs with the right stick. These were community requested features that the developers openly criticise in the article on PSBlog saying;
"[Touch to teleport and bombs on the right stick are] two highly requested features for the PS Vita version that, to be perfectly honest, don't really work very well in our opinion, but you wanted them, so we put them in so you can make up your own mind!"
Curious that the developer has added the feature yet doesn't put much stock in them. They seem pretty nifty in the trailer, it just strikes me as odd that the developer would add an alternative control style that they haven't much faith in. Oh well, Goldeneye had those two controller for one player schemes so I suppose there have been worse control options in a game.
The game looks genuinely solid, and marks another nice notch in Sony's Indie bedpost. Check the trailers, read an interview with studio director James Marsden, and then get the date marked.
We gave it a 9 in our review. Sorry about that Robin.
Velocity Ultra will be released for Playstation Vita on 15 May.