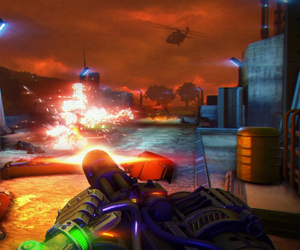 Everything that's been released on this game looks mental. It really does. From trailers, dev diaries and screenshots, Far Cry 3: Blood Dragon looks like bundles of fun and thankfully, there isn't long left until we'll all get to play it.
Today, Ubisoft have dropped a ton of new things about Rex Colt's upcoming adventure. You can check out the brand new screenshots and the trailer, below.
On top of that, you can now pre-order the game's official soundtrack on iTunes for just £7.99. With all original tracks from the instrumental power-metal band Powerglove (obviously inspired by the NES accessory), the 25 tracks within the album look to give the player that feel of a 1980s movie based on the future. In this case, the future is 2007. If you pre-order the game on PC through Ubisoft's UPlay service, you'll also get the soundtrack as a nice little extra.
This game looks like such an enjoyable ride. As a big fan of Far Cry 3, I'm looking forward to seeing if this can live up to that.
[nggallery id=1457]
Far Cry 3: Blood Dragon will be released on May 1 for Windows PC, Xbox 360 and PlayStation 3