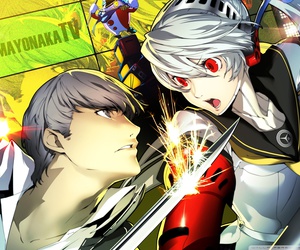 Badges, a keyring, a soundtrack, a tote bag, a 'digital fan pack', and a jigsaw? Yep, an honest to goodness jigsaw.
Now, that might sound like an odd addition but the jigsaw is a cool piece of Persona 4 Arena artwork. And after a severe trouncing online, I imagine that the puzzle might offer quite the therapeutic respite.
The badges are also a great addition as they're modelled after the actual pins worn by Chie Satonaka in Persona 4 Arena and Persona 4 Golden – lovely.
You can see the rest of the swag in the not-slightly-awkward-unboxing video below, and you can throw a pre-order down on the limited edition on the Zen United store here.
Persona 4 Arena was 2012's best fighter, mixing the funky aesthetics of the Persona series with the eccentric fighter design of Arc System Works (BlazBlue and Guilty Gear). Unfortunately it didn't make it to British shores last year, though that does mean I can legitimately vote for it again in this year's GOTYs… The phrase 'better late than never' has rarely rung more true.
Persona 4 Arena is available now in North America and will be released in Europe on May 10 for Xbox 360 and PlayStation 3