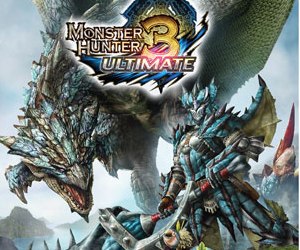 After listening to community feedback, Capcom are bringing the highly sought after cross-region play in a patch that will be released on April 15.
But there's more, and via CVG we have learned that along with bringing the functionality to play across regions with up to four players, the game will now be fully playable off-screen on the Wii U Gamepad. Currently, the Gamepad operates as a screen full of, well, whatever you want it to show. You can display the map, health bars, anything you want, so you can have a completely uncluttered main screen to explore with. I guess if you do play on the Gamepad, it'll force everything onto that screen.
The patch is dated for April 16 at 1am in the UK, and April 15 at 5pm Pacific Time in the USA.
We scored Monster Hunter 3 Ultimate a reasonable 8/10, and would recommend it – but I personally found it very, very hard to get involved in, and not because there are apparently stock issues in the UK, which Nintendo have apologised for and are looking to rectify this very week.
You can read our "newcomer's diary" feature, here.
Monster Hunter 3 Ultimate is available now for Nintendo 3DS and Wii U.