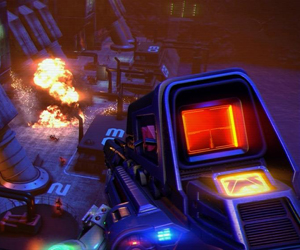 There were many – including myself – that believed the supposed screenshots of Far Cry 3 Blood Dragon that popped up around April Fool's Day could have been Ubisoft having a laugh but today, there's even more evidence that points to this being real. And brilliant. 
Apparently coming on May 1 – according to a listing on Xbox marketplace, Blood Dragon looks like an 80's movie that saw 2007 as a distant future where neon lighting was a requirement. You can check out the full overview, below:
"Far Cry® 3 Blood Dragon is THE Kick-Ass Cyber Shooter taking place on a bizarre open-world island crawling with evil. Welcome to an 80's VHS vision of the future. The year is 2007 and you are Sargent Rex Colt, a Mark IV Cyber Commando who's fighting against a cyborg army gone rogue. Your mission: get the girl, kill the baddies, and save the world. Experience every cliché of a VHS era vision of a nuclear future, where cyborgs, blood dragons, mutants, and Michael Biehn (Terminator, Aliens, Navy Seals) collide. Playing Far Cry® 3 Blood Dragon doesn't require a copy of Far Cry® 3."
The important take-home is that this is said to be a standalone game and not DLC for the terrific Far Cry 3. So, if you want to jump into Blood Dragon without playing one of 2012's best games, you can. But, if you haven't played Far Cry 3 yet, you're just being silly.
No word on any other platforms that the game may appear on, but chances are that PS3 and PC players won't be neglected. If the as-of-yet unannounced Far Cry 3 Blood Dragon embraces the clichés and cheese, this could be an absolute belter.