Android and Apple devices get PES 2017 today
The best football game ever made is out now for mobile devices.
While the game has been optimised to allow it to run on our phones, the game still uses the same engine that powers the console releases.It's free (with in-app purchases available) but comes complete with the modes that you'll expect from it's bigger brother.
As well as this, to celebrate the official launch, there's a special event allowing you to recruit excellent players like Messi and another one that allows you to play against special COM controlled teams for special prizes.
To download go to here for Apple, or here for Android, also check out the image below for a considerable cringe factor.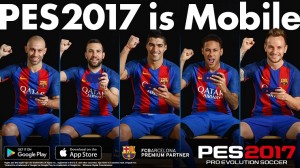 If the mobile version doesn't float your boat you can still buy the console version, which you should be able to get for a decent deal these days. Dan reviewed it back in September last year giving it 10/10, it really is that good.