Sony details updated PSVR headset.
In a blog post about the ultimate PS VR FAQ, Sony has updated the FAQ with new questions for today. These detail an updated PS VR headset and availability for it. Read our review of the original here. The upcoming headset will have integrated headphones. It will have an updated processor unit that allows HDR pass through without disconnection and even feature an updated design. The important bits for previous owners and potential owners are as follows:
The new version, model number CUH-ZVR2, features an updated design that enables the stereo headphone cables to be integrated with the VR headset and a slimmer, streamlined connection cable. There's also an updated Processor Unit that supports HDR pass through, enabling users to enjoy HDR-compatible PS4 content on a TV without having to disconnect the Processor Unit in between the TV and the PS4 system. This function can be used only when the VR headset is turned off.
This has been a big complaint for many people on PSVR. The updated processor unit and streamlined cables for stereo headphones are definitely great improvements. The new model will be CUH-ZVR2 while the original was CUH-ZVR1. Games will work across both but you can't swap out the processor units due to how cabling works with them. We have no details on whether the internal tech has changed or if any other changes have been made as of now. Read the full FAQ here.
The Japanese PlayStation blog has more details like the release date for Japan which is October 14 and an update on MOVE controlers. The new cabling setup is shown in the comparison below: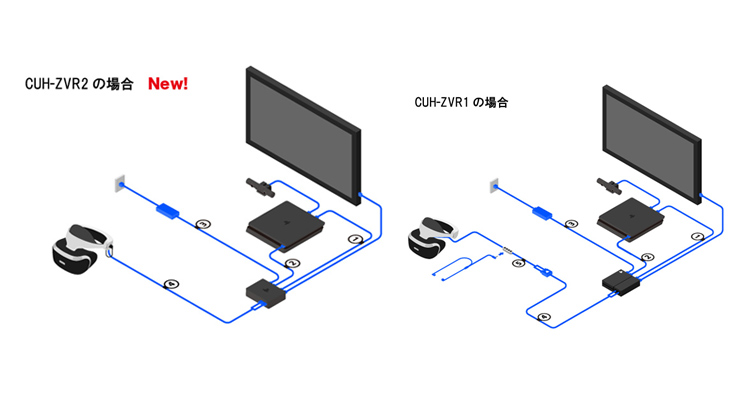 Thanks, Gadgets360.