Epic Games brought Fortnite to PC and consoles and it is quite the phenomenon right now but hitting iOS is a huge deal.
With PUBG hitting mobile platforms through Tencent's 2 mobile releases (one of which is playable in English in Canada right now), more and more developers are looking into mobile. Some are going all out like Epic Games with Fortnite. Fortnite on iOS is not just a mobile release using the IP or a slimmed down variant of Fortnite Battle Royale. It is the real deal and the full Battle Royale experience on your iPhone (or iPad). If you've wanted to see how it is on iOS, this should help you out. It is currently undergoing an Invite Event on iOS but getting an invite isn't a long drawn procedure. Before you get an invite, the device requirements are important.
Which phones can play Fortnite Battle Royale on mobile?
Currently, it is iOS only and you need a device running iOS 11. On the iPhone side, 6S or SE and later is what you need. On iPad, it works on iPad Mini 4, iPad (2017), iPad Pro, and iPad Air 2 or later. It is coming to Android in the next few months but not right now.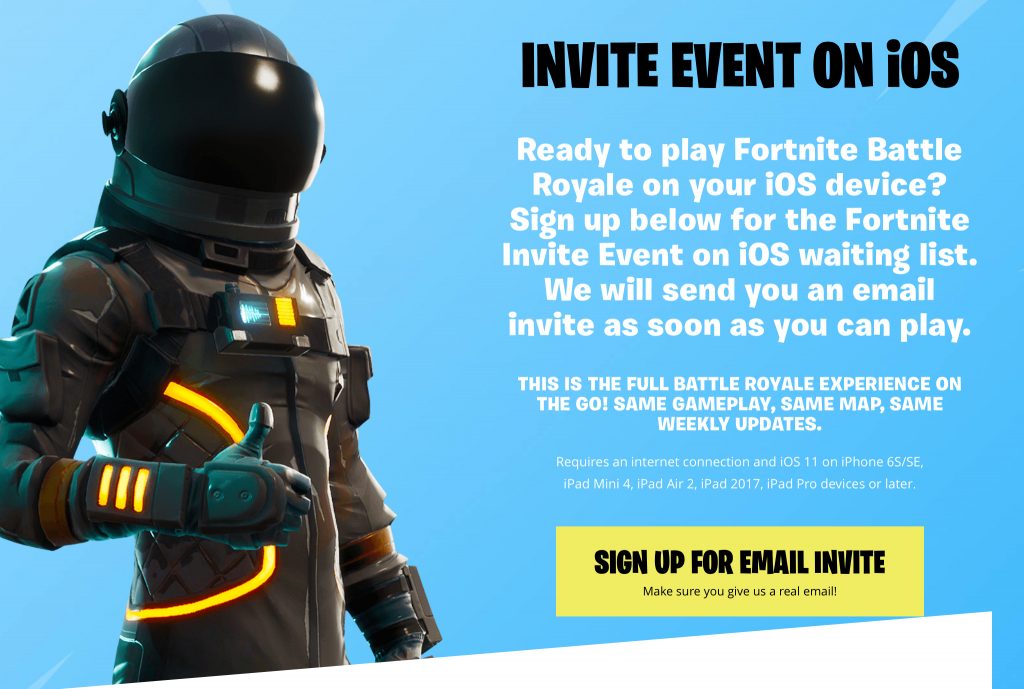 How do I get an invite?
The easiest way would obviously be getting an invite code from a friend but that isn't an option for many. You need to sign up right here and wait for an email. Epic Games is sending out invites in waves as the servers can take the load.
Will Fortnite on iOS be the same as the PS4, Xbox, or PC version?
It will be when it comes to the map, content, and updates. In fact there even is cross play and save. By default mobile players will play with mobile players online but if you squad up with a friend on say PC, your squad will be matched with PC squads. The same applies for either console. When you sign up for an invite, Epic Games even asks if you already play Fortnite on another platform because your progression and saves carry over. This is a huge deal.

Can I download the game in advance before getting an invite?
Yes you can download the iOS build from the App Store right here for free. It is a 2GB download but it won't actually work for you until you get an invite to play it on iOS. Note that this will likely get loads of updates as time goes by so you might end up using a lot of bandwidth for no reason until you get the actual invite.
We will have more Fortnite coverage for both the iOS version and the Battle Royale on PC and consoles over the coming weeks.