On Twitter tonight, the official Resident Evil account unveiled the Deluxe Edition of Resident Evil 2.
The North American Resident Evil 2 Deluxe Edition includes a DLC pack with additional costumes for Claire and Leon and more – including an Elza Walker costume – as well as a reversible cover!

Pre-order: https://t.co/RPZfl7dTVG pic.twitter.com/UUFpHkJLjh

— Resident Evil (@RE_Games) October 8, 2018
Currently only confirmed for release in the US, this physical Deluxe Edition comes with a cover that features Leon, but can be reversed to feature Claire instead. Claire is best, after all.
There is also a bunch of DLC too, including three outfits for Claire, most notably including the Elza Walker costume from the scrapped version of the original RE2, affectionately known as "Resident Evil 1.5" by fans. On top of the costume changes, there are the Albert Model Samurai Edge handgun and the original soundtrack option for in-game nostalgia. It remains to be seen/heard if that actually fits the new game, however.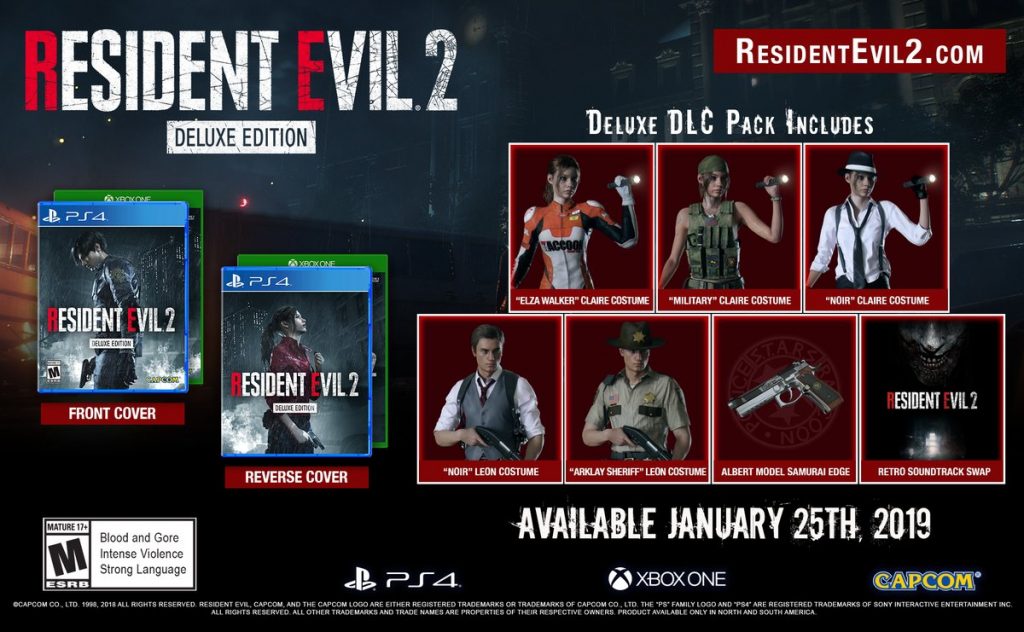 Personally, I would instantly switch the cover to Claire. I'm also really fond of that Elza Walker outfit, as it's a nice tip of the hat to that original version of the game. I remember seeing screenshots in magazines, back before the internet was really a thing, and being disappointed when the game was scrapped and restarted. Obviously, history remembers that Resident Evil 2 was one of the best games in the series, and hopefully this remake will repeat that feat when it releases on PlayStation 4, Xbox One and PC on January 25th 2019.