Do you have a child who is obsessed with Fortnite? Maybe it's you yourself who are obsessed and also like toys? Well, if you like NERF then you can own a replica Fortnite gun.
Available from Smyths Toy Superstores from April 5 and nationwide from April 19 the NERF range of Fortnite guns comes with two full sized weapons inspired by the guns in the game and three mini-sized guns called 'Microshots', all guns are for ages eight years and up.
The NERF Fortnite SP-L is based on the regular blaster from the game and comes with a detachable barrel, remove it for close quarters play, or attach the barrel when you need to fire over longer distances. The gun's clip carries three bullets at a time and comes with six bullets in total, which will definitely go missing under furniture or down the sides of the sofa.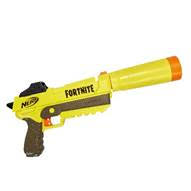 Secondly the NERF Fortnite Elite AR-L is based on the AR rifle from the game. The gun has a clip that holds ten bullets and it fires a single bullet from the chamber. You rev up the gun's engine and pull the trigger to shoot. The gun comes with twenty bullets to lose but requires four AA batteries to power the engine.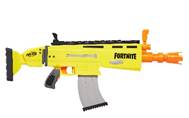 Finally you have these three mini-sizzed weapons, the Microshots, with one based on Fortnite's Llama. All three weapons are loaded using hand action and fire one dart at a time. All three of these come with two darts each

I wonder when we'll get Apex Legends NERF guns?