The latest round of new additions has come to Red Dead Online, with the main event arriving in the form of Etta Doyle, aka Madame La Perle, who has turned from procuring ladies of the night, to robbing and banditry. Particularly fond of stealing from Leviticus Cornwall, apparently.
Cornwall has had enough of this and has set up an ambush to ensnare dear Etta, but instead of getting his own hands dirty, Cornwall is hiring bounty hunters. That's where you come in. Well, assuming you have a Bounty Hunter's Licence, of course. Just head to the nearest Bounty Board to take on Etta Doyle.
For those of you jumping into Red Dead Online for the first time on PC this week, connecting your Twitch Prime and Rockstar Social Club accounts will net you a Bounty Hunter's Licence for free.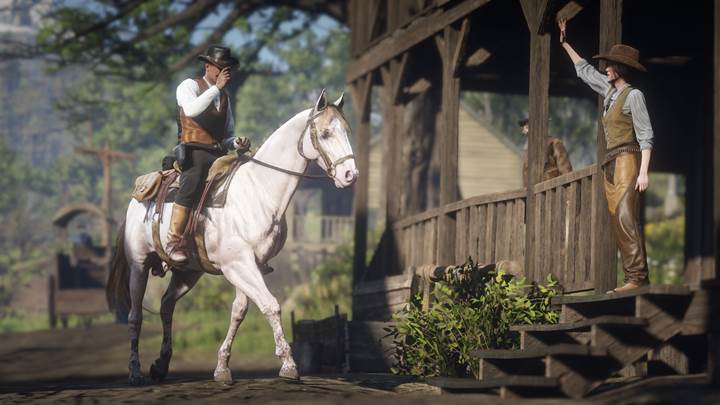 For those of you who have put in a bit of time with Red Dead Online, reaching Wheeler, Rawson & Co. Club rank 50 this week will earn you a reward: the Gentle Wave emote. It will be found in the Greet section of the emotes menu, arriving within 36 hours of reaching the required rank.
PlayStation Plus players will earn freebies just for playing RDO this week, too. Logging in will nab you the Page of Pentacles, Knight of Pentacles, Queen of Pentacles and King of Pentacles Tarot Cards, ready to sell to Madam Nazar.
Everyone, regardless of platform, logging into RDO before November 11th will be rewarded with RDO$100 and a free Treasure Map. The map will be found in your nearest Post Office or Camp Lockbox. These rewards, and the PS+ ones, will appear within 24 hours of logging into the game.
All this, plus new Collectibles and a bunch of new emotes (such as Applause, Thumbs Down and Hush Your Mouth) are also available now.