Konami today announced eFootball, an all-new football simulation platform from the makers of PES and Winning Eleven. Free-to-play and completely rebuilt in Unreal Engine, eFootball will launch worldwide first on PS5, PS4, Xbox Series X|S, Xbox One, Windows 10 and PC Steam this Autumn.  iOS and Android will follow soon after.
A new brand identity for a new generation of consoles and players, eFootball represents a fresh approach for the long-running franchise, previously known as Pro Evolution Soccer and Winning Eleven.
You can watch the announcement trailer here:
Motion Matching
New technology called "Motion Matching" converts the vast range of movements that players make on the pitch into a series of animations, selecting the most accurate one in real-time. The system provides more than four times as many animations as before, achieving highly realistic movement. "Motion Matching" will be utilised across all eFootball platforms, including last-gen consoles, PCs and mobile.
Ensuring that eFootball is an experience that everyone can enjoy, Konami's new football game is free-to-play across console, PC and mobile. Importantly, eFootball will also present a fair and balanced experience for all players. More details about gameplay and online modes will be revealed in late August.
As a digital-only title, Konami will also regularly add new content and game modes after launch this Autumn. Local matches featuring FC Barcelona, Juventus, FC Bayern, Manchester United and others will be available, for free, at launch. In the future, certain game modes will be sold as optional DLC, giving players the freedom to build an experience that follows their interests.
Uniting football's global gaming community for the first time, eFootball will offer the same highly realistic esports experience across console, PC and mobile, including full cross-play support post-launch. eFootball on mobile will be detailed at a later date.
eFootball roadmap
Konami has published a roadmap for eFootball, showcasing initial details about launch contents and what will be added in the months following.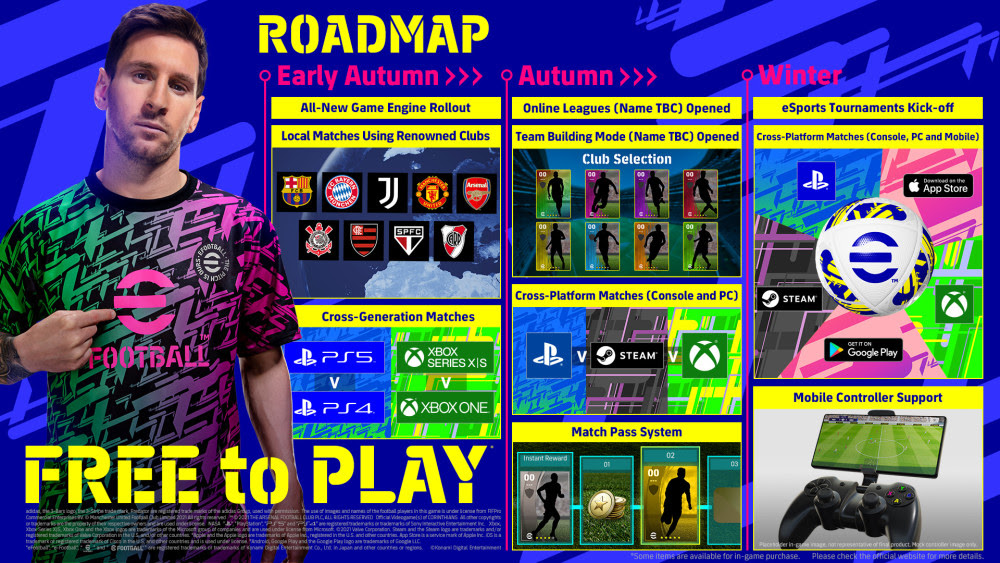 Early Autumn
All-new gameplay experience, powered by Unreal Engine.
Cross-generation matchmaking (i.e. PlayStation 5 vs. PlayStation 4, Xbox Series X|S vs. Xbox One).
Local Matches featuring FC Barcelona, Juventus, FC Bayern, Manchester United and more.
Autumn
Cross-platform matchmaking between consoles and PC (i.e. PlayStation 5 vs. Xbox Series X|S, PlayStation 5 vs. PC Steam, etc.).
Team Building Mode opened – build your own team by acquiring players.
Online Leagues opened – take your original team and compete in a global, competitive league.
Match Pass system – earn items and players by playing eFootball.
Winter
Mobile controller support added.
Full cross-platform matchmaking across all available platforms including mobile when using a compatible controller.
Professional and amateur esports tournaments kick-off.
Lionel Messi and Neymar Jr. will become global ambassadors for eFootball. In addition, Andrés Iniesta and Gerard Piqué have been closely involved in development as official advisors for offensive and defensive gameplay, respectively.
Further announcements regarding additional eFootball ambassadors and details about Partner Clubs, licensing and more will be shared in the coming weeks.