As announced on the official website, Disney Dreamlight Valley now has a roadmap for 2023, with new characters, biomes, and more set to arrive. Released in Early Access last year to critical acclaim, there doesn't seem any signs of stopping. We've seen the likes of Stitch, Woody, and Buzz arrive as villagers, along with new missions set in the world of Toy Story, and tons of new cosmetics and items to unlock.
Before revealing what's coming, the blog thanked fans for playing, and mentioned how excited they were for what's happening throughout the year. "We wanted to thank you for helping to make 2022 a truly magical year. From announcement to Early Access launch, your support has meant the world to us and we wouldn't be where we are today without you. It's not hyperbole to say that your feedback and support has made Disney Dreamlight Valley an even better game, and for that, we thank you! "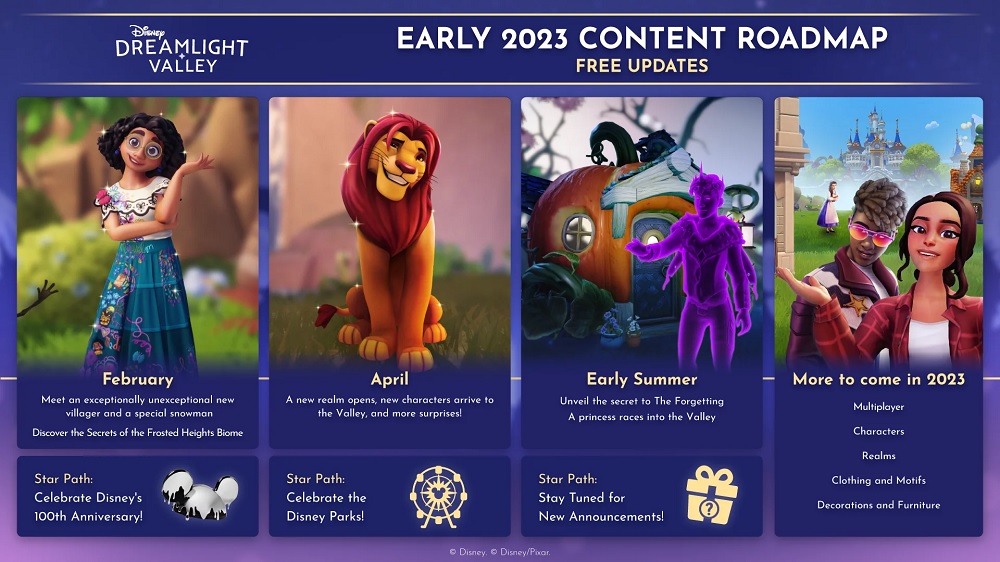 In the first update coming in a few weeks, players will be welcoming Mirabel from Encanto and Olaf, as well as celebrating 100 years of Disney. April will see the arrival of more new characters, including Simba from The Lion King, as well as a new realm. Then, in Early Summer, the mysterious biome of the Forgotten Lands looks set to reveal its secrets, and a princess arrives, who, according to Hollie, is definitely going to be Cinderella.
The blog continued, "From a host of beloved characters eager to visit Dreamlight Valley, to Disney magic galore that will help you tap into – among other things – your love for Disney Parks, 2023 is shaping up to be a HUGE year for Disney Dreamlight Valley! Mysteries abound as you will get to delve deeper into the secrets that surround The Forgetting. This is just the tip of the iceberg, though. You can also expect countless surprises with each and every one of these updates, including new features and improvements stemming from the invaluable community feedback that's been shared so far."