Barcelona Legends are being added to eFootball 2023 as Konami has announced that eFootball will again have Barcelona as a licensed partner in the game, after renewing its deal for 2023/2024. This comes after the recent announcement that kits and clubs would be updated for the new season, for Season 0.
Speaking about the deal, Naoki Morita, Konami's BV European President, said "It is very exciting to be announcing an extension to such a successful partnership. FC Barcelona are truly one of giants of world football, we are proud to have them as part of the eFootball series now and for the next few years thanks to this renewal".
Morita added that "To have secured a bright future that will include a multitude of commercial, image, and esports rights and activations is fantastic for KONAMI and for the eFootball™ series. We endeavour to keep evolving our product to bring the best user experience possible".
Juli Guiu, FC Barcelona Vice President for Marketing, added: "We are very pleased to renew our agreement with KONAMI, a company that over the years has always demonstrated its commitment to FC Barcelona. KONAMI is a benchmark in the video game sector and will help us to forge new synergies with young audiences and to continue to explore possibilities in the realm of digital entertainment, a key sector for the expansion of our brand in the coming years".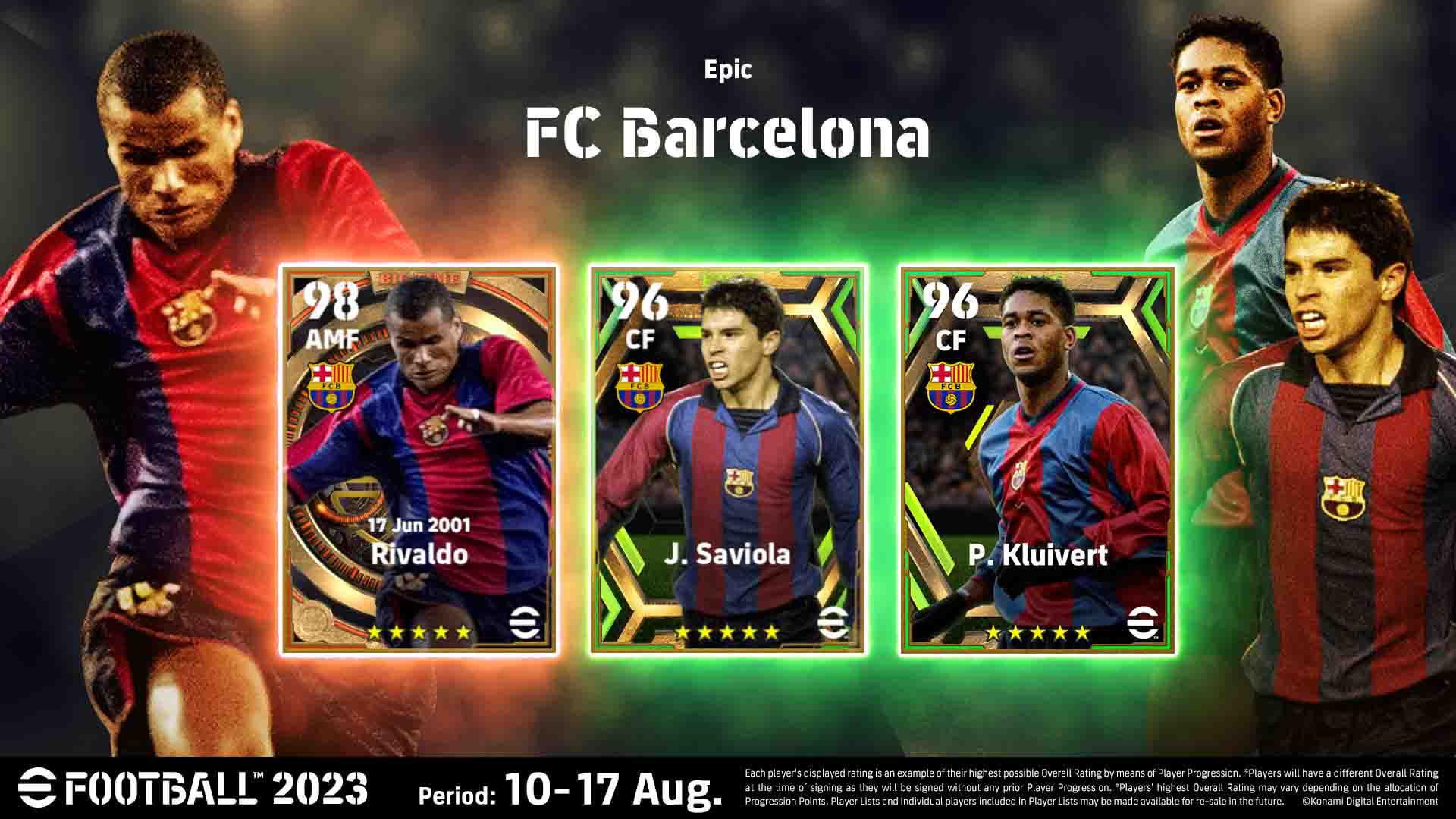 As per the image above, you can see that legendary Barca players Rivaldo, Patrick Kluivert, and Javier Saviola are being added to the Dream Team mode as epic cards, all of which will be available between August 10th and August 17th.
Konami also explained that "Spotify Camp Nou" will be a thing for eFootball, saying "whilst the stadium itself undergoes an incredible renovation; fans of FC Barcelona can still grace the historic turf of the Spotify Camp Nou exclusively in eFootball", also adding that the contract renewal will mean that KONAMI retains "multiple rights with FC Barcelona, including player access, media opportunities, and event exposure". Konami has now worked with Barca for seven years, starting way back in the 2016-2017 season.
Rivaldo is rated 98 and is an attacking midfielder, while Javier Saviola is 96 rated as a centre forward. Lastly, Patrick Kluivert is another centre forward, and also rated at 96.
eFootball is out now, free to play on PC, consoles, and mobile devices.