Konami has announced the launch of eFootball 2024, which retains Lionel Messi as the ambassador, and has a host of new features.
One of the major things people always ask about with the likes of eFootball 2024 is licensing issues, and Konami has confirmed it has retained a roster of partner clubs including: Manchester United, , FC Bayern München, Internazionale Milano, AC Milan, Arsenal FC, and FC Barcelona. In fact, as mentioned recently, Konami has renewed its partnership with Barcelona. This means that those teams will be featured in the game with their kits, stadiums, etc, all properly rendered.
Lionel Messi is also back as the ambassador for eFootball 2024, and there will be a new eFootball 2024: Leo Messi Edition, which is also out now. In that version of the game you will get an exclusive Messi Epic card that comes with the new booster feature, a set of 10 highlight players (that were his team mates), 11 sets of 4000 EXP, and 300 eFootball coins. There's also a "Premium Ambassador Pack: Leo Messi" available for PC and mobile, though that doesn't include the eFootball coins.
Boosters is a new feature for this year's iteration of the game. Konami explains it thusly: "Boosters are a new feature in eFootball, giving users the ability to further enhance the attributes of their favourite players. 'Boosters' will allow players to perform beyond the normal parameters (99 limit), meaning users can exaggerate the individual skills and attributes of various players within their Dream Team". Konami adds that "Various types of boosters will be available in-game, including ones that are player-specific, ones that affect the entire team, and ones that appear by selecting players who meet certain criteria", and also says "This feature will allow users to build teams with a greater freedom, variety, and enjoyability".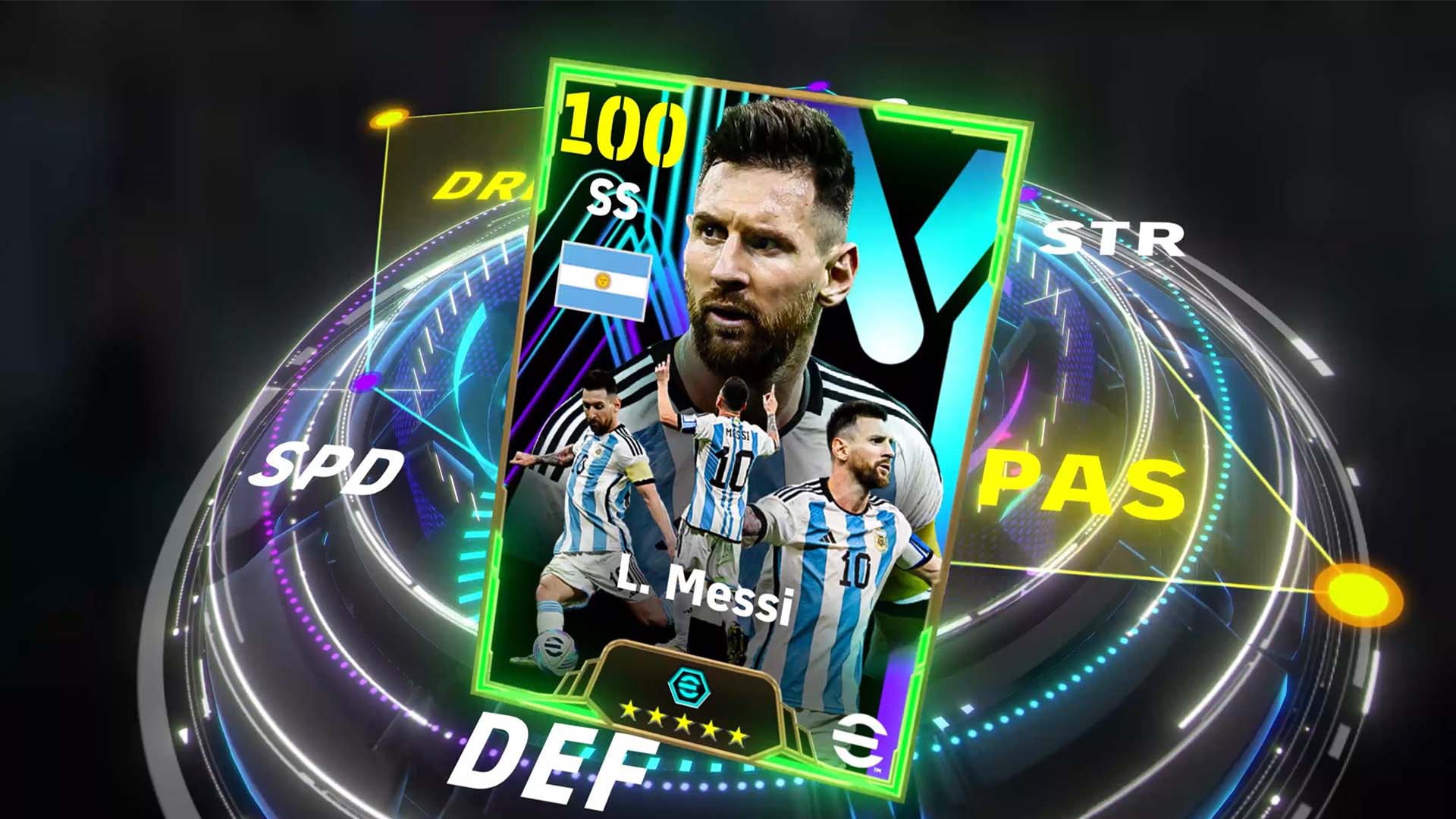 Lastly of major note is the startup campaign, which if for new players and existing ones. Basically this is the "login bonus" feature that has been in the series for a while now. You can get 4 chance deals, 360,000GP, 60,000 EXP, and 120 eFootball coins, giving you currencies to save you a bit of time when it comes to getting players in, etc. There are also campaign achievements which can add a further 400,000GP, 120,000 EXP, 100 eFootball coins, and 4 skill training programs.
Overall this year's iteration is said to focus on dribbling (as seen in this video) and defending, with an improved control response that is aiming to "replicate split-second football decisions". The dribbling is supposed to be better to make it easier to move in congested areas, as well.
eFootball 2024 is out now, and free to play.