It is just over two years since we last had a core entry in Intelligent Systems' bonkers WarioWare franchise, which is crazy as it only seems like yesterday that I wrote my personal list of the five best titles in the series. Were I to sit down and write a list again now, it wouldn't look any different, because I just couldn't get on with Get It Together, and felt myself longing for the golden duo of WarioWare, Inc and the astonishing Smooth Moves, which remain for me the pinnacle of the niche genre occupied by Nintendo's beloved anti-hero.
This all looks like it is about to change, however. Recently I was lucky enough to spend some time at Nintendo HQ, where I had the glorious double whammy of hands-on playtime with not only the astonishing Super Mario Bros Wonder, but the forthcoming new entry in the microgames world – WarioWare: Move It!
One of my favourite things about the series is the way it balances the inherent craziness with an almost esoteric, irreverent Western humour. The voiceovers that introduced the Wiimote poses in Smooth Move remain one of my favourite comedy moments in video games. Straight off the bat, Warioware: Move It! nails this exact feel – a typically weird story sets up the action and then the various forms (the manner and position in which you hold the Joy Cons for play) are introduced with a laconic voiceover that describes them in the context of an ancient island civilisation.
Most of the forms involve gripping the controllers with your thumb holding down the ZR/LR triggers, with some asking you to also maintain contact on one of the side buttons. It gives the option of right or left handed, and adjusts the calibration accordingly. The first Form we are introduced to is the Choo-Choo (possibly a throwback to one of the games Dr Krygor chucks at you in Get It Together?). You grip the controller vertically and hold your arms out horizontally as if you are about to do the Robot like Peter Crouch.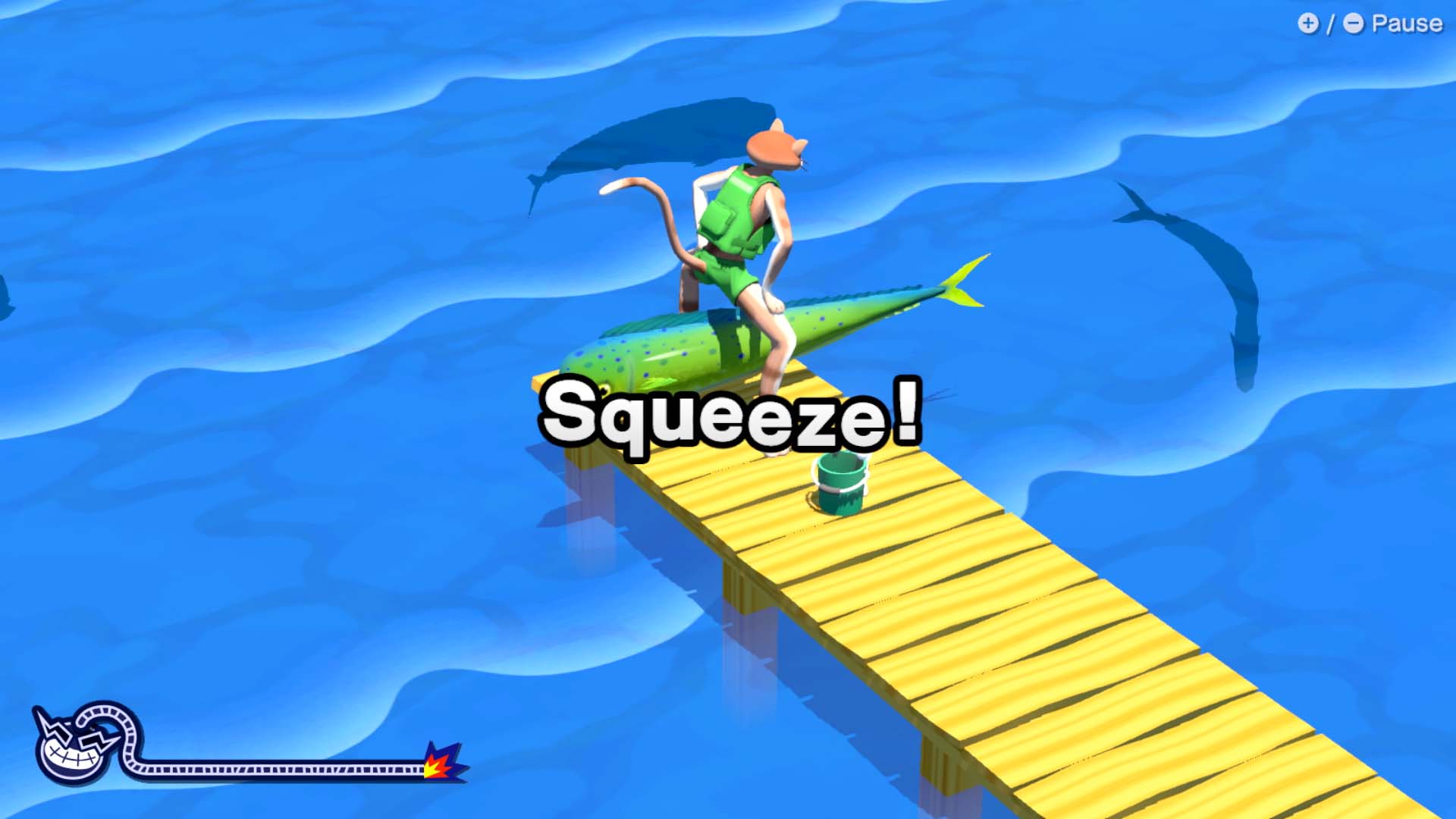 "Ba Kaw" sees you hold one controller up to your head, as though imitating the beak of a bird, with the other held behind your back like a tailfeather. It feels as ridiculous as it sounds and there is even an accompanying microgame that involves you enabling your avian onscreen avatar to peck worms out of the ground by tilting your head forward.
It all feels really clever and works well in execution. Fashionista asks you to buss a spin on the Madonna Vogue pose with one arm held behind your head, just the perfect stance for a game that asks you to swing a lasso around your head to ensnare livestock in the distance.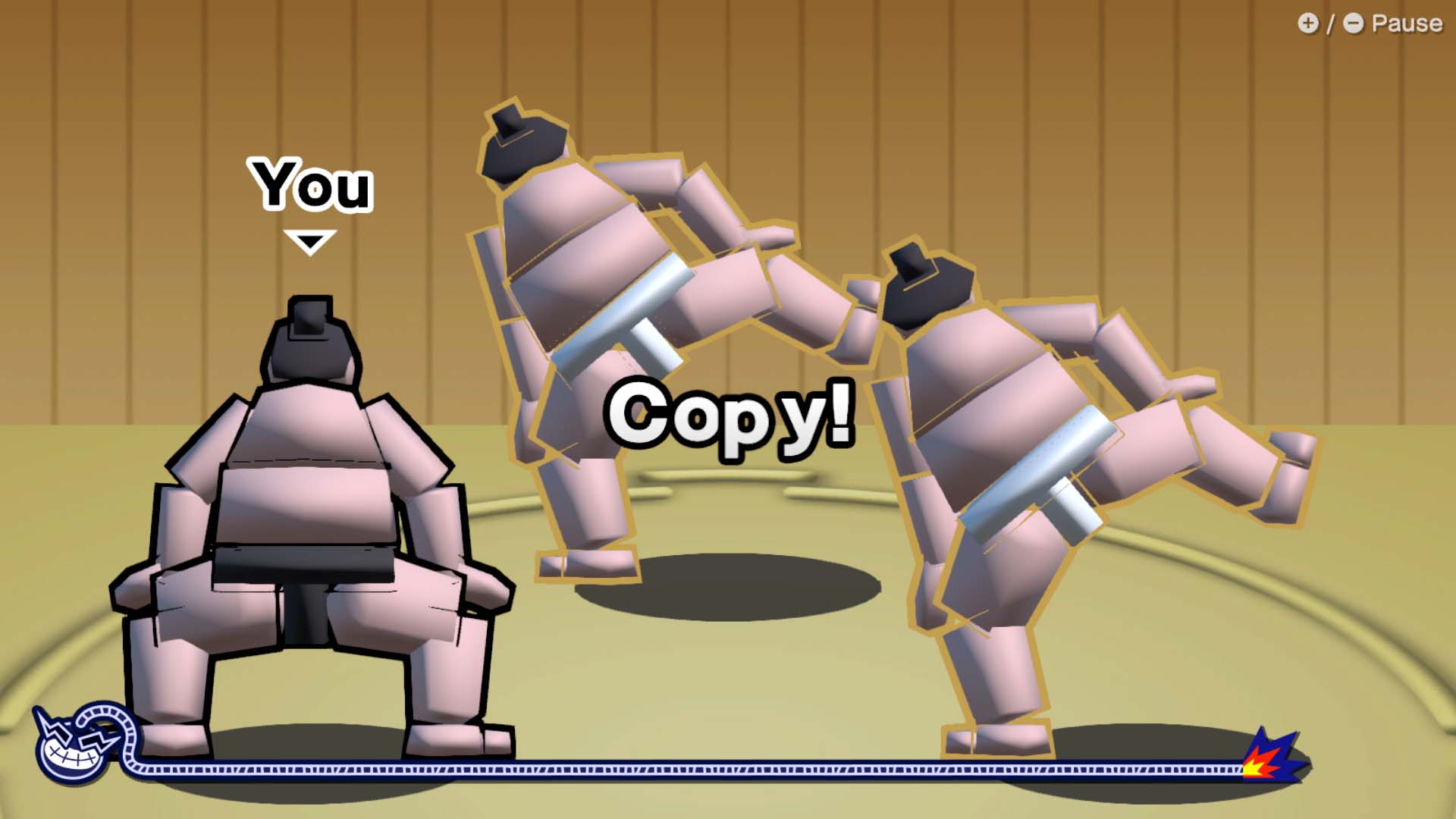 Perhaps the most fun, hilarity and potential for personal injury comes from the form which asks you to squat with the controllers held against your thighs, like a sumo wrestler. It is in this mode that you get to partake of the Buttograph – which asks you to literally use your arse to write an autograph. You can also enjoy Thigh Fishing, where the aim is to trap oncoming fish between your thighs (!) and another timing-based affair where your backside is used like an ink stamp to hit targets on a conveyor belt.
Warioware: Move It! very much does what it says on the tin: it is a very physical affair and certainly had us working up a bit of a sweat. There are seemingly tonnes of modes – not all of which we can reveal just yet, but they include a museum which holds a staggering number of microgames, some old, some new and in the three-figure category. Party mode is very much a Warioware: Move It! spin on Mario Party, but with some typically hatstand touches and plenty of fun to be had mocking your opponents abilities with their arse. Our playthrough was called Galactic Conquest and was a race to reach a spacecraft before your three foes. It is truly a great laugh.
Everything looks, sounds and feels great, and Move It! seems to be its natural successor to Smooth moves, and I cannot wait to add it to my top five list in the very near future!
Warioware: Move It! is coming to Nintendo Switch on November 3rd, 2023.