Release Date
11 September 2020
When you mention "drifting" and "Nintendo Switch" in the same sentence, people usually get mad, what with the whole Joycon drifting issues that have plagued the system. Luckily, Level 91 Entertainment's Inertial Drift is the right kind of drifting on Nintendo's console.
A rather unusual blend of visual novel and arcade driving game, Inertial Drift looks like an interactive anime series. From its beautiful, colourful locations, to the thick black outlines around each vehicle as it barrels sideways down mountain roads and neon city motorways, there's a real distinctive look to the game that conjures images of the Initial D anime/manga. You even see animated "speed lines" appearing at the edges of the screen and it'll take everything you have not to belt out the lyrics to Deja Vu by Tsuko G. as you drift around the streets.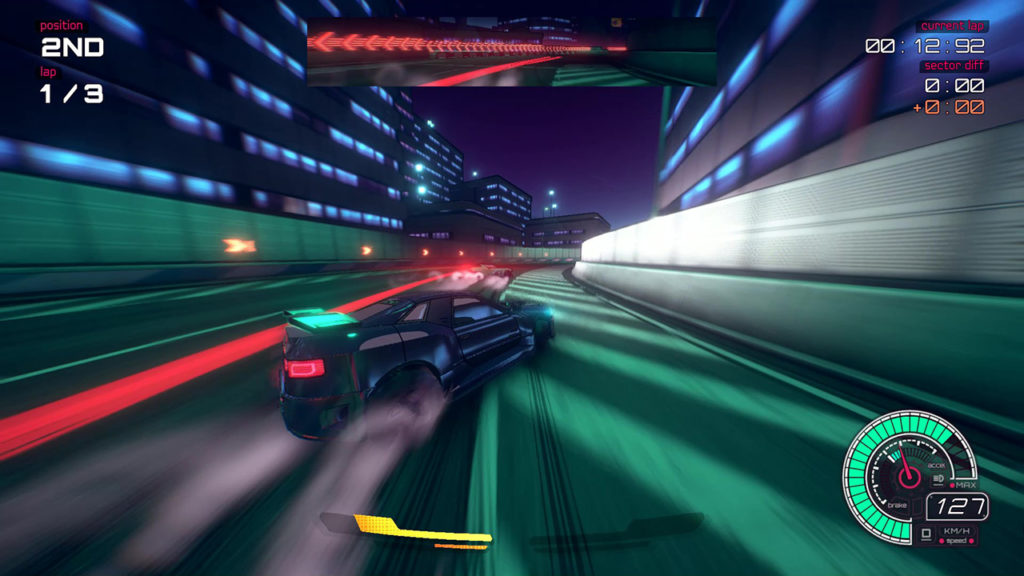 How you drift is the main reason why Inertial Drift is so unique: it uses a twin-stick control scheme. To help wipe that confused look off your face, let me explain. The left stick still turns your car, albeit slowly, while the right controls the angle of your drifts, meaning that you can fling your vehicle around as if it's lighter than air. You will still need to ease off the accelerator or even apply the brakes from time-to-time, but there are no braking distances here, no need to think about weight transfer between drifts. This isn't Drift 21;, this is a full-on arcade racer.
Where the Nintendo Switch version stumbles slightly is once again down to the overly sensitive analogue sticks and a lack of proper triggers. Unlike the other versions, you can't lightly accelerate through a corner to drift precisely, or gently apply the brakes to bring the back end around mid-drift, making it a bit more awkward to carry the same speeds around each track. It just needs a bit more patience to learn how to retrain your brain, it won't ruin your experience or anything.
The same goes for the framerate. Whether played in handheld, or docked on the big screen, you can't help but wish it was a little smoother. It floats around the region of 30fps which is fine, but despite the lovely visual style, it shouldn't really test the power of the Nintendo Switch. Inertial Drift feels like a game that should be hitting 60fps, but again, the experience isn't exactly tarnished because it isn't as silky smooth as the PC version. In many ways, you could at least say it feels closer to the anime style it adopts.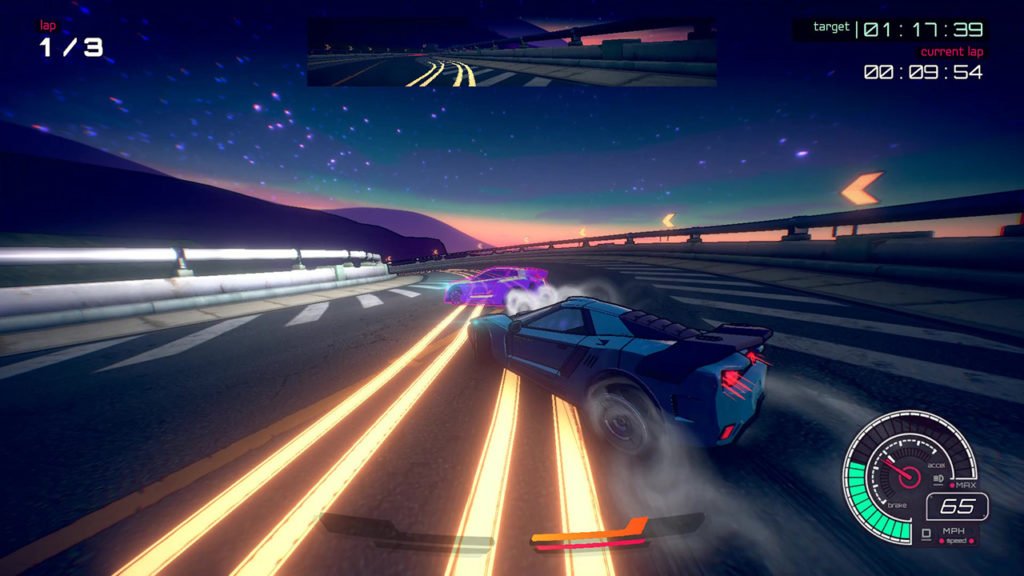 While there may have been compromises in the framerate and controls, there has been so such compromising anywhere else in the game. Inertial Drift is packed full of content. Its story mode offers several different paths with its varied cast of playable characters, each with their own car handling to learn and master. From there, you can unlock Challenges that, once completed, unlock new cars for other modes like Arcade and Grand Prix. This is where the more competitive aspect of the game comes in, as the story focuses more on simply enjoying the driving and learning the tracks and cars.
Don't expect to be racing in packs of cars, though. This is a game about racing against the clock, for the most part. At most, you'll race one-on-one but there are no collisions in Inertial Drift, so although it conjures memories of classic Namco arcade racers at times, you'll never have to worry about being slowed down by other drivers.
Inertial Drift really is a unique racing experience. Its control scheme is incredibly intuitive, despite one or two minor issues when it comes to the Switch version specifically. Its visual novel-like story adds a little something extra, but can be skipped entirely for those wanting to just enjoy drifting around each environment, and it looks the absolute business with its anime-inspired visuals.
And I dare you not to sing Deja Vu while playing…
Positives
Gorgeous art style
Plays well docked or handheld
Negatives
Controls are a little less precise on Switch
Handheld framerate could be better
Though the twin-stick controls can be a little imprecise on Switch, it feels no less fantastic when you nail a run in Inertial Drift. It's a wonderfully unique racer.