Release Date
September 12, 2017
Look, I respect you, okay? So I'm not going to sit here and sell you some nonsense about how perfect a fit Rayman Legends is for Switch. I'm not saying it's not a perfect fit, but it was available on PS Vita, too, and what you're getting on the Switch is basically that version, with a slightly deeper Kung Foot experience (it now has Solo Mode and Tournament Mode) and the added functionality that lets you connect two Switch consoles to one another in order to play locally, even though nobody really does that outside of very specific situations and Nintendo review events.
But what I will say is that I always felt like Ubisoft's Rayman Origins and Legends warranted a third game. It was, ridiculously, 2013 when Legends first hit 360 and PS3, with PS Vita, Wii U, and eventually PS4 and Xbox One versions that came afterwards. The Switch is an ideal fit in as much as it reminds us how incredible the game is, and how sad it is that, while Ubisoft ploughs onward with sequel after sequel for Assassin's Creed, and even The Crew (I enjoy Ubisoft franchises, so this isn't a criticism as such), we never got another foray into the stunning UbiArt engine world that Legends delivered.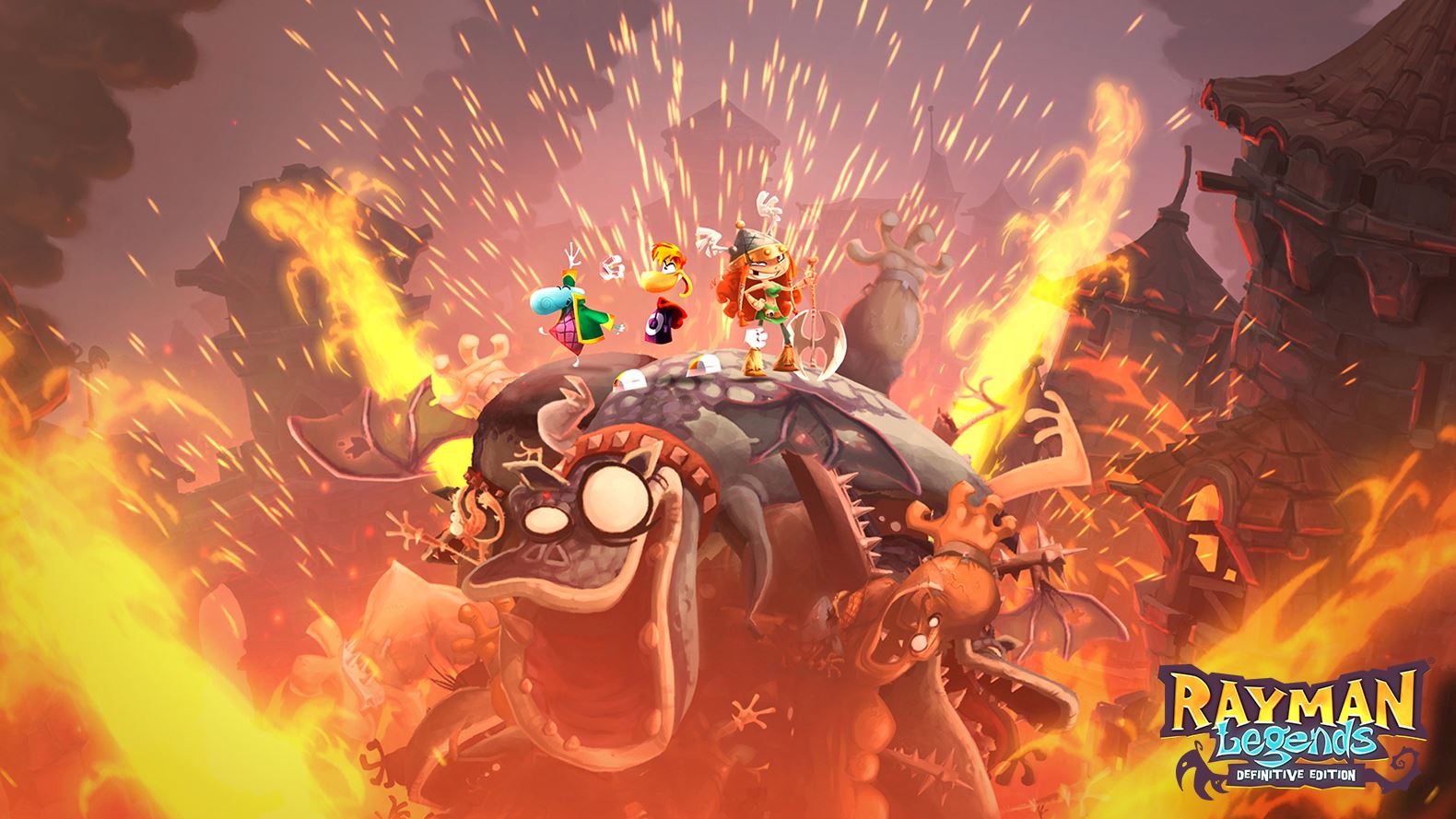 Meticulously designed platform levels culminate with a rhythm based reward, but there is so much character to everything Legends hosts. From the daft noises the Teensies make which serve two purposes: be cute, and let the player know they are hidden nearby, to the secret sections that change things up, to Murfy, a touch controlled character that is here used via the A button to quickly create a path for Rayman (or whoever you're playing as) to speed through. There are Murfy specific levels that you can only play when the console is undocked, but they aren't new, just returning from the Wii U version.
Whether you're going left to right, right to left, or just playing the single screen football mini game (Kung Foot), this is a deceptively large package. There are levels from Origins, numerous characters to unlock (and Nintendo-related ones, of course); there are even little monsters you can get via the in-games scratch cards which give you a daily Lum reward to keep you moving up the "awesomeness" levels. You might initially bash through the levels quickly, but the next level is finding everything – collecting everything.
Daily and weekly challenges keep you coming back even when you've completed all you planned to do, and these rank you via your chosen region. These almost feel like a bonus, because there's so much content already to play through. It's a testament to the quality that despite having played it through on Xbox 360, Wii U, PS4, Xbox One, and PS Vita, once I fired the Switch version up thinking "surely I won't play this again", all I can think about is cracking back into it with my children. That's right, local co-op is present, too.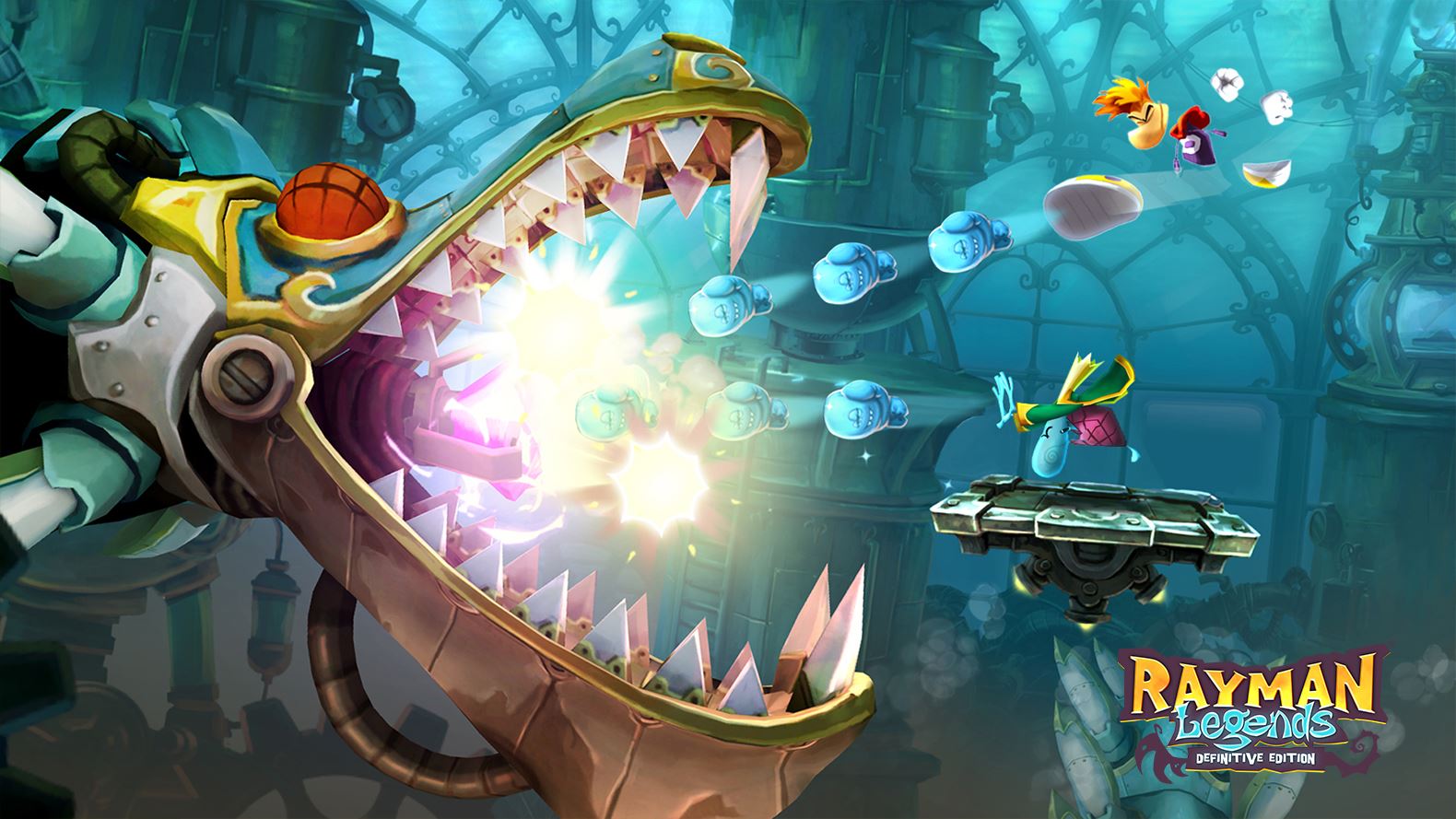 It's addictive thanks to the collectible Lums which are totaled up at the end of every level, as well as the Teensies themselves, of which there will be numerous hidden throughout each level. Gameplay is tight, with wall jumps, floating, swimming, and all the usual platformer staples. Legends is a glorious time, just acres of fun, stimulating via the audio and visual feedback, and just feels superb all round.
I'm not going to tell you that "Rayman Legends is an essential purchase on Switch, because it feels so perfect on that console", because that'd be bollocks. It's an essential purchase on any console because it's magnificent, creative, beautiful, lovely, and a hundred more superlatives that all amount to basically me telling you it makes me smile from ear to ear. If you haven't played it, and you own a Switch, this is an obvious purchase. If you have played it, and even grabbed it when it was free on Xbox One's Games with Gold scheme in 2015, go and play it again on whichever system you want to; remind yourself how great it is, then let Ubisoft know loudly how much this series deserves a third game.
Rayman Legends: Definitive Edition might only be definitive because it adds a few more cherries to a cake that was already the nicest around, but let's face it, the cake was already incredible and deserved more love. This is very much the Wii U version with a few bells and whistles, but it's still one of the best non-Mario platformers of the last ten years, and that's definitely worth shouting about.
Positives
Looks incredible, sounds amazing
Plays beautifully
The best non-Mario platformer around
Negatives
Not that much new
Could be a little cheaper
This is very much the Wii U version with a few bells and whistles, but it's still one of the best non-Mario platformers of the last ten years, and that's definitely worth shouting about.