Release Date
November 3, 2016.
It's tough moving into a big city after living in the confines of a small community; the lights are brighter, the people are louder and the pressure to be somebody is greater. From the moment I moved into my new apartment, it was obvious I had a lot to learn, from getting used to the loud neighbours partying to ungodly hours in the morning, to making sure I turned my work in on time in my new career as a critic. San Myshuno is a big city, and there's plenty to do; whether you want to explore the entertainment or soak up the culture, there's something for everyone, even if it's a bit overwhelming at first.
San Myshuno is a separated into four districts, each with its own personality. The Spice Market has some basketball courts to practice your moves on, the Arts Quarter features a rather suave art gallery, the Fashion District is where you can visit the delightfully tacky Planet Honey Pop karaoke bar and Uptown is the kind of place where money is the only language you need. There's always plenty to do when you're not working, and visiting places like the Myshuno Meadows offers some opportunities for the romantic among you.
There are some clear price differences in rent across San Myshuno, especially if you want to live Uptown. My first apartment was 18 Culpepper House in the Spice Market. It wasn't the best apartment, and the landlord had to do a fair share of maintenance, but it was my home. If you do want to move to nicer living quarters, expect to play a whopping £3500 a week to live in the Alto Apartments, or $1000 a week to move to the Jasmine Suites in the Arts Quarter. Apartments get much nicer as you move upmarket, and with enough money, you can add some fancy new furniture or equipment exclusive to The Sims 4: City Living. Every one of the apartments comes with Lot Traits, which affect gameplay and add different outcomes to how your story unfolds. For example, my apartment on Culpepper was apparently haunted, and the landlord had a plaque in the apartment I wasn't allowed to take down. New Lot Traits become available and you can change them, adding a nice new way to experience city life.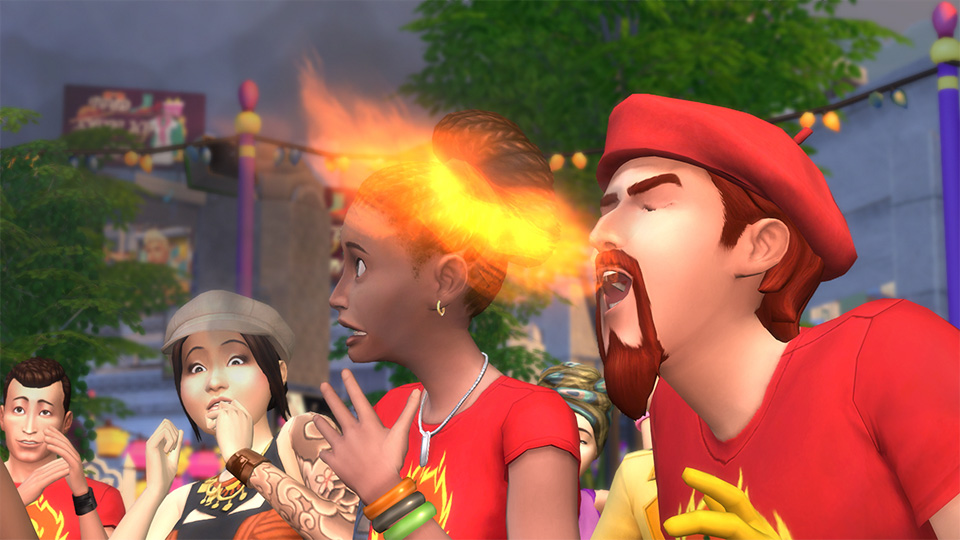 There are 3 new careers in City Living, and they are very modern, current paths for you to take. You could become a Politician and fight the good fight, or work as a Social Media trend-setter and become far too popular for your own good. I chose the third career, the Critic. I started off as a paper deliverer, then progressed up the ranks past story researcher and beat reporter to checking out the finest art and food San Myshuno has to offer. One of the best features about these new careers is having the option to work at home. Whether you can't be arsed to go into work, or you'd rather meet up with some pals for a coffee, working at home lets you do both, but making sure you complete your workload is important. I got pretty distracted by making friends, completely forgetting I was supposed to be writing a column and reading a pile of books that I never managed to finish.
In The Sims 4: City Living, you feel like more of a member of a community, or like you're on an episode of Friends. People knock on your door and ask if you want to hang out, others will invite you to some of the city's wonderful festivals and others just want to chat on the phone. I spent the first few days in San Myshuno sitting in my apartment, alone, because I'm not a very social person anyway. After a knock on the door, I started talking to Arun and Jesminder (two wonderful people by the way) and we arranged to have a party in one of the Alto Apartments. We drank, chatted, played video games and had copious amounts of food; it was great fun and it made my time in this beautiful city mean something.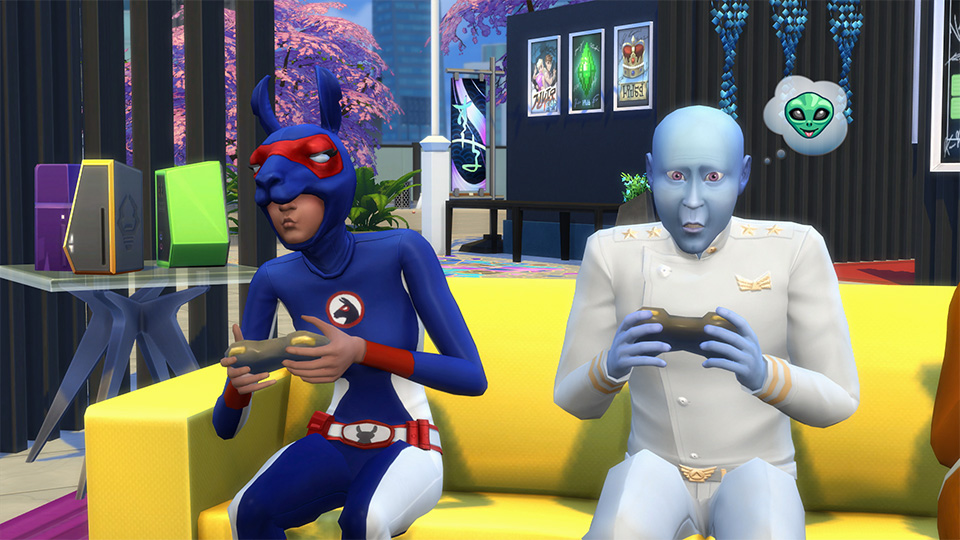 On other occasions, my new girlfriend Katrina Caliente and I visited many of the festivals that the City Living expansion pack has to offer. We went to a Romance Festival at Planet Honey Pop and spent loads of time chatting, tried some great food at the Humour and Hijinks' Festival as well as singing pretty atrociously, and Geekcon, where we played games and had a go in the rocket ship. There's also a Flea Market where you can shop for treasures, rummage around for exclusive collectables only available in San Myshuno and sell your own stuff by setting up your own stall. There're fireworks, stand-up comedy, street performers and plenty more for you and your sim friends to enjoy and participate in, with more than enough opportunities to meet many of the diverse residents living in San Myshuno. The festivals aren't on 24/7, so you'll get time to enjoy them equally; they're a great addition to The Sims 4, even if there were too many blokes at them with those damn man buns.
City Living is huge, providing a real sense of enormity and making this expansion the closest thing The Sims 4 has seen to an open world. You'll meet lots of different people, make friends or even fall in love (and give them the key to your apartment), taking in the sites of the gorgeous and vibrant city. There are a few bugs, and the framerate can drop from time to time; I remember dancing with Kat (my bae) in the restaurant of the art gallery, and as she turned, she flew into the kitchen sink and got stuck. I also went for a few morning jogs which resulted in me disappearing for a short while with no idea where I went, even after attempting to lock onto my sim. I also noticed quite a lot of poor load times between visits to all the areas and it got a bit annoying sometimes, especially if I was only travelling a short distance. Regardless, these issues aren't enough to take away from the great amount of fun you'll have exploring and interacting with all that City Living has to offer.
Review code provided by publisher.
Positives
San Myshuno is a wonderful city
Festivals are beautifully designed and full of opportunities
New career paths offer new and exciting challenges
Negatives
Some annoying bugs
Load times are a bit annoying
A fantastic expansion, giving you plenty of new things to do and lots of new places to visit, even if some of the bugs and the load times become a little exasperating.