Streaming is huge business, with over 45 million registered users of Twitch alone watching billions of hours of gameplay from their favourite broadcasters. Previously the exclusive domain of PC users, the advent of the Xbox One and PlayStation 4 has made it far easier for anyone to stream themselves playing their favourite game.
To produce high quality content requires good equipment, and Turtle Beach has designed and developed a stream mic to improve the quality of your voice output. The Turtle Beach Universal Stream Mic is compatible across both consoles and PC through a USB connector. Inside the box you will find a three metre USB cable, the microphone, a universal mounting adapter and a quick and easy start up guide to setting up your microphone.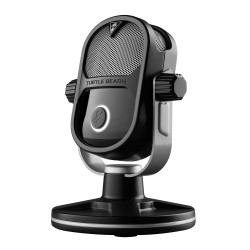 Setup couldn't be easier. On Xbox One it is a simple case of plugging it into a USB port, checking your device options through the settings menu and you are ready to go; similarly on PC the drivers are located and installed immediately and it is a simple case of setting the Turtle Beach Streaming Mic to the default Playback and Recording device. There are slightly more steps to go through on the PlayStation, but it's still a really straightforward process. A button on the back of the microphone can be switched between PC / PS4 and Xbox One modes so you can move the microphone around with ease between devices.
The microphone itself is fairly light and compact and comes with numerous mounting options due to the universal mounting adapter contained in the box. The mic is compatible with most stands and boom arms (which need to be purchased separately), whereas the packaged stand makes it easy to be placed on a desk. On the back of the microphone is a standard headphone jack that can be plugged directly into the device ensuring there is no latency between the voice and audio levels. I tested with two different headsets (both Turtle Beach) and it worked perfectly.
Of course, the true test of a good microphone is the quality of the voice output. Turtle Beach markets this device as having "adaptive mic patterns with TrueSpeak Technology". What this basically means is there are number of voice output options accessed via the button on the front of the microphone that also controls the mute function.
Each mode is highlighted via a LED indicator to quickly inform you which mode you are in: red is mic off; green is cardoid; purple is bi-directional; orange is hypercardoid; and blue is omnidirectional. Each mode is designed for a particular situation to ensure that the voice is picked up from different parts of the room depending on your set-up. The blue mode, for example would be best utilised in a group situation where you need to pick up multiple voices, the purple mode is perhaps best used for an interview, whereas the Orange mode is for a noisy room.

Testing each mode I found the mic to pick up a lot of ambient noise like my mouse clicks, or the hum of my PC. Certain modes were better than others, but even on Orange those sounds were still picked up, more so than I would have expected. On console, specifically the Xbox One, I used the recommended "stream" option, that is the Green mode and my controller movements were easily picked up by the mic despite me positioning it far closer to my mouth than my hands. It isn't a huge issue, but hearing the click of the thumb sticks as I move around wouldn't be a preferred option if I was attempting to make a more professional stream.
The sound quality was very good though, my voice was much clearer on the stream than it is when I just rely on the microphone in my headset, however sound fidelity was lost a little when I got over excited at a particular point in my game and yelled with glee. This maybe could have been resolved with a little more fiddling with the setup and location of the mic to ensure that it wasn't too close, and I would think experience with the microphone over time would tell you the optimal positioning for the best sound quality.
Like most Turtle Beach products you can download the "Ear Force Audio Hub" from Turtlebeach.com which allows you to configure and customise a wide array of specific microphone and audio settings, including voice reverb, voice equaliser and an automatic noise gate which is supposed to cancel out all ambient sounds.
The Turtle Beach Universal Streaming Mic is a functional microphone designed for console streaming. There are limited options on the market, particularly for Xbox One owners and, as such, it is a decent choice. The voice output is a little lower quality than I would have expected for the price point, not quite managing to cancel out ambient noise to the level I anticipated so would not suit an experienced streamer. However, for someone just starting out, the ease of setup across different devices, and the decent sound quality make it a viable choice.