God is a Geek Podcast Episode 14 – E3 Special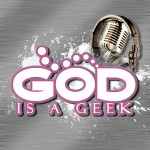 The guys are back from E3, Asim and Calvin tell us about their first hands on experience at the Electronic Entertainment Expo in LA. Aaron and Aryel are also on the show giving feedback on an exciting week of gaming. In this bumper E3 special we discuss everything from the big three conferences, to our top three games of the show.
Remember to check out all of our E3 coverage including news, trailers and impressions from the expo.
Hit the jump for the audio player.
Topics of discussion include:
Podcast Feed | Contact | Subscribe via iTunes | Home