For those of you that aren't aware, Fable Heroes is set to release this Wednesday on Xbox LIVE Arcade, so we sat down and had a chat with Lionhead's Ted Timmins, who just happens to be the creator of the game.
The questions come from nearly everyone on our team, but of course we didn't forget to ask him where he keeps his ketchup, fridge or cupboard?
Will we see any links between Fable: The Journey, Fable Heroes and any future instalments of the core Fable series?
Yes! There's a number of links between Fable: The Journey and Fable Heroes. First and foremost, any of the gold you earn during Fable Heroes can be transferred into XP for Fable: The Journey to give you a great headstart in the Fable: The Journey levelling up system. Secondly, there are two additional dolls for Fable Heroes that you can unlock from Fable: The Journey; the Theresa and Gabriel Hero Dolls! And finally, any doll that you unlock in Fable Heroes can be hung as decoration from your cart in Fable: The Journey – how cool is that? As for future Lionhead games, you're not going to catch me giving you any exclusives this early in the interview – you should have asked later on and caught me off-guard!
Have Lionhead ever considered manufacturing and selling the hero dolls from fable 2 / fable heroes?
Wouldn't it just be so awesome to have a little Jack of Blades or Reaver doll that you could put on your desk at work? Or to hang in your car. Or a doll to have on your bed… Actually, it might be a bit creepy waking up next to Reaver. Anyway! We don't have anything to announce, but fingers crossed that if there is enough demand for it, it might happen!
With Peter leaving is there a new found sense freedom? Obviously Peter was a great developer but will his departure allow others to shine perhaps more so than was previously possible?
Peter is without question a visionary game developer, with years of experience creating amazing video games and worlds to play in. But what he leaves in his stead, is a tonne of really passionate fans and employees of Lionhead, all who have worked with him closely over the years who are ready to create the next best game ever. Will it be different without Peter being around? Of course! But will Lionhead be just as awesome? Hell yes!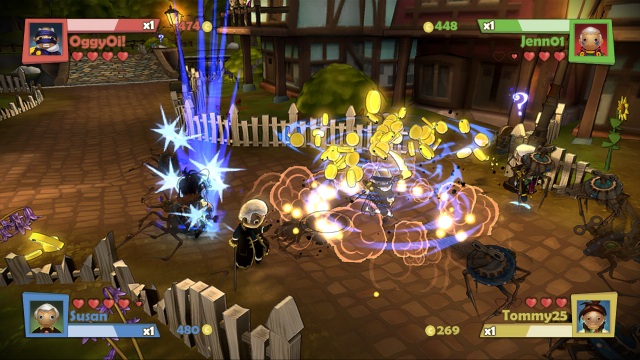 Are Lionhead interested in developing more XBLA games outside the Fable universe?
The great thing about Xbox Live Arcade as a video games platform, is if you look at just a handful of its most recent games; Fez, Trials Evolution, Stacking, Joe Danger, Bastion, and all of the games announced at PAX or the Spring Showcase, you'll see that they're all original and unique titles that are a breath of fresh air to play. With XBLA you can take more risks, and be completely original. So would I like to see more XBLA games from Lionhead – absolutely! And I think last year's Creative Day event gave some great examples of just what people at Lionhead are capable of when allowed complete freedom for a few days. Although I don't think anyone made any cake… next year's Creative Day should definitely have more cake.
How large was the team and long did it take to create Heroes from start to finish?
The Fable Heroes team was at its peak around 15 people, which is very small when you think that Fable 3 had well over 100 people working on it! It took us around a year of development, starting originally as a crazy idea between 6 people working weekends and late nights in December of 2010, and then it was signed off (or "green-lit" as we call it) in March of 2011 to go into full production, where we then worked on the game until just a couple of weeks ago! Even though Fable Heroes has fewer people working on it than our other games, that at no point lessened the passion or blood, sweat and tears that went into the game. I don't mean that literally of course, downloading someone's tears from XBLA would just be weird.
Are you worried about becoming a one series studio?
Definitely not! There's so much creativity here at Lionhead that the outside world just isn't ready for yet – but we'll show it, when we think the world is ready! In the meantime, what a great video game series to be working on! The beauty of Fable, is that it can be anything you want it to be. Albion is such a beautiful world with rich history and unexplored lands, if I was to work on just one game for the rest of my life then I would feel extremely lucky for that one world to be Albion!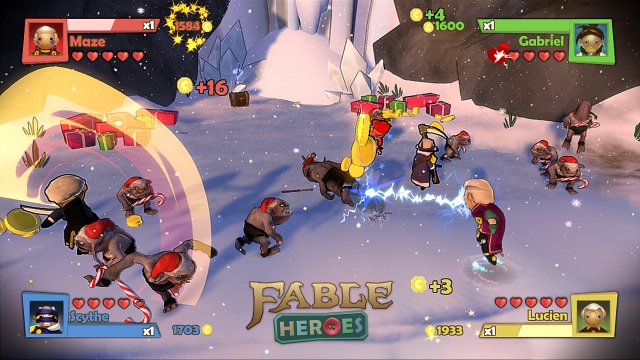 What have you learnt from making Heroes and Journey, will any of these lessons directly affect future games?
I have learned more during the development of Fable Heroes than at any other point in the last 8 years. It was amazing when Lionhead let the Heroes team have our own little office, where for a year the 15 of us just had a great time making the game, and hopefully that shows for you guys when you play the finished game! I learned a lot about game design; designing a levelling up system that hadn't been done before, designing interfaces capable of handling up to 4 human or AI players, and then working with a bunch of cool people to create boss fights, mini-games and our game levels. I was fortunate enough to be doing all this whilst also having a blast with the rest of the Heroes team, which is really important too!
When Fable Heroes comes out, you should definitely check out our "Behind the Scenes" section, as we wanted to give you guys an insight into how we made the game.
What are fans going to enjoy most about Fable Heroes?
YOU CAN PLAY AS JACK OF BLADES! For me, when going into development on Heroes that was one of the most important factors; you can play as your favourite characters from across the Fable series. We went through a few iterations before settling on the dolls, which we've obviously had in all of our games since the original Fable – so it just made sense. I think fans will also love fighting both familiar and new creatures, as well as being able to play 4-player Fable. This was something we've never done before, but it works really well. It's also Albion as the fans have come to know and love it, just with a new twist!
Was there ever any discussion about having Kinect integration in Heroes?
There wasn't any at all actually, just because both Lionhead and Microsoft have always said to us that we are free to explore whatever player control options we feel are appropriate for our games. With a 4 player hack-n-slash Fable game, it just felt right to use a controller, just like how Kinect is the perfect platform for Fable: The Journey. Most mornings, we also find that donuts are the perfect control method for getting people into a location really quickly – something I think we should soon adopt as a control method for getting people to meetings on time!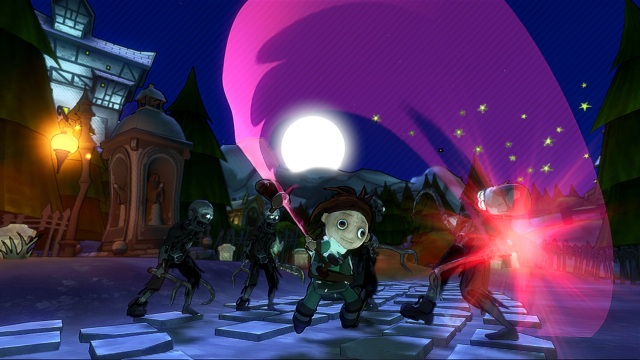 What games inspired Fable Heroes? The concept is very old-school – did and classic side-scrollers play a big influence?
Definitely! The original pitch for the game was "Fable meets Gauntlet", but over time Fable Heroes grew a personality of its own. Gamers might spot some subtle nods and references to the games us developers grew up playing (see if you notice any!), but we also wanted to create a Fable game which is just a tonne of Fable fan tribute from beginning to end, and when I say "end" – I mean that literally, the last level will blow your mind… The music of the game was also done by Robin Beanland and Steve Burke, who have previously brought to life incredible games like; Banjo Kazooie, Goldeneye 64, Conker's Bad Fur Day, Donkey Kong Country and many more! They absolutely nailed what we were after; a retro-inspired Fable soundtrack, which adds so much to the game. I'd definitely like a signed copy of the soundtrack if you're reading please Robin and Steve!
First Person Shooter games: Do you play inverted, or standard?
Inverted all the way! Or as I like to call it, "standard".
Do you keep your ketchup in the fridge or in the cupboard?
It's weird, I grew up with it being in a cupboard but my girlfriend puts it in the fridge now. I think I preferred it in the cupboard, but either way – Ketchup doesn't last long when I'm around!
With that, our time with Ted came to an end, we'd like to thank both Ted for his time and Microsoft for facilitating the Q&A.