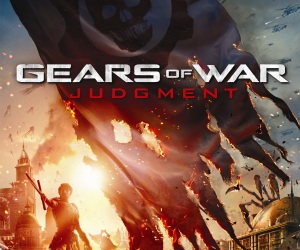 Epic Games did their research after the release of Gears of War 3 and discovered that over half of those that played Gears 3, had never got to grips with the series original from '06. In a wonderful move, Microsoft and Epic have announced that Gears of War: Judgment copies bought around the launch will include a token to download the game that made pop-cover shooters so popular. Sadly, German gamers won't get to avail of this offer as the first Gears title is still banned, over there.
As with every triple A game nowadays, there are some store specific pre-order bonuses! Hooray! Those who pre-order at participating stores will receive the locust's choice of the Classic Hammerburst for online multiplayer. A list of some of the "buy it here 'cause you won't get this thing anywhere else" pre-order incentives are below;
GAME: Emergence Day Marcus multiplayer skin
Tesco: Emergence Day Dom multiplayer skin
Shop2net: Alex Brand multiplayer skin
Other select retailers: Anya (Gears of War 3) multiplayer skin
The wise-cracking Lt. Damon Baird takes centre stage in the upcoming Gears of War: Judgment, as Epic Games learned he was a fan-favourite and were keen to use him in a more prominent role. As well as that change-up, Bulletstorm developer People Can Fly being at the helm has many intrigued/worried at what will come in March. Personally, I'm going into this with cautious optimism.
The Guts of Gears trailer – which you can see below – has done a very a good job of making the new elements of Gears of War: Judgment look really appealing. Bring on the grubs!
Gears of War: Judgment will be released on March 22 in Europe and March 19 in North America for Xbox 360