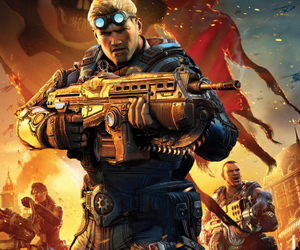 Last E3, it was announced that the next instalment of Gears of War would be coming to Xbox 360 and comic relief Damon Baird would be assuming the Marcus Fenix role.
This past weekend, there was a world premiere event on the North American Xbox LIVE which showed off two new modes; Aftermath and Survival.
The video, hosted by Xbox's Larry Hryb and Tina Summerford, is now available to watch on the Dashboard in the US and we're told that it's coming to other parts of the world, later this week.
You can check out the full event below as YouTube user calloftreyarch uploaded the entire thing, for your viewing pleasure.
Also, you'll be able to see our own thoughts on the game in our Gears of War: Judgment preview, later today.
Gears of War: Judgment will be released on March 22 in Europe and March 19 in North America for Xbox 360