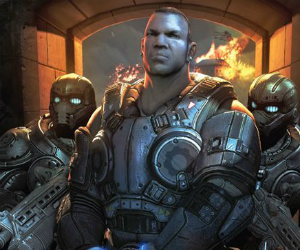 I don't know about you, but my friends list has had a fair smattering of people playing Gears of War: Judgment, just recently. No surprise really, it entered the charts in the top spot for its release week, and we gave it a hefty 9/10 score in our review.
So good news, everybody! In association with Epic Games and MAXIM (and to be honest, I don't really understand how that works) the first DLC has come to Judgment, and includes the popular Execution Mode, along with a new multiplayer map called Haven. The best bit, it's free – but for a limited time only.
Special playlists have been created for Haven and Execution, which will give a 200% XP boost, while VIP pass holders will get a 300% XP boost.
The first title update/patch has also gone live, with the following updates:
Various dedicated server improvements
Players no longer get stuck in the main menu background after playing three random matches
Locusts no longer spawn at the second E-Hole on the first wave of Island
Players will no longer get stuck inside of a Boom Shield that has been planted by an enemy player
Players will no longer able to look down the scope with a Markza while holding a Meat Shield
If a Locust destroys an objective at the same time the timer runs out in OverRun using Mercy rules, the match will not end early
Fix for exclamation points not disappearing after viewing an unlocked character
While holding a Meat Shield you will only need to tap B to melee
The Meat Shield will now drop if you switch to the snub
The "Spray and Pray" ribbon can now be earned in the first round
If the Boom Shield is disabled in weapon swap you will no longer see the icon in Tac-Com
You will now earn the Team Savior ribbon for reviving three individual teammates in a single life
Players can no longer chainsaw another player while holding the Boom Shield
Improvements to the Hammer of Dawn targeting
You will now see XP tallies between matches
There's some decent changes there, but I think most people who are playing the multiplayer might suggest there are still flaws. Anyway, you can see three new screenshots of the Haven map below, and queue the DLC for download via Xbox.com, or specifically this link. For those that are interested, it's just slightly over 50mb in size.
[nggallery id=1416]
Gears of War: Judgment is available now, exclusively for Xbox 360.