Now that the final DLC for Darksiders III is out, THQ Nordic doesn't want you to forget about the next installment in its under appreciated franchise, Darksiders Genesis. Coming later this year and bringing back some of the original creators in developer Airship Syndicate, this prequel will be the first game to feature the final Horseman, Strife, as a playable character alongside his brother War.
Although Genesis has yet to receive a release date, THQ Nordic has announced that there will be two special editions coming when it does launch. First up is the extravagant Nephilim Edition:
The Nephilim Edition will come in at £349.99 (RRP) and will contain:
Darksiders Genesis game
Official board game Darksiders: The Forbidden Land
Strife Figurine
Steelbook
Artbook
Soundtrack
Sticker Sheet
If you don't fancy watching the reveal trailer above (you're very impatient, you know), this is what all those things look like:

Now, if you aren't made of money, but still want something collectible, THQ Nordic has you covered. The Collector's Edition will feature everything in the Nephilim Edition, minus the big ol' board game. Just in case you want to see that a little more closely, we've got you: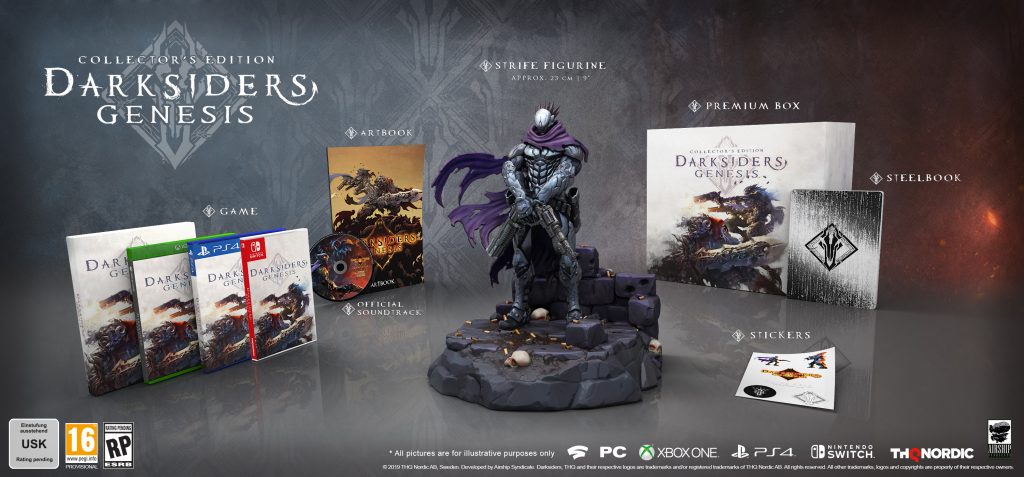 Darksiders Genesis is due to release later this year on PlayStation 4, Xbox One, Nintendo Switch and PC.