Nicola quite enjoyed Borderlands 3, and 2K Games sure enjoyed the huge sales, but what about you? If you're still enjoying your time looting and shooting, you might want to celebrate the 10-year anniversary of the series. The first week of the Borderlands 3 Anniversary extravanganza is almost over, but the second week in a month of special events is about to begin! The Rare Spawn Hunt will make Rare Spawns a lot less rare, making it that little bit easier to grab yourself a Legendary drop.
From 17:00 BST on October 8th until 16:59 BST on October 15th, you can hunt all these Rare Spawns to find the accompanying Legendary drops:
Rakkman – Night Flyer, Legendary Pistol
El Dragon Jr – Unleash the Dragon, Legendary Artifact
Road Dog – Redline, Legendary Shotgun
IndoTyrant – Random Customization
Force Troopers – Random Legendary class mods
Demoskaggon – Random Legendary Shield
The Unstoppable – Band of Sytorak, Legendary Shield
Thunk & Sloth – It's Piss, Legendary Grenade Mod
Maxitrillion – The Horizon, Legendary Shotgun
Borman Nates – Psycho Stabber, Legendary Pistol
Princess Tarantella II – Hive, Legendary Rocket Launcher
Mother of Dragons – Random Legendary Artifacts
Red Jabber – Random Legendary Grenade Mod
Urist McEnforcer – Masterwork Crossbow, Legendary Sniper Rifle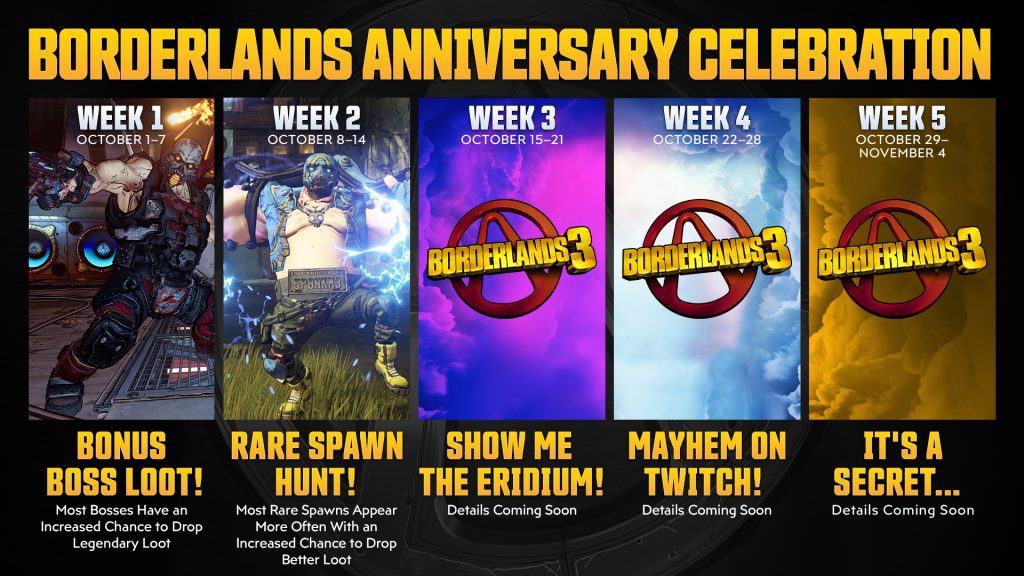 Show Me the Eridium! is the next event on the calendar, with more details coming closer to its start date.
Borderlands 3 is out now on PlayStation 4, Xbox One and via the Epic Games Store on PC.