Now that FIFA 20 is out in the wild, EA SPORTS and FIFA have announced the EA SPORTS FIFA 20 Global Series. This will pit players from around 60 countries against one another in a 9 month competition, with a prize pool of around $3 million up for grabs.
Here's the full schedule: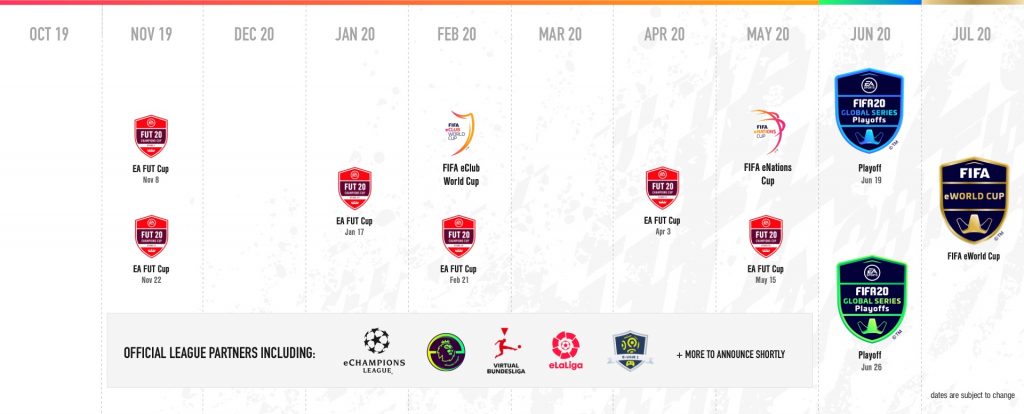 If you're interested, you can check out the FIFA Twitch channel at 8pm UK time tonight for more details, featuring former US player Jimmy Conrad, content creator Mike Labelle and esports commentator Dan Gaskin. You can also find out how to compete here.
Here are just a few ways you can compete and watch the series:
The Road to the FIFA eWorld Cup: To qualify for the FIFA eWorld Cup 2020, competitors must earn enough EA SPORTS FIFA 20 Global Series Ranking Points to qualify for one of the 128 (64 per platform) seats at the EA SPORTS FIFA 20 Global Series Playoffs. Competitors earn points through their performances at marquee live events, which players can qualify through their online performance. Then, the top 16 ranked players each on PlayStation®4 and Xbox One will advance to the FIFA eWorld Cup™ where an EA SPORTS FIFA 20 World Champion will be crowned.
FUT Champions Cups: There are six FUT Champions Cups throughout the season with the first taking place on November 8. FUT Champions Cups are EA Majors, largescale global live events that feature an open qualification format. All competitors have the same path towards FUT Champions Cup glory, and that journey starts first through online competition.
FIFA eNations Cup:

All eligible nations will be able to create a national team in order to take part in the qualification and offer players more opportunities to participate via domestic events. The second year of the annual national team competition will feature a 2v2 team format.

FIFA eClub World Cup: An enhanced online qualification over a longer time period year-over-year will provide opportunities for clubs all over the world to qualify for the live event. The format will be unique featuring both 1v1 and 2v2 matchups.
FIFA 20 is out now on PlayStation 4, Xbox One, Nintendo Switch and PC.