Release Date
September 24, 2019
FIFA 20 feels confident. It seems that EA is well aware of their stronghold over the football game market, and there's also a hint that they know the new consoles aren't too far away, either. There are some large changes to particular modes that will affect the game in the long run that we, truthfully, don't yet understand. But thankfully, the more dramatic changes have happened on the pitch.
A crunching sliding tackle that looks brutal but is clean, leaving the defender to come out the other side with the ball: it's a dying art, and outlawed in the modern game. But truly brilliant defending is still a sight to behold, and with FIFA 20 the emphasis has been put back on to making the less lauded side of the game more important.
That's not to say that attacking has been ignored. One of the biggest complaints about any football game always come down to pace. There's no way a slow centre back should be able to catch, or even out-pace someone like Jadon Sancho or Raheem Sterling, but in past games that's actually happened. In FIFA 20, Mo Salah can be unplayable against certain defenders – and this is true to life. On form, a player like Salah is truly that good, and combining the pace changes with the defensive adjustments makes for a thinking man's game.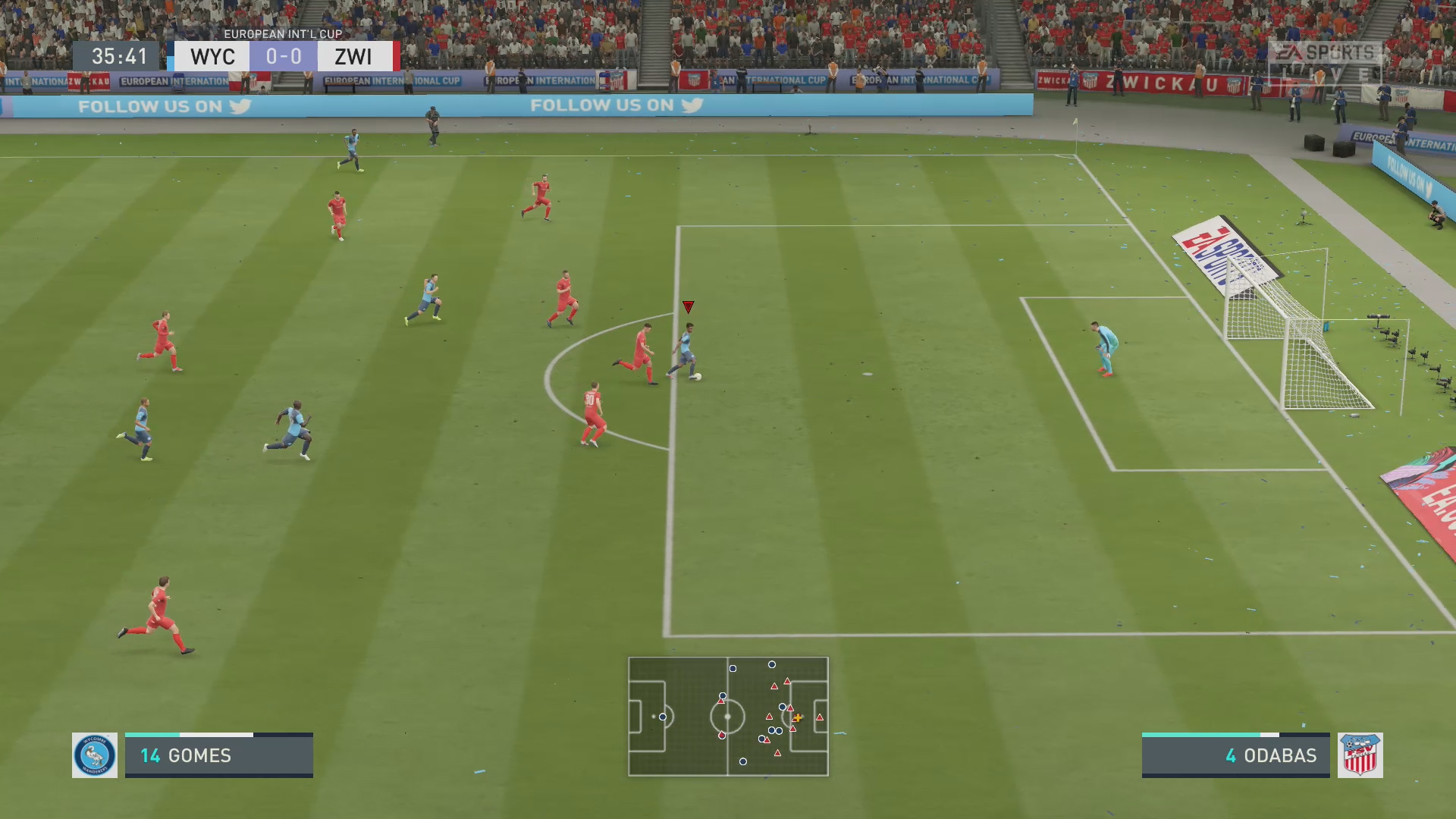 In the past, holding RT (spring) and A (homing tackle) would do the job, but that wasn't always the way: in older FIFA games defending was a skill, and FIFA 20 has brought this back. Using the LT to jockey while defending is now essential. In real football, you're coached to make the attacker go away from goal, and that rings true in this iteration of FIFA. The first job is to get yourself into a good position, but then the important task is to ensure the winger (for example) can't cut inside onto their good foot and cause problems.
Jockeying also gives you a chance to make a tackle. If you just dive in constantly you will give away fouls or, worse, miss and let the opposition through on goal. It takes some getting used to if you don't play this way already, but eventually you'll find yourself reading the game and positioning your controlled player to show them away from goal, or even anticipate a pass out wide. If you can't tell, I'm rather enamoured with the changes to defending.
The change to pace spreads through the game, too. Playing Career Mode as Wycombe Wanderers, you can't transpose your previous styles into this new game. With the greatest of respect to The Beast, Bayo Akinfenwa, he's not far off my age, so isn't as quick as Real Madrid's Vinícius Júnior. On top of that, ratings in the game feel more impactful, and if you're used to the high pass ratings for someone like Liverpool's Jordan Henderson, you're going to have to be more careful.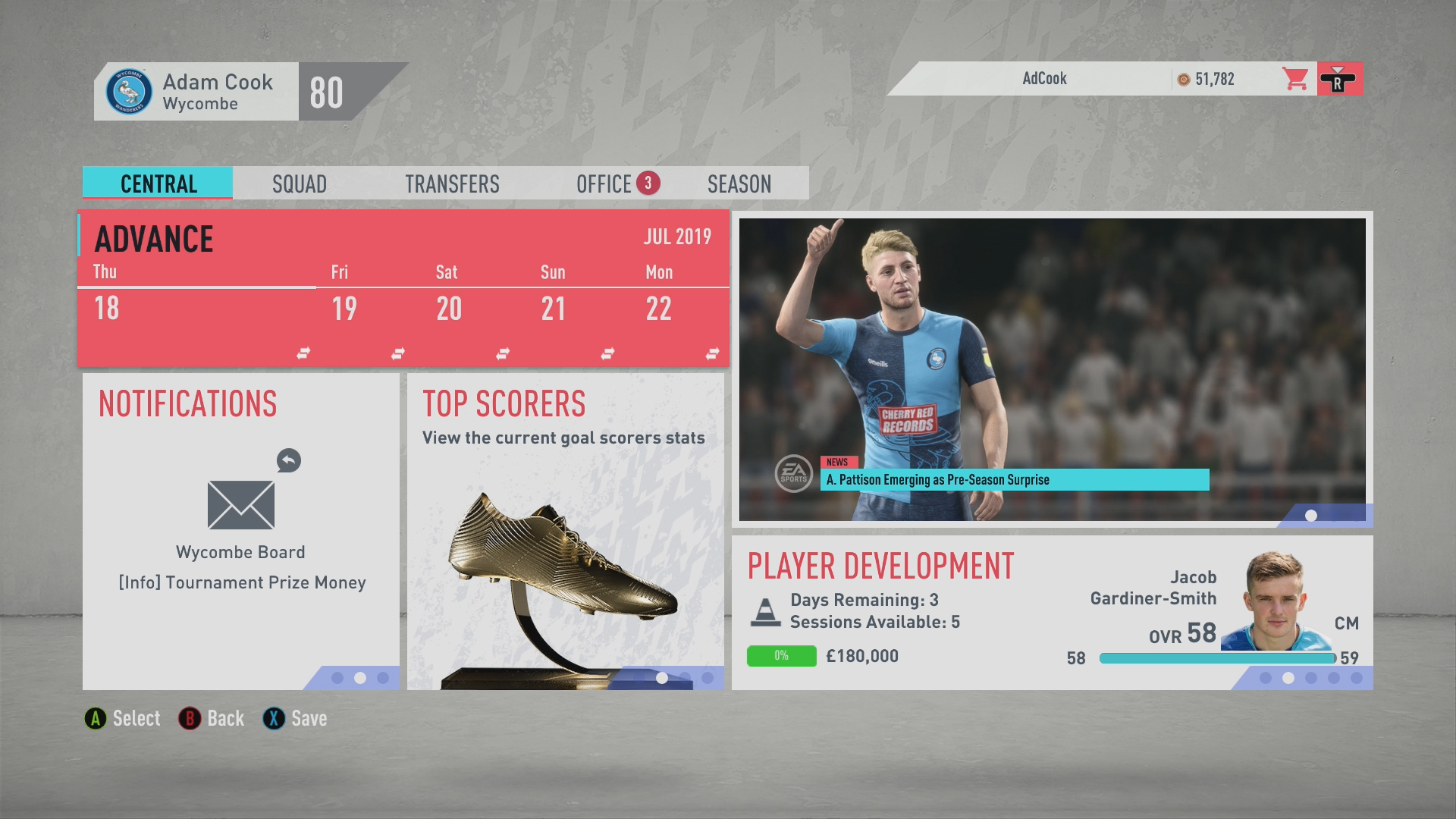 What this allows, though, is for players to come through from nowhere. Wycombe's midfielder Curtis Thompson appeared to constantly be in the right place at the right time, finding space others wouldn't. His dominance for my first year in League One came from trying him in a friendly tournament while trying to sign a couple of young Premier League players on loan.
But gameplay elements aside, Career Mode has been tinkered with in the smallest of ways. The mode I've longed to pull up trees for years now remains largely the same. It's disappointing that my favourite mode has seen the fewest changes, and putting time into the contract negotiation sections doesn't cut it. Be a Pro mode, too, is largely the same, and despite my feelings towards Career Mode, Be a Pro feels like the mode that gets the least love.
Free kicks have had a much needed boost, too, almost feeling like golf shots. You aim for your target, hold the power button down, then you can apply after-touch with a Street Fighter-like motion of the left stick. I'm still no master, but I feel far more in control than in the previous few years.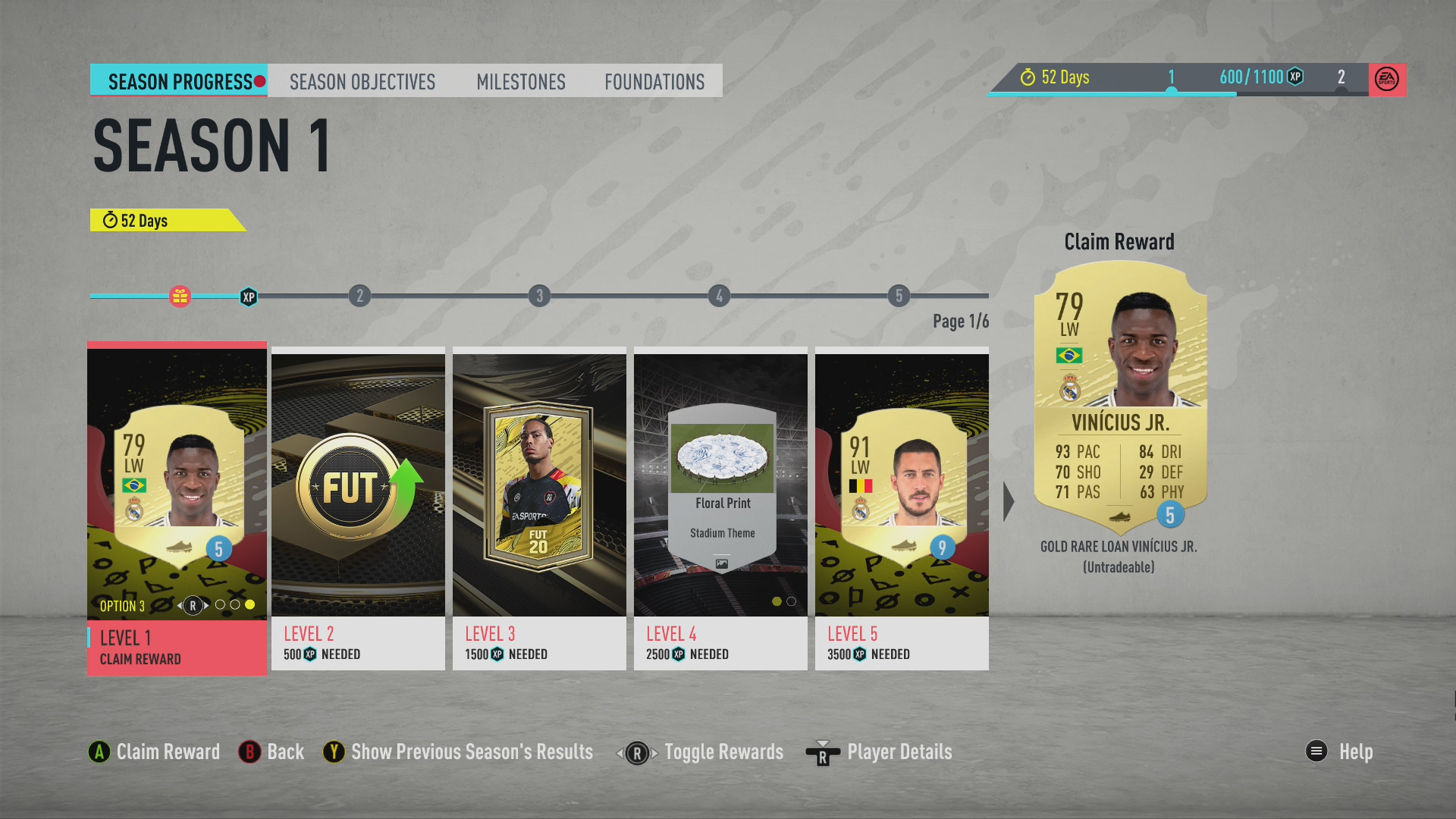 FUT has been changed too, and I'm hesitant to plant my flag as yet. In the past, just playing would level you up, allowing you to buy coin boosts for a decent length of time. This has changed now, with those boosts removed from the catalog. Instead, EA has implemented what amounts to a "Battle Pass" style system that you'd see in the likes of Fortnite or PUBG. As you play the modes within FUT you'll level up, and with each level you are rewarded.
It looks as though these rewards will cycle on a 50-60 day rotation, but currently you are rewarded with loan players, coin boosts, premium gold packs, and cosmetics. My concern here is that this will make FUT even more of a grind. Coin boosts early on are a given with every new game: it's a way to get you more currency and a better team earlier. Doing it this way means a slower earning of coins, and thus you are more reliant on "luck", which isn't good. There are daily objectives to go with the season ones (and these seem to reward with XP currently), so hopefully this all balances out over a longer term. It's early days, but combined with the low probability of getting good players from packs, time will tell if my worries come to fruition.
The single player FUT content does feel deeper than before, and the new fun modes extend into Ultimate Team. King of the Hill is interesting, with a zone on the pitch appearing which you have to fight for in order for your next goal to count for more. Similarly, Swaps mode randomly trades three of your players with your opponent, and they take to the pitch wearing bibs. Scoring with a traded player counts double. You can't substitute in this mode (we managed, but it seems like it was a bug) and endurance seems to not drain, but it could end up that people have "troll teams" full of Bronze players in order to gain a heavy advantage when you trade for three golds. Mystery Ball gives a boost to the attacking side's attributes and the ball changes at every stoppage, while Max Chemistry mode is exactly what it sounds like.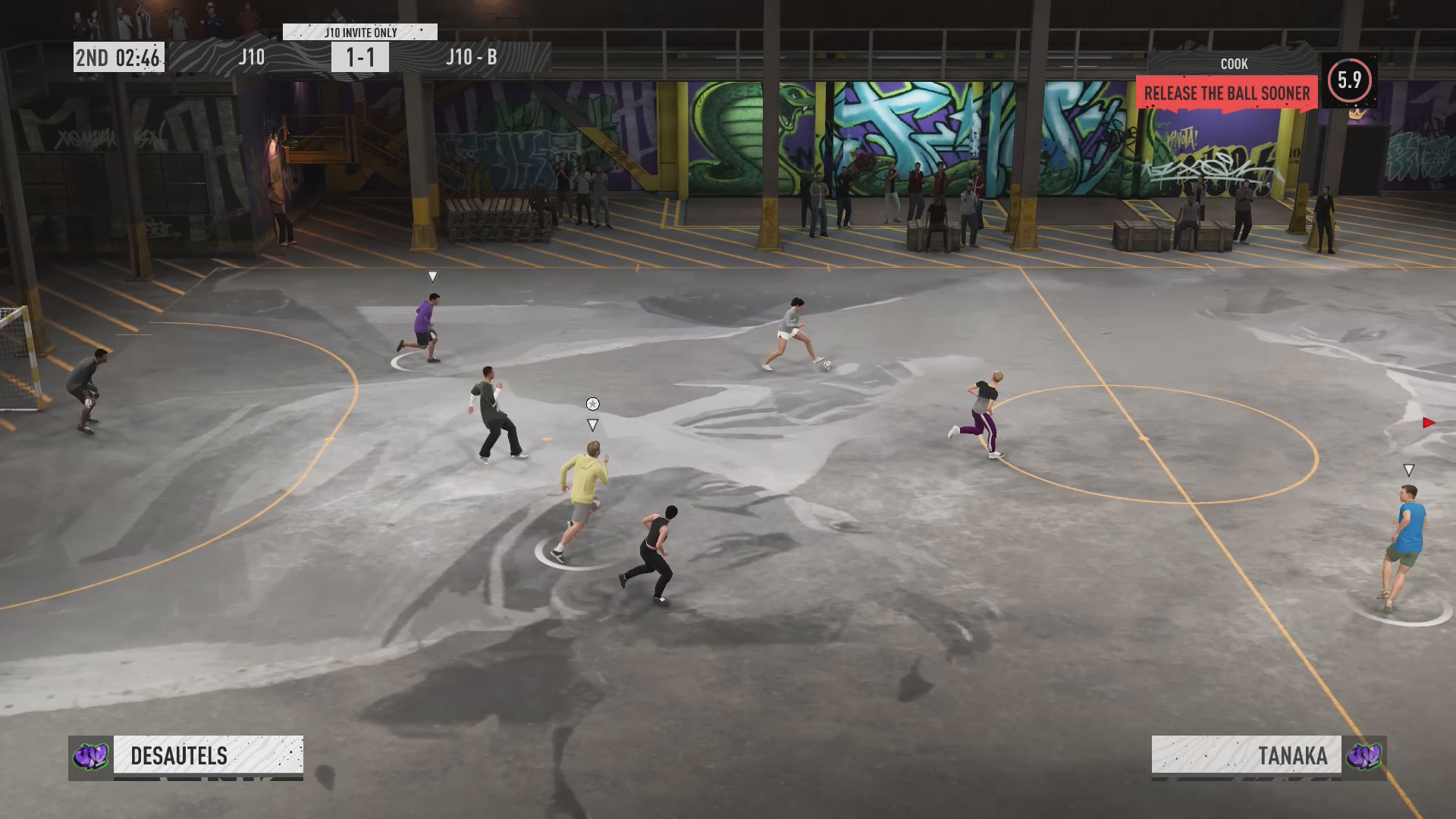 Lastly, this year's flagship mode: Volta. FIFA Street fans can sort-of rejoice, as street football is replicated pretty well, here. Futsal, 3v3, 5v5, etc, it's all here. Those of you who love a trick will enjoy this mode, but that's never been my game. The modes vary, and favourites will rise depending on whether you want a ping-pong wall-bouncing style, or a more traditional street football.
Volta incorporates FIFA 20's version of "The Journey", as there's a story mode that, honestly, isn't great. Some of the accents on show are terrible, and it's cliched and cheesy. Seriously, EA, if you want to do an Irish accent, hire someone Irish and never make people say "panna" regardless of accent. But Volta mode also includes the online modes and a silly amount of customisation in terms of clothing and whatnot. What Volta reminds me of is that first year EA tried Ultimate Team, when it was DLC. Since then it's gone from strength to strength and it's interesting that Volta is part of FIFA 20 in the same way that it's interesting EA hasn't properly broken FUT out into its own, free-to-play game mode (they tried, but it didn't take off).
FIFA 20 is fit to burst with content and there's something for everyone. It's sad that my favourite mode never seems to get enough attention, and there's definitely cause for concern with Ultimate Team's potential grind, but, as usual, FIFA is a fantastic package that looks and sounds like broadcast TV football. There are still some AI issues that crop up here and there, and it's disappointing that VAR and the new goal kick rule don't appear to be implemented (next year on new consoles, I'd bet), but what you've got here is a supremely confident, excellent package of football on and off the field. Next year, though, is going to be very, very interesting.
Positives
Defensive changes are terrific
Pace feels important
Great visuals and audio
Negatives
FUT concerns
New rules are missing
Career mode still needs attention
A superb game of football yet again, but some changes are better than others. FIFA 20 is still a great game fit to burst with a mode for everyone.