Riot Games has revealed the ninth map for Valorant, called "Lotus", which is the first since Pearl was released back in June 2022. This follows on from the release late last year of the new agent, Harbor, and signal the start of Episode 6 Act I on January 10th, 2023.
Along with the new map, there will be an all new Battllepass and ARAXYS skinline, which is detailed below:
Inspired by the celebrations taking place around the world during this time including New Years, Valentine's Day, and Lunar New Year—the Battlepass will feature items like a 9 LIVES classic gun skin, where you'll be able to form a full team of Agents as cats. Other items in the Battlepass include a Shock Heart spray and Folded Wish gun buddy. The ARAXYS skinline brings players weapons of a mysterious, and possibly hostile, alien race. Technologically advanced beyond the knowledge of mankind, they conquered the stars nearly unrivaled with this arsenal, which have now become their legacy.
Speaking about the new Valorant map, Lotus, Level Designer Joe Lansford explained that the team "wanted to make another 3 site map and show that this is more of a format we'll keep using than just a single map. Additionally, we aimed to make a map with high flexibility and movement for both teams". Lansford added that "There are several traditional Indian architectural elements and locations that we took inspiration from. Stepwells, Rock-Cut architecture and the Dravidian style. Badami Cave Temples, Ellora Caves and Rani Ki Vav to name a few".
Concept Art Lead Brian Yam said of the new Valorant map that "When we were exploring the conceptual aspect of this map, we wanted to push the boundaries of fantastical and mystical elements, which were not shown in our earlier maps. In Lotus, we were more free to explore more fantastical visual elements since Kingdom was not present on this map. We wanted to explore the theme of grand adventure, mysteries lost to time, and a lost ancient structure. Indiana Jones was one of the thematic inspirations we drew from".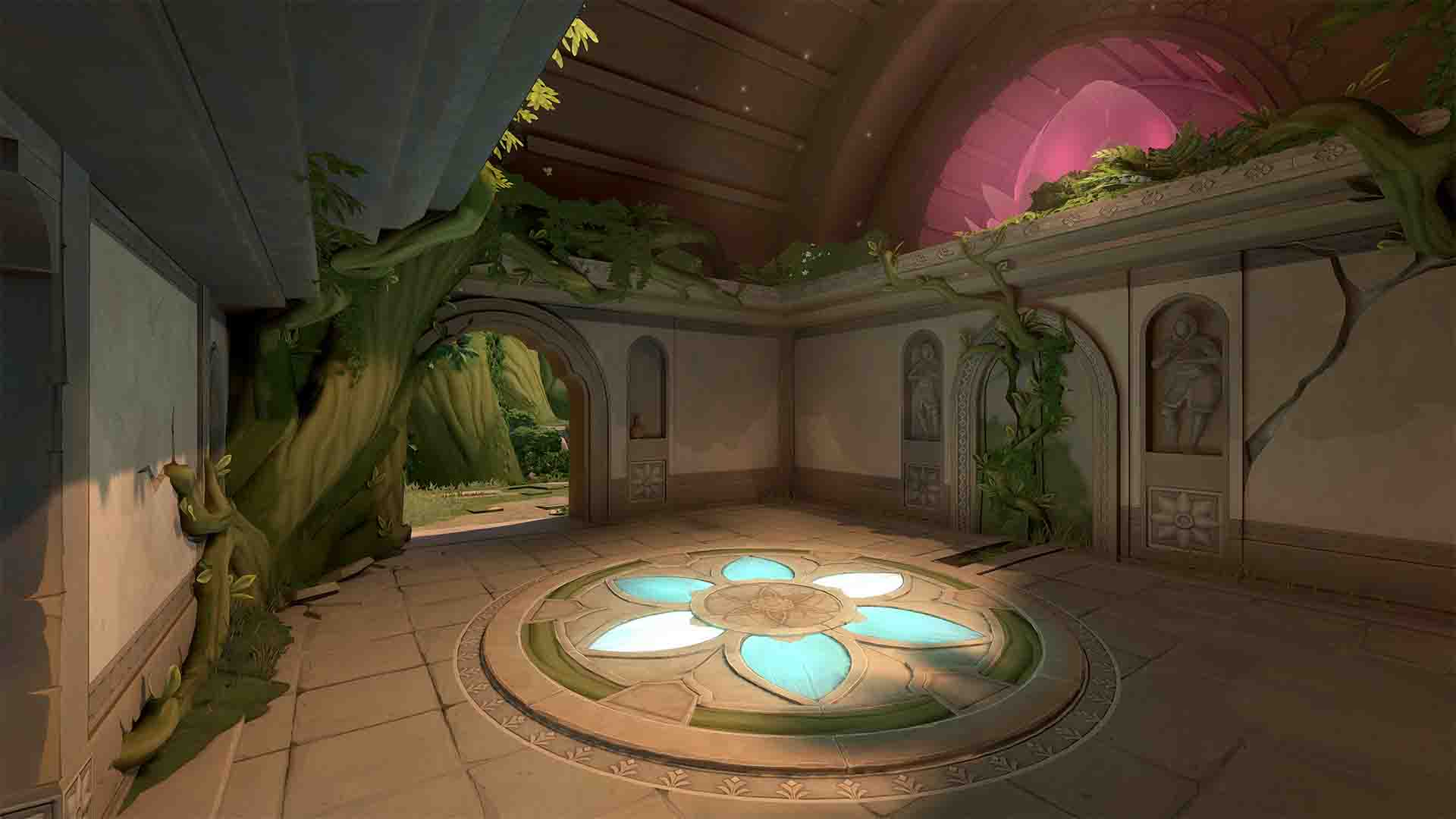 Yam added: "Visually, we found the rock cut architecture fascinating because it evokes a mystical and ancient vibe to the theme. In addition, this also provided a new direction from our existing maps, given that most of our maps are mostly urban or had modern architecture. Set in the Western Ghats in India, the visual direction and the architecture we wanted to explore fitted nicely with the rock-cut architecture inspired from the Ellora Caves and Dravidian inspired structures.
The visual hook for this map are Radianite relics that are present within the structures. The giant mutated Lotus at the center of the map represents one of these relics. For example, one of these relics suggested that the ancient inhabitants used them as a power source for rotating stone doors on the map. In addition, we started playing around with the idea of how the mutated plants could store and provide energy output from Radianite. We were exploring the concept of Radianite "root circuitry" and Radianite lotus leaf panels that were crafted in that time period. This gave an interesting visual where it looked advanced, but also fit the time period. For the visual experience for players, we wanted players to experience an Indiana Jones moment. For example, going into C-site, you are greeted with the Rock-Cut cave and a stream of sunlight from above gives a sense of wonder and discovery of a lost city".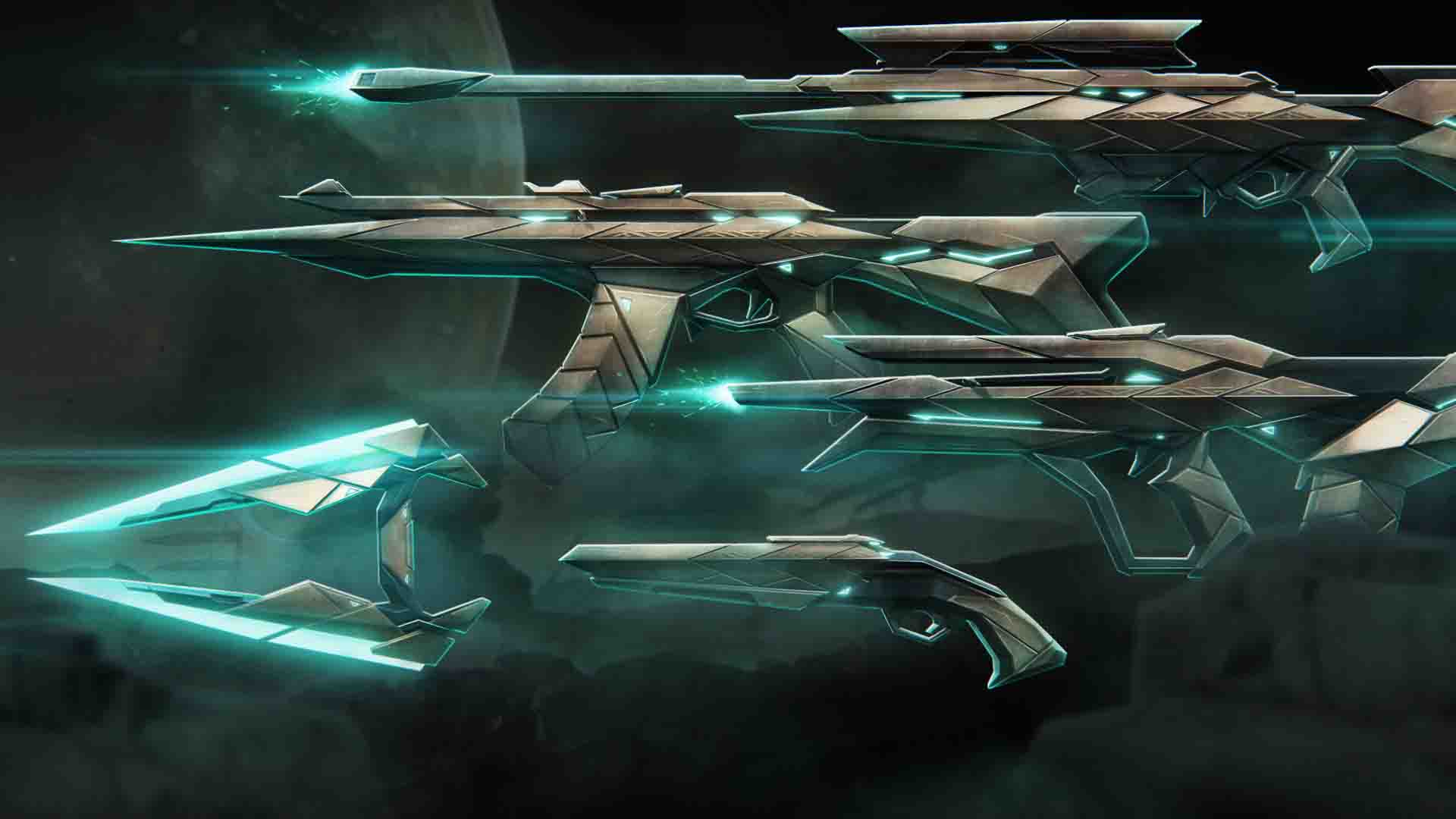 Elsewhere the new featured skin line, ARAXYS, has the goal to "create a skinline that embodied the danger, the mystery, and the power of an unknown, possibly hostile, alien race. We wanted to make something that seemed technologically advanced, yet too dangerous for mankind to wield safely. We wanted to create something sleek but aggressive, advanced but dark in nature", according to Art Lead, Stefan Jevremovic.
Producer Victoria Kim says that inspiration came from "the idea of inorganic things being alive, of bodies made of metal and mineral—but breathed. The story is that these weapons were once wielded by an aggressive and dangerous alien race; large creatures, armored in hard unpierceable scales, who wielded advanced weaponry that could vaporize their enemies in the blink of an eye. Driven only by their bloodlust, they conquered the starsand destroyed galaxies without sway, without mercy. And these guns are their legacy, weapons modeled in their form which keeps the memories of that hostile race alive, and with the threat of their return ever-looming upon the horizon of its unworthy wielders".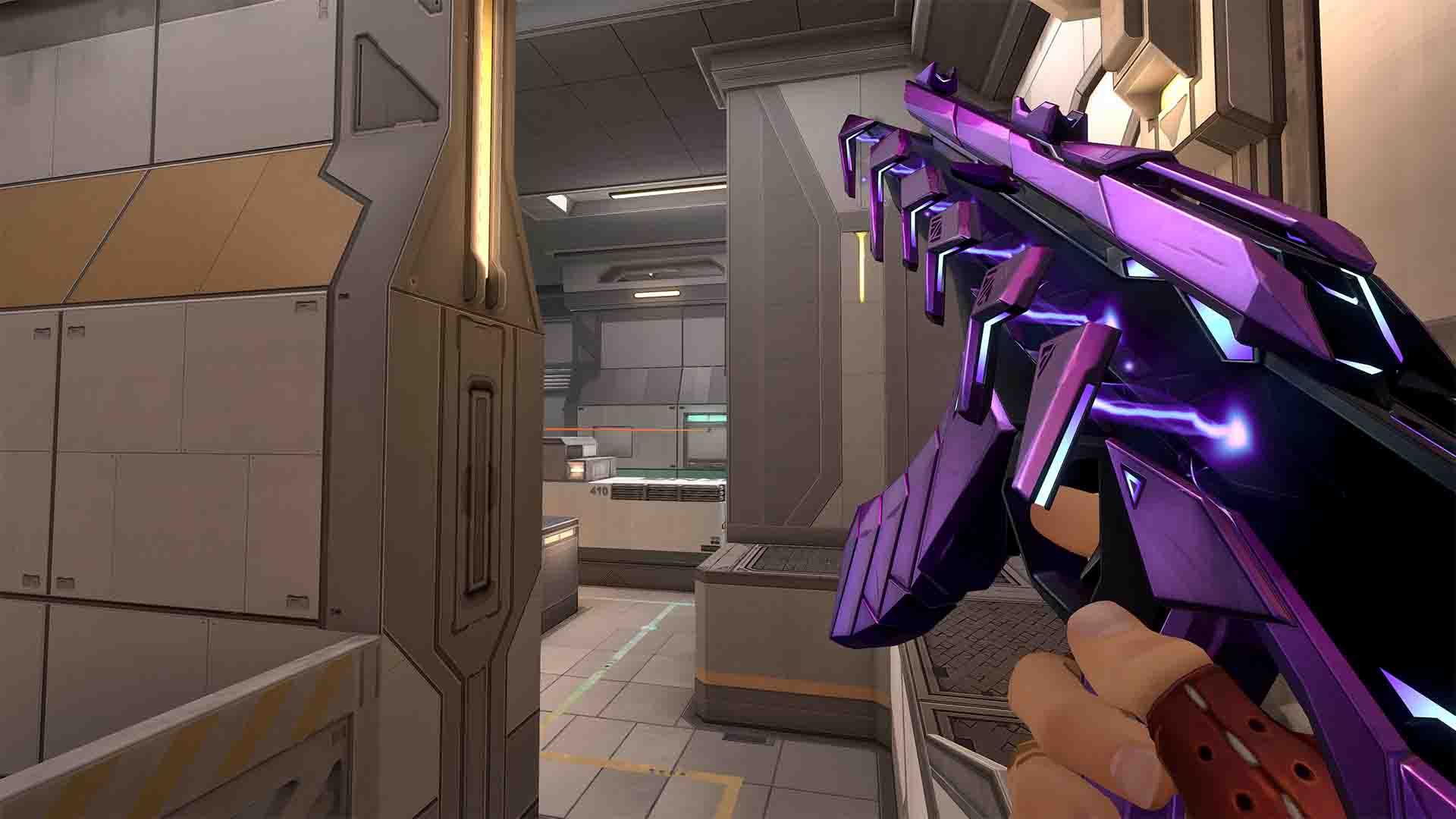 Kim explained: "One of the biggest challenges we faced with this skinline was creating the variants. Not because we couldn't decide on the color, no, but because we decided to create a system to help us design and produce the variants faster and better. There was a lot of cross-team collaboration that had to happen in order for this system to be realized, and there were a ton of issues that we ran into while trying to optimize it. I'm sure it caused quite a lot of headaches for our engineers, our art lead, and our VFX lead, but the end result was amazing! Now, we can make things look awesome more easily, and Araxys is really just that, simply amazing. One of my favorite skinlines I've had the honor of working on."
Valorant is out now on PC, with Episode 6 Act I coming on January 10th.