Release Date
May 21, 2019.
In all honestly, I've probably played Everybody's Golf with my wife for well over 100 hours since it came out. When we're reaching the end of our evening together, we'll whack it on for a bit and play a few holes to wind down before bed. It's an excellent golf game that's both accessible and enjoyable, so when I found out it was coming to VR, we were both rather excited.
When I first stepped up to practice my swing, I was surprised at how well it plays. Sure, it isn't perfect, and it in no way replicates the actual feel of playing for real, but there's a lot to take into consideration when you first swing your five iron. You can adjust the height of your character so it tracks correctly, and with each shot you can choose to practice it or address it – essentially a term used to take your shot for real.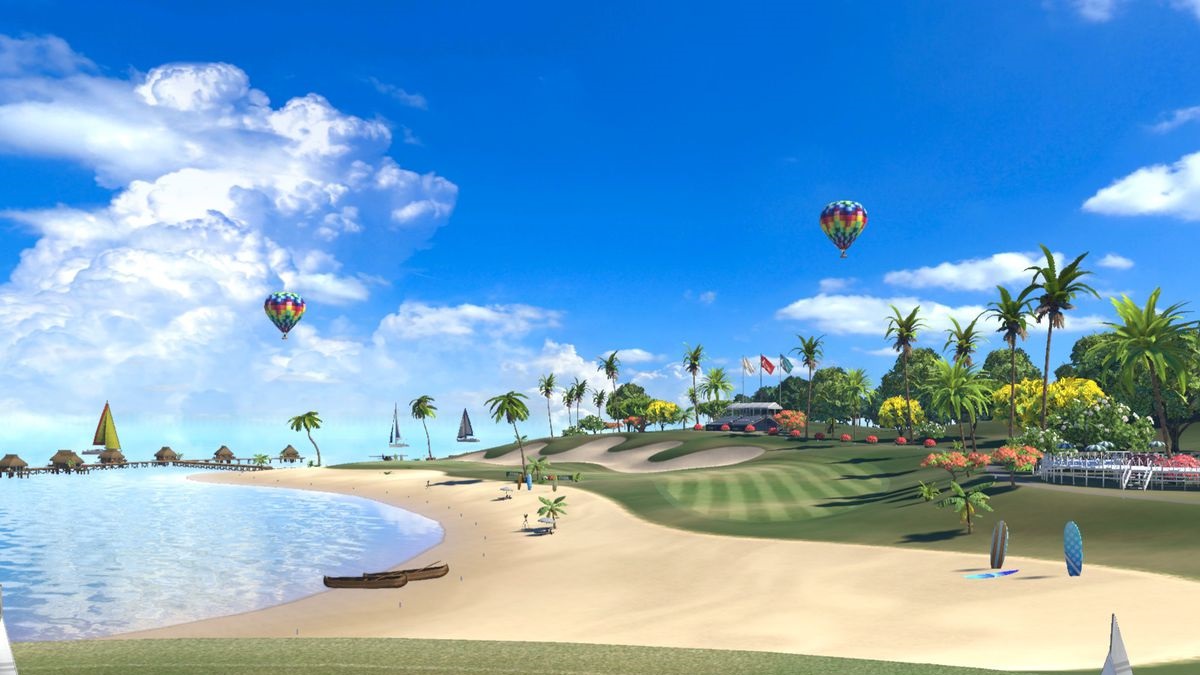 I found myself shifting ever so slightly to line my club up with the ball, and also getting a decent grip of the Move controller to find the right positioning on the club. Considering the Move controllers debuted in the PS3 era, they work incredibly well here. In the practice stage, you can see which direction the ball will go if you were to hit in, and at what position on the ball you'll make contact. When the time comes to hit the ball, you'll have a pretty decent idea what the outcome will be.
When you address the shot, the power bar indicates exactly how far down the fairway the ball will land. When you get closer to the green, you'll see the location of the whole on the power gauge thanks to the flagpole icon. Getting it right does take a lot of practice. Even when you think the shot is ready to take, the control can sometimes drift over and you'll end up in a sand bunker or even the water.
As I said, it isn't perfect, but you will find a rhythm to each shot, and it won't take long until you're making some impressive shots. You can switch between clubs just like in the original PS4 game, and as you play more, your level will increase and you'll get new clubs and equipment for your character. Weather conditions such as strong winds can affect your approach, and the courses have various sizes that means you'll have to adapt your shots, even if the courses are extremely limited; there's no rainly Scotland course or water-logged Thai course here.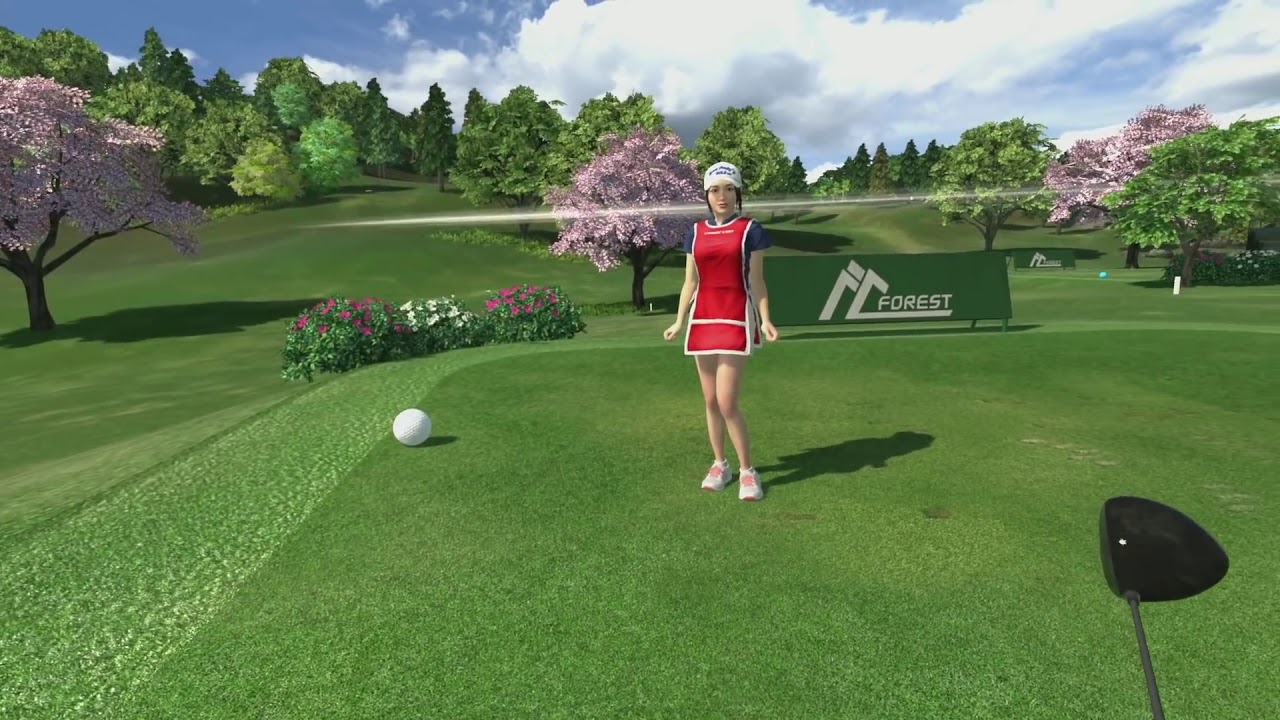 Other than practice mode, the only other one is Course. You can change the length of holes you play between three, nine, and eighteen, so if you're not a fan of the holes on offer, you'll get bored pretty quickly. This isn't populated by lots of courses, NPCs, and modes, but the actual act of playing golf offers plenty of realism regardless.
There are four caddies in Everybody's Golf VR, and even though it doesn't take too long to unlock them all, there's nothing much else to do other than unlock a new outfit for them to wear. It's a bare bones version of the original, so you probably won't spend more than an hour at a time on it. Lucy is incredibly friendly, and you'll enjoy her company, but even she can become annoying thanks to her apparent obsession with you. She's nice enough, but a bit to clingy for me.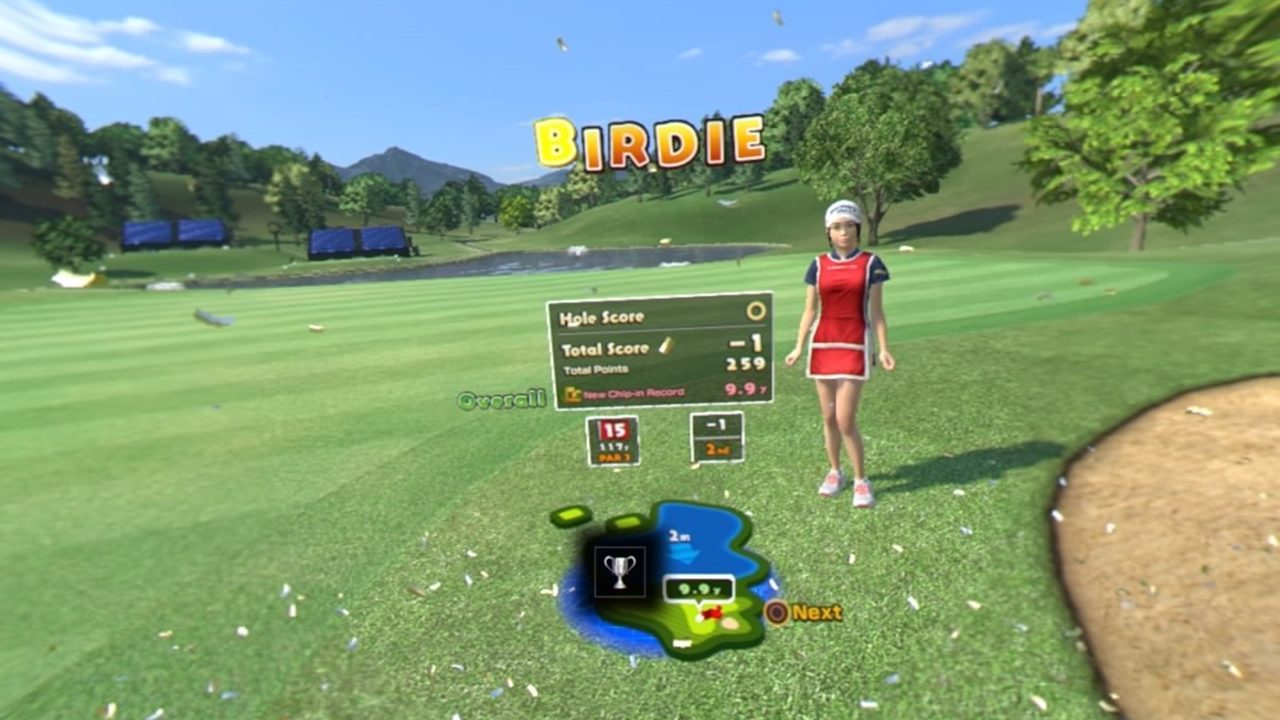 Everybody's Golf VR does a great job of appealing to different kinds of players, and the variety of options will appeal to those who aren't as capable as others. You can choose to play sitting down or standing up, as well as switching between left and right-handed, giving you more control over how you play. The game can be played with a Dualshock controller, and it does a decent job of providing an option for those not wanting to play it like an actual game of golf (i.e. sitting on your arse).
There's a great golfing experience to be had in Everybody's Golf VR, with plenty of options to adapt to your play style, but the lack of courses and modes will mean you won't spend a lot of time with it. If you're looking for something to kill an hour or two here and there, then you should definitely play it. However, if you're a big fan of the original like I am, you'll probably end up sticking with that.
Positives
Fairly realistic
Both controls work fairly well
Negatives
Lack of modes
Courses don't offer lots of variety
Move controller can sometimes drift
Takes a while to learn what power to take your shot with
Everybody's Golf VR offers the same gentle style of golf that the previous entry had, and the golf feels pretty realistic. Unfortunately, there's a lack of modes and limited variety of courses that bring the overall experience down.