Release Date
August 25, 2016.
With every year comes a brand new Madden, which also means tweaks to many facets of the game no matter how small. Although there's nothing revolutionary in Madden 17, there're plenty of changes to gameplay that really help this year's iteration stand head and shoulders above the rest, and Franchise Mode has also received some noticeable changes to make it more accessible and enjoyable.
There seems to be a real focus on the running game this time around, and the improvements to AI make for plenty of varied outcomes for your team and the opponents. The defensive line will fill the gaps and stop runs, which might've been easier in past entries, and your teammates provide a better support to you when you dash off. When on a run, there's a new ball carrier path, and having it laid out in front of you helps you to see the route to the end zone a little clearer. New special moves help your player to dodge, stiff-arm or spin through the defence and the better your running back is, the more variety they have in making these moves.
In the past, you may have felt unimportant controlling the safety or a linebacker because the AI's efficiency was too great, but it's more balanced this time round and makes sure every position plays a vital role. Whether you're controlling the defence or offence, new minigames will start if two players get in a tussle, and by pressing the button prompt frantically, you'll either tackle the runner to the ground or break free and continue your dash.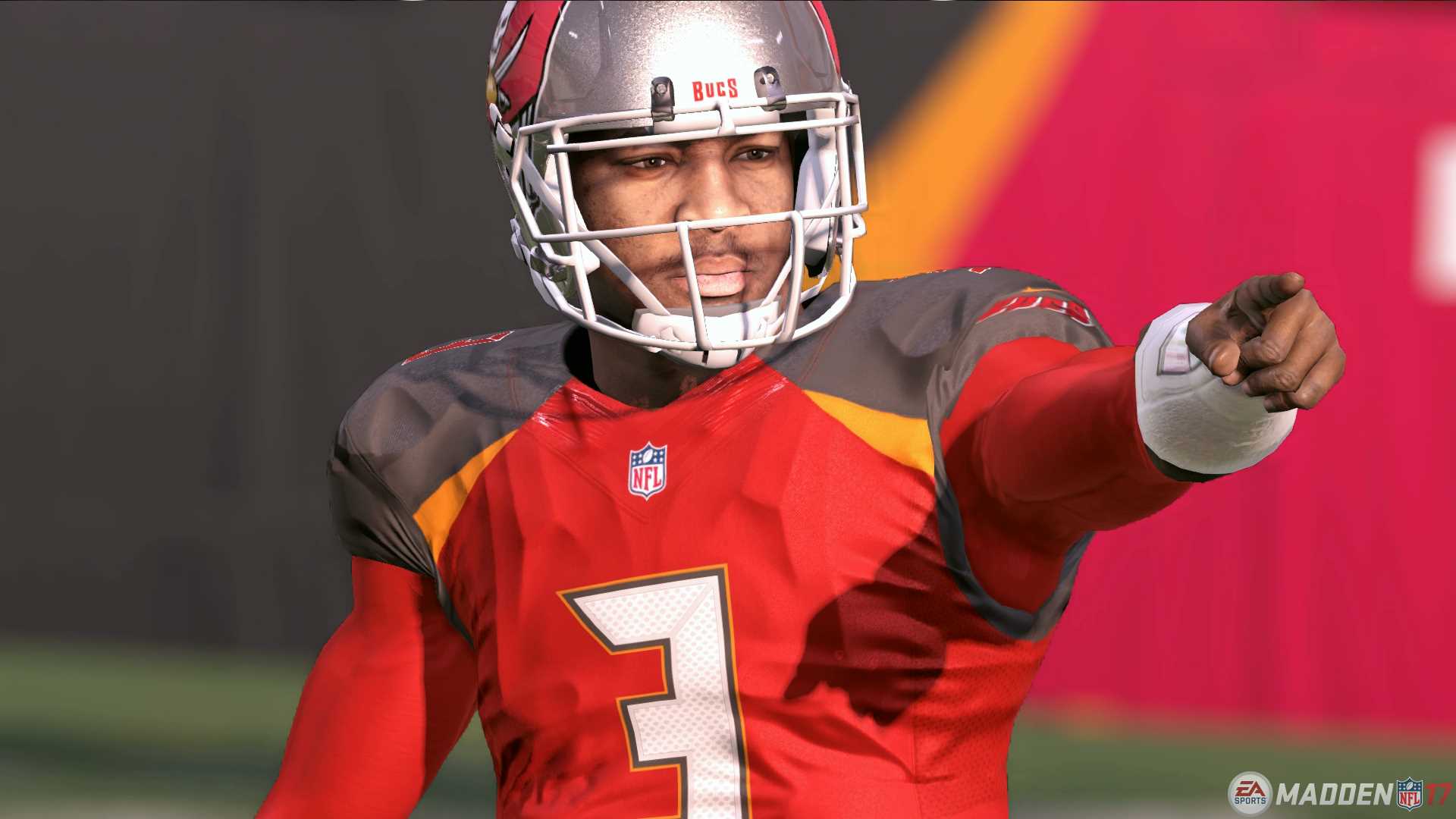 Other changes to Madden 17's gameplay include a new kicking meter. You'll press a button to start the kick, press again when it reaches the top of the gauge for power and once more when the marker comes back to the bottom to secure a greater accuracy. It may be overhauled, but it's familiar and gives you more control of your kicker on the field goal or the punt. Speaking of special moves, you can now attempt to block with a final rush from your defence giving you even more chances to thwart your opponent's offence, although if you actually manage to do this, let me know.
Franchise Mode gives you additional features to make you feel more involved in the management behind the scenes side. As the coach, you can now set targets for your season such as getting 10 wins or reaching the playoffs, and by accepting these challenges you'll receive rewards if you manage to hit them. You're also made to chew on some pretty big decisions that can affect your season drastically. If your quarterback is taken out by an abdominal tear with only a few weeks of the season left, do you bring him back early or force one of your less experienced QBs into play?
Training's aimed more at building up your weaker players with a new practice squad. You can choose to improve a squad featuring your lower levelled players and try to gain XP that way. It's a really nice feature and it helps to make your whole team mean something; everyone has a place and each player has a chance at breaking into the main teams. When you train weekly in Franchise Mode, you can now do so according to your opponent's strengths. For example, I had the Tennessee Titans in game 3 and I was focusing on flood dills because they tended to zone blitz 70% of the time. Moving into the actual game, this training had certainly given me the edge on them because I had an idea what was coming.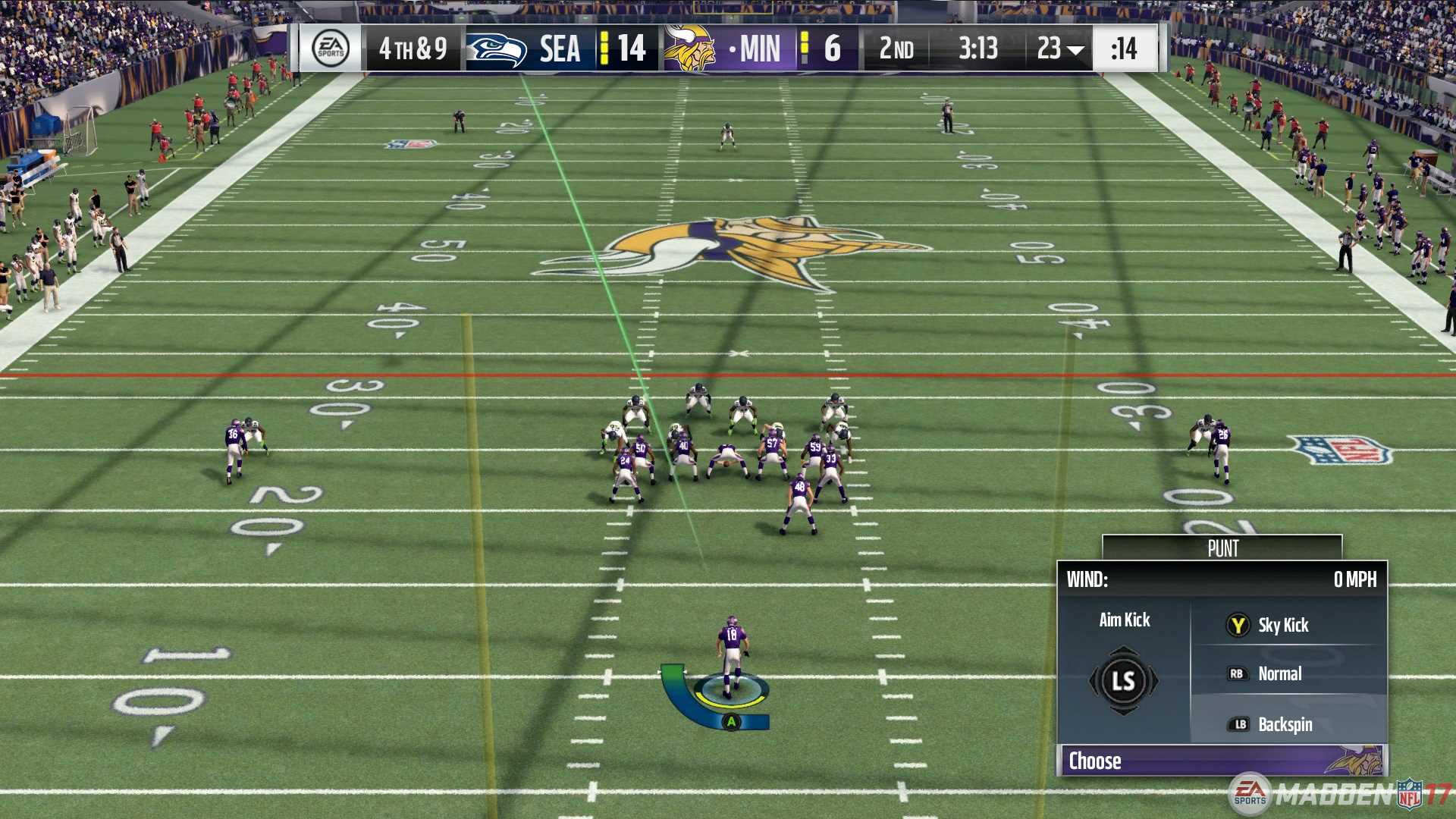 One conspicuous addition to Franchise mode (and possibly the greatest) is "Play the Moment". One match can take a long time to play through, so having the option to dip into the game-defining moments is great. You don't have to pick every play, watch as you turnover or fumble and generally stress out if you've got to pull something big out your playbook in the dying moments. Instead, you can just play when you're close to getting a touchdown or entering into the two-minute warning. I much prefer to oversee every second of a game, but this feature does help to keep things fresh, and help alleviate the stress associated with those important games.
In terms of watching and listening to the action, it's pretty spectacular. There's a new commentary team in Brandon Gaudin and Charles Davis; they pull plays apart, celebrate sacks and remark over how great a touchdown is, even if the enthusiasm isn't always there. As the season progresses, you'll often find the two of them remarking over how certain players have improved or how your team has changed over time. Cameras are much more focused on the action and you'll always have a great view of the game; after a particularly good play the camera pans onto the player who made it and shows them celebrating. At times the camera will also highlight the camaraderie or hostility between certain players as well. In Franchise Mode, a pop up appears along the bottom and shows you the scores from around the NFL too, adding another small but appreciated visual change to make Madden 17 one of the best sports games on the market.
Lots of new features and small changes make it better than last year's entry, with only a few hindrances worthy of mention. Commentary is informative, but dull and never encapsulates the excitement of the real thing. Also, the way players fall to the ground after a tackle is bizarre. They'll fall in a heap – lifeless and seemingly devoid of a skeleton. It only seems to happen when there's a large group of players, but it's still off-putting and just plain weird. These are minor gripes and the gameplay on offer, along with a tweaked Franchise Mode and the returning Ultimate Team Mode combine to deliver a fantastic sports game all round.
Review code provided by EA.
Positives
Improved AI on defensive plays
New features to enhance running plays
Franchise mode has all the right additions
Negatives
Unenthusiastic commentary
Player movement after a tackle looks odd
If you're looking for a detailed and accessible American football game, this is it. Along with fantastic gameplay and a Franchise mode showcasing clear improvements, you won't be disappointed.