Release Date
June 10, 2022
Mario is a pretty talented guy when you think about it. Not only is he used to saving Princess Peach and defeating Bowser, he can play golf and tennis, race a kart, and handle himself in a fight. With so many games featuring everyone's favourite plumber (to be fair, how many other famous plumbers are there?), it's not really a surprise that Nintendo were planning on returning to the football pitch. Mario Strikers: Battle League Football is filled with all the excitement of the sport, along with frantic action involving the familiar tropes of a Mario title.
While there isn't a ton of content in Mario Strikers: Battle League Football, the matches themselves more often than not play out in exciting fashion. There're a surprising amount of controls to get used to, but after the lengthy tutorial and with a couple of games under your belt, you'll get the hang of it pretty sharpish. Each character on the roster has a different skill set, adding an element of tactics when selecting your starting four. As expected, Bowser uses his power to bash players off the ball, and has a cracking shot; Luigi is a solid playmaker and can make some great passes; Toad uses his speed to move the ball up the field with swift dribbling; and Rosalina asserts her technical prowess whenever the opportunity arises.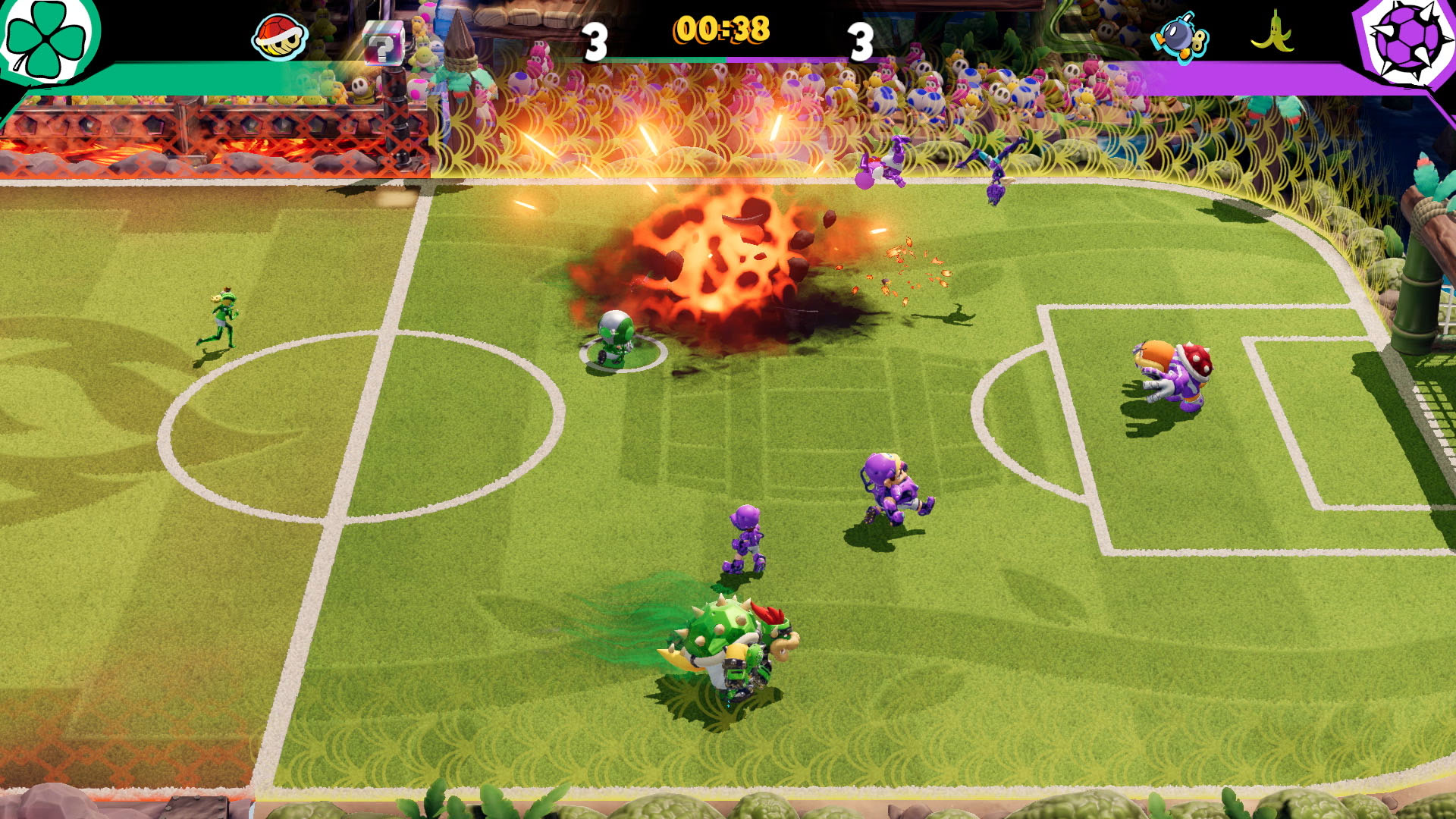 Mario Strikers: Battle League Football: Playing alone has limits
With 10 characters to choose from, it gives you somewhat of a chance to build your team how you want. I'd have loved some more characters, as games become familiar when you quickly learn how each one plays. Like any Mario sports title, playing with others makes the experience infinitely better as you can never predict how someone else is going to utilise their players. Both online and local co-op is available with up to eight players, so upon the main release, I can see lots of people having fun online. I got to dabble a bit, and even though the player base was small (solely due to playing pre-release), I still enjoyed playing with others more so than in single player.
As for the single player, there's not a lot on offer as far as modes go. You can take to the field in single matches, or try out Cup Battles. Both modes are also available online, and I'd imagine the latter choice will be everyone's go-to. In Cup Battle, you go through a series of matches, three in total if you manage to win. You get two hearts, and if you lose, it doesn't mean you're out of the tournament. Instead, you'll either get to play the loser of the other match, or replay if in the final. Mario Strikers: Battle League Football rewards you with coins to spend on gear in the shop. The gear not only improves your stats, but it changes your appearance to give you a whiff of independence.
The perfect shot
Once you've completed all the cups (including the unlockable one), the difficulty ramps up, but so does the amount of coins. There're a fair few locations to play in, but they don't feel too different because your main focus is on the pitch. As I mentioned earlier, there may not be too many modes to get stuck into, but the actual playing is where you'll get your enjoyment from. You can play through balls to teammates, connect with 'perfect' passes and shots for a more successful offence, and the new Hyper Strike gives you a chance to add two goals to you score. Floating orbs appear on the pitch, and if you run into one, you get a short window to initiate a Hyper Strike.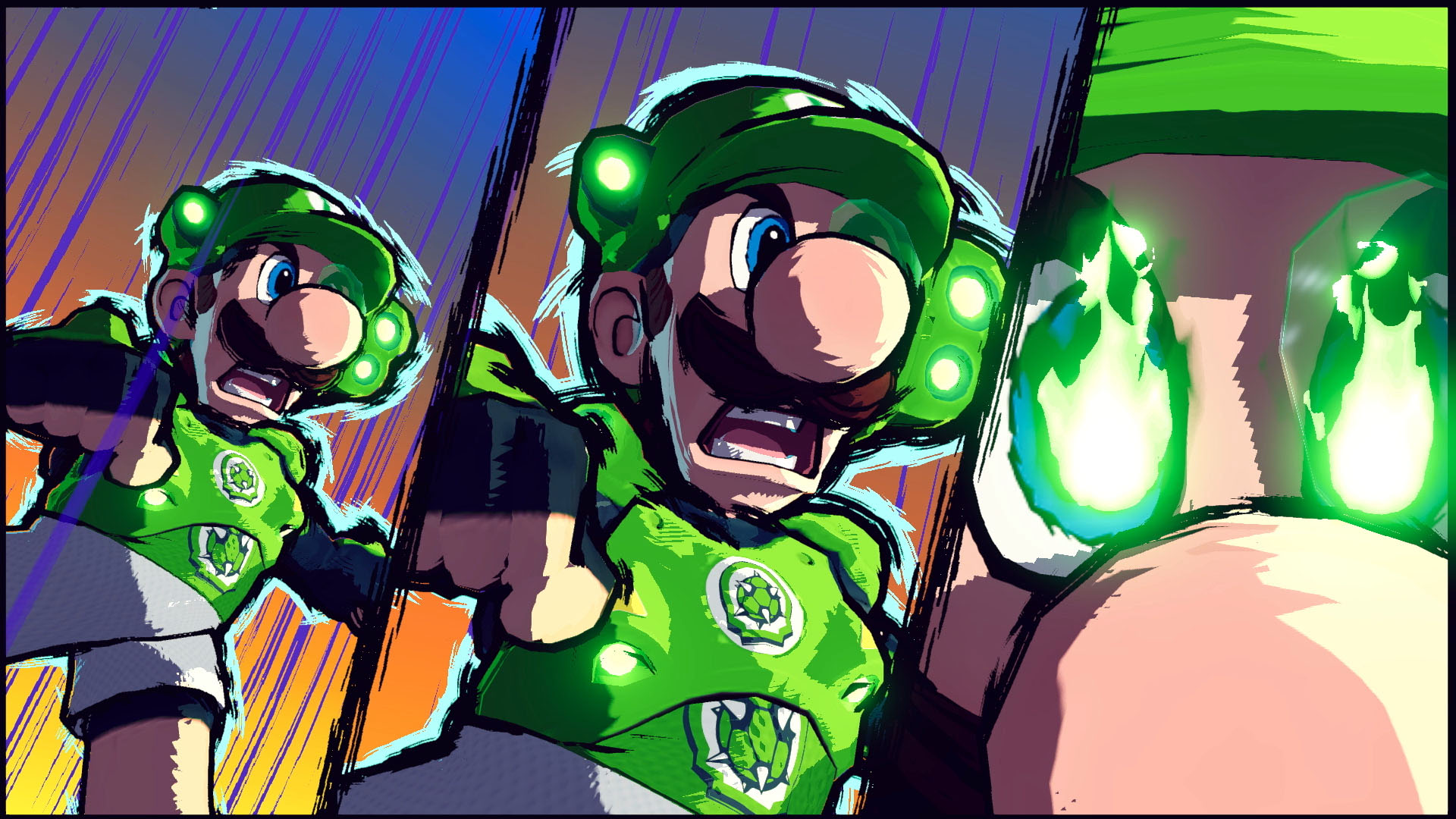 Any player on your team can make the shot, but you'll need to avoid getting tackled while powering up your shot by holding the button in. Once ready, a gauge appears below you, and stopping the marker in the light blue zone both times guarantees you success. If you don't quite hit the mark, there's still a chance you'll be successful, but I often found it a rare occurrence. Each character has a unique Hyper Strike shown off in a short animation, and they all look great. Waluigi, being the lothario he is, places a rose between his teeth, launches the ball in the air before rolling across his shoulders, then boots it with mastery at the goal. Bowser holds the ball in his hand, sets it ablaze, then launches it with ferocity, and Mario performs a bicycle kick from high in the air after saying his famous "let's a-go" catchphrase.
Mario Strikers: Battle League Football: Teamwork makes the dream work
While these strikes look great, they can become repetitive, especially if your opponents get to unleash a few during a match. There's no way to skip them, so you just have to strap in and watch them unfold. Along with low and high passes, teamwork is key when it comes to tackling. You can commit light and strong tackles, but Team Tackles let you knock your own teammates into opposing players. You have to be in an exact position to do so, and with matches often frantically unfolding, it may be some time before you get to do it. Although matches are chaotic, there're still plenty of chances to play with skill. I worried that utilising all the different passing, shooting, and tackling would be lost in matches, but you will definitely benefit from mastering the controls.
That being said, there's nothing more frustrating than getting hit by a red shell when on the cusp of scoring. Bombs, stars, banana skins, and green shells are all in the mix when it comes to power-ups. While you can get taken out a few times during a match, it isn't constant, and I never became frustrated with the amount of times someone used something to take me out. Yes, they do become frequent the more you play, but you have to be strategic when using them. Perhaps my biggest gripe during matches was the poor AI of my teammates. When playing in single player, they never seemed to find open spaces, making the through ball pretty obsolete. That went for getting into space for a cross, as rarely did my team get into the 'box.'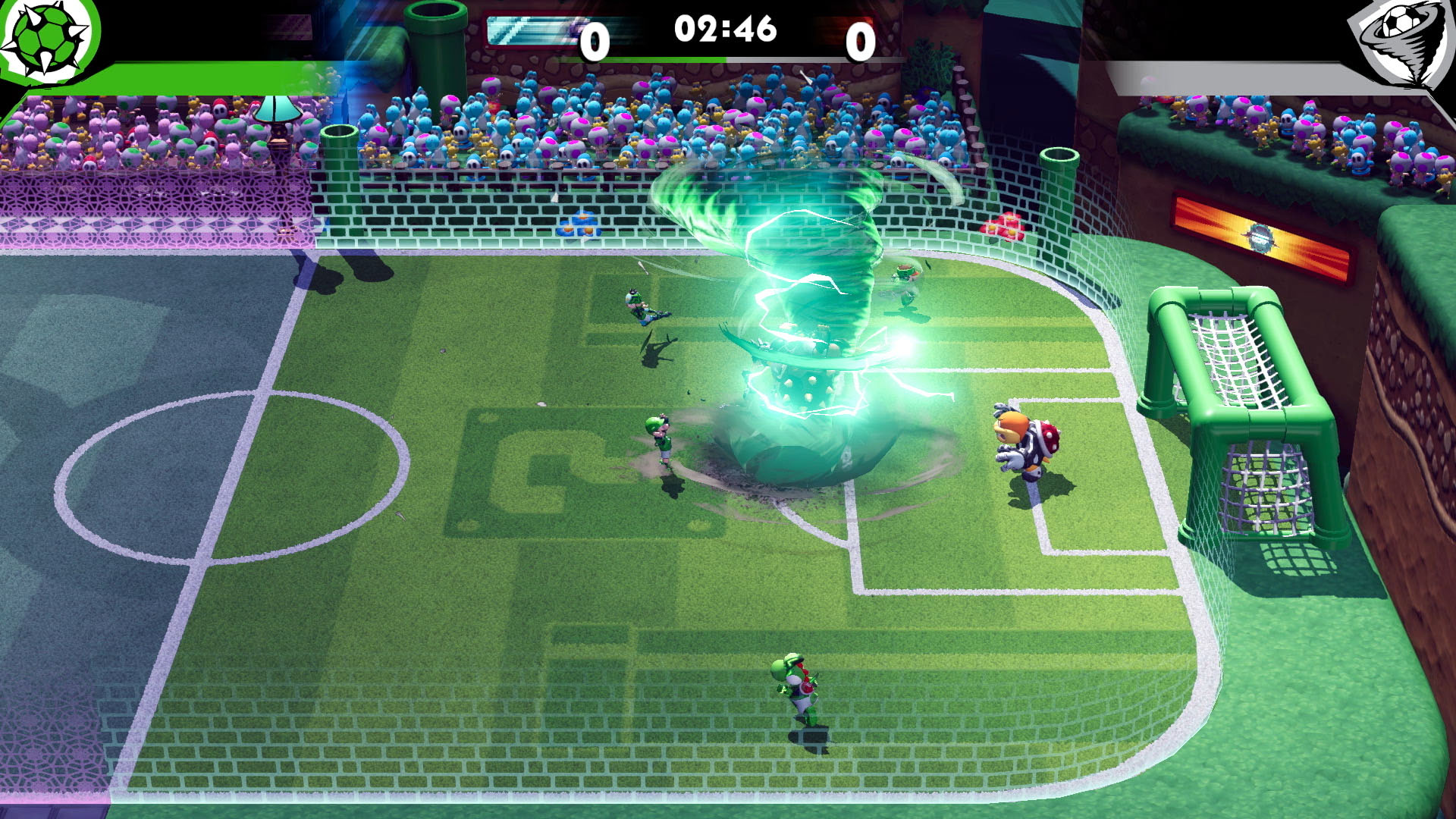 Fun with friends
Mario Strikers: Battle League Football is definitely made for playing with friends, either online or locally. These issues with the AI won't exist as you'll be able to communicate your intentions when passing and shooting, and having real people to play with means they'll think for themselves and find space. It will be interesting to see how Strikers Club plays out after release. In it, you can create custom kits and stadiums, and team up with others to play in week-long seasons to climb the ranks. It looks very much like Nintendo's take on Pro Clubs, and I can't wait to try it out when the player base is there at launch.
Mario Strikers: Battle League Football provides some great action and plenty of opportunities when on the attack. Defending is also hugely satisfying, and the balance of skills among the roster adds an air of strategy in every game. Although there're few modes at present, it's online presence is likely where it'll thrive. I thoroughly enjoyed playing with others as opposed to on my own, but I'm still not sure just how much longevity it has at this point. Regardless, that familiar Mario charm is ever-present, and if you're after a new multiplayer that opts for fun over frustration, you won't go far wrong with this one.
Positives
Varied gameplay
Looks great
Playing with others is fantastic
Negatives
Weak AI
Limited modes
Not a lot of content
Mario Strikers: Battle League Football is great with others and offers plenty of opportunities to shoot, pass, and play the beautiful game despite there being few modes to choose from.