Release Date
September 6, 2019
There was a lot of movement in the NBA's off-season this year, with cover star Anthony Davis joining LaBron James at the Lakers, and Kyrie Irving and Kevin Durant teaming up in Brooklyn with the Nets. It's always exciting when so much occurs because it completely changes the face of the league, meaning anything can happen when the season kicks off. Golden State Warriors are no longer the champs, but even the winners -the Toronto Raptors – lost their star player Kawhi Leonard to the LA Clippers. NBA 2K20 hasn't had half as many changes as the NBA has seen, but that doesn't mean it's the same game as last year.
In fact, Visual Concepts has tweaked certain elements of the gameplay that makes it such a dream to play. Ball handling is more liberating, with a huge emphasis on freedom when on the offence. There're no longer set animations but rather the ability to fully control your player with the right analogue stick. If you have someone who's great at ball handling such as Kyrie Irving, then you'll find it much easier to break away from the defence and drive to the basket.
AI has been improved across the game, which means you'll be less likely to keep switching to different players because you don't trust your teammates to defend efficiently. They'll mark tighter, get into better space, and make smart plays when it comes to finding the right shooting opportunities. I found some issues with my team not passing to an open player, and if I managed to break away from my marker they'd seldom dish the ball to me when I clearly had an open shot.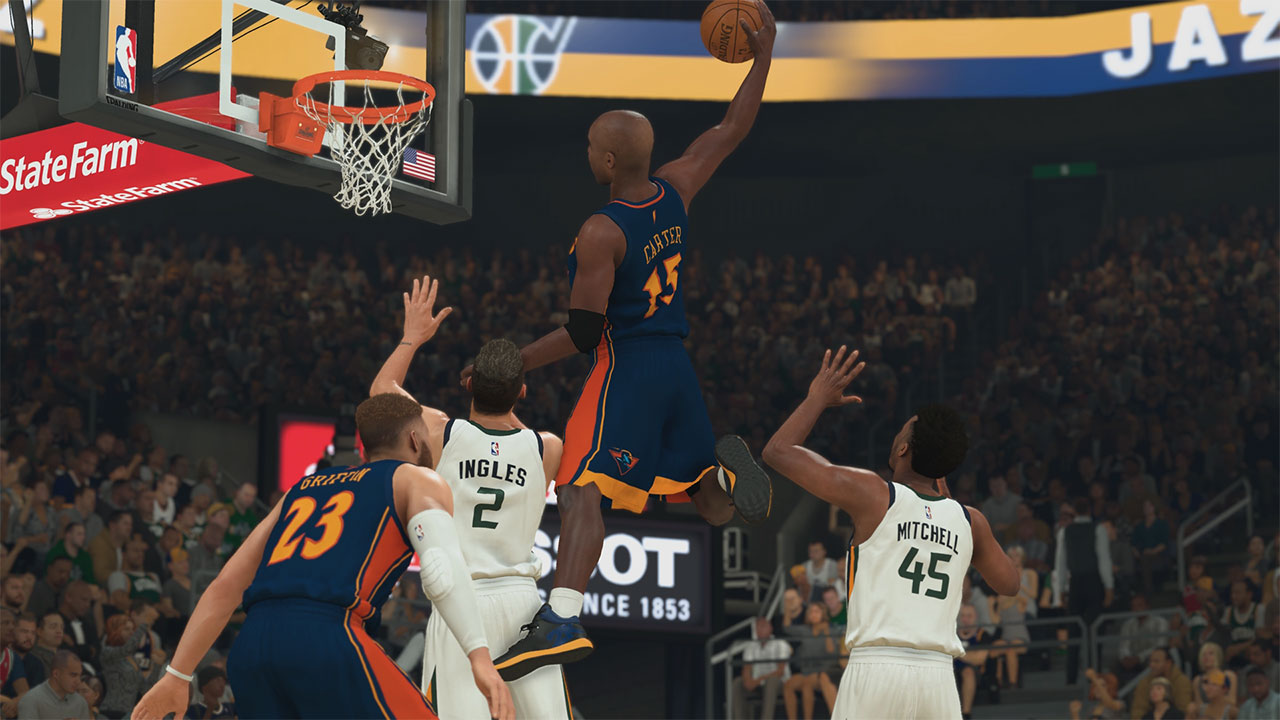 Shooting is another improvement in NBA 2K20. I found last year's game made it difficult to sink a bucket even when in open space, but Visual Concepts has made sure that player ratings play a bigger role more than ever. Knowing who's good in the paint or outside the D helps, and when you find a good opportunity to take a shot you'll likely score if you're good from that area. Guys like Steph Curry or Klay Thomspon will rarely miss a 3-pointer, and inside shooters like Joel Embiid and Karl Anthony-Towns are fantastic around the rim. The fluidity of the shot is amazing, and so too is the lay-up game.
The balance between the bigger and smaller players has been addressed too. If you're Damian Lillard going on a fast break, you'll outrun the likes of Enes Kanter. All movement and footwork has been improved, so the weaker you are on your feet you'll be left behind in the dirt. Also, you won't get taller players moving as nimbly as the likes of Kemba Walker, bringing a new level of strategy to how you play. Visual Concepts has been listening to the fans, and for the most part they've listened to them.
MyPlayer has seen a complete overhaul in NBA 2k20, giving you more control on exactly how you want to play basketball. The introduction of two types of pie charts you can select will provide the backbone of your creation, allowing you to choose between the stamina and speed of your player, your shooting and playmaking, as well as other attributes. Once you've spent time playing with the creation suite, the brand new story is well worth playing. With LeBron James as Executive Producer, and starring the likes of Idris Elba and Rosario Dawson, 'When the Lights Are Brightest' is by far the best story mode the NBA 2K series has ever seen.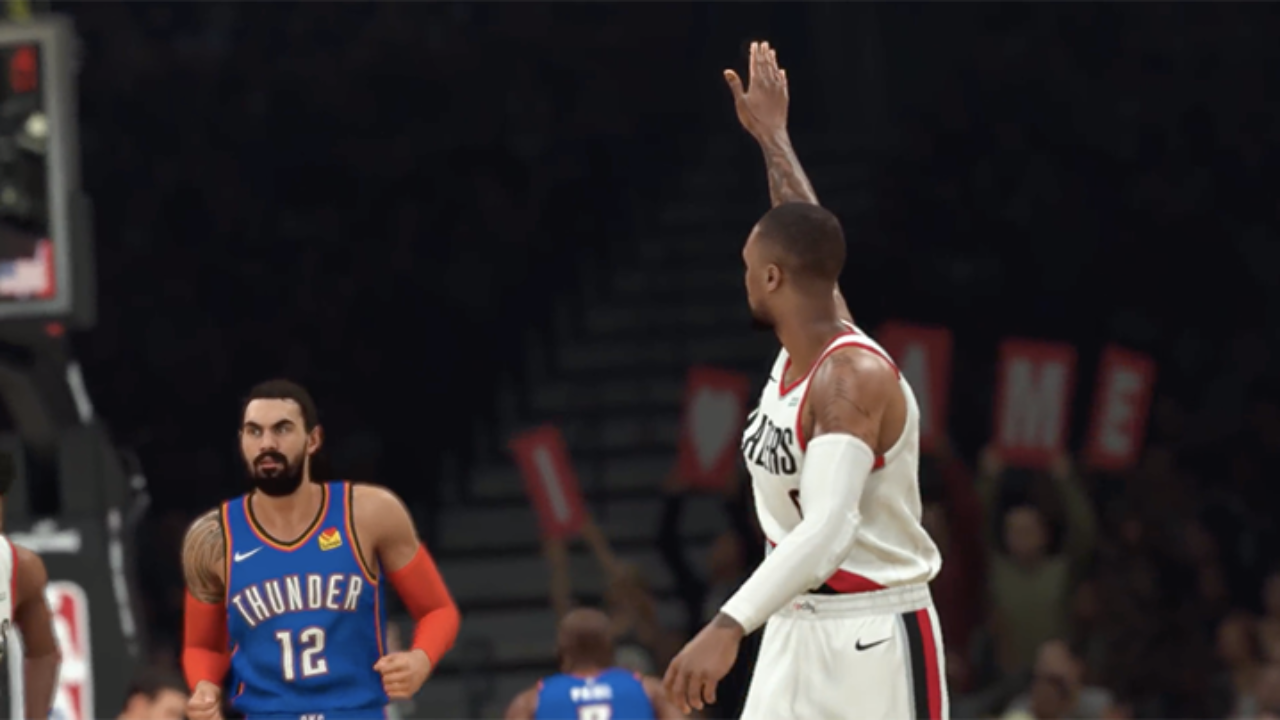 It's much more like a full-on story instead of one that's poorly implemented into the MyCareer of past games, and it last for a good 4 hours that puts you through a dramatic and emotional plot that is well-written and free of most of the obvious cliches as seem before. Your character is Che, a long-time college player who decides to step away from his team in protest for his best friend being dropped after a torn ACL. It's a reflection of LeBron's support of Colin Kaepernick refusing to kneel for the US national anthem in the NFL, and makes it feel more modern and topical.
When you do get a chance at the NBA, the process is tough, challenging you to earn your place rather than simply handing it to you. NBA 2K20's Combine is made up of various challenges and games, and as you progress through it your position in the draft improves. My main issue with the story comes during a section where you have to complete a series of minigames that see you lift weights, test your vertical jumping, and complete a running drill, but the controls don't seem responsive at all, and my ranking in the draft dropped as a result. It was frustrating, especially as I'd been putting in decent performances in games. Load times are its biggest drawback as they go on for far too long, but at least the moments of gameplay aren't as fleeting as seen in Madden NFL 19's second Longshot story mode.
When you finally finish the story, you're free to roam The Neighborhood. It feels unchanged from last year, with the layout of it all centred around the streetball competitions, but it's still a lot of fun to explore in NBA 2K20. There're plenty of stores to spend your VC in, as well as the ProAm and Rec Centre's returning from last year. A few new minigames have been thrown in, but they feel pretty pointless, such as the disk throwing event. Virtual Currency is still an issue to acquire, and the building of your character's skill set and abilities still take far too long.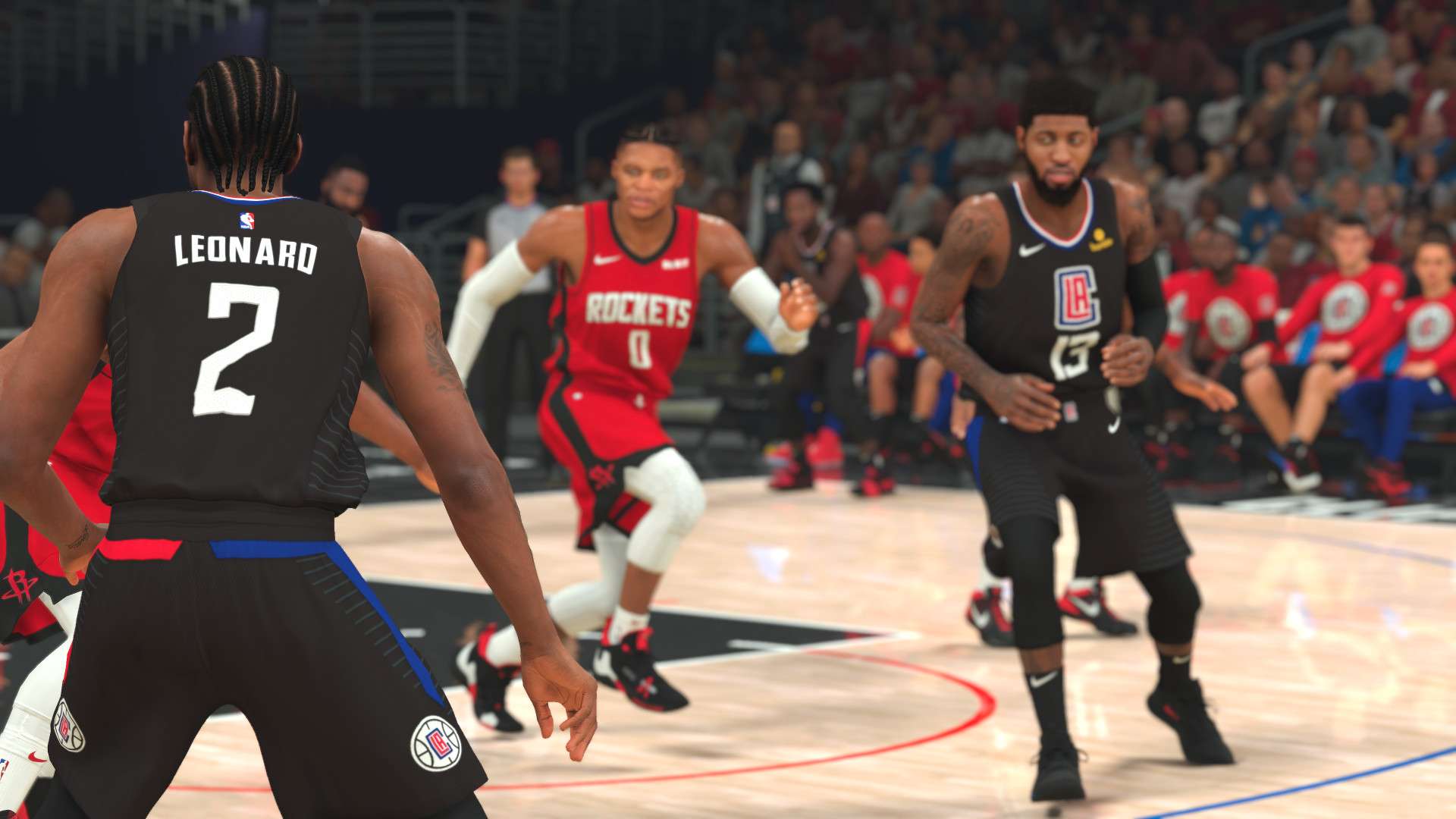 MyTeam has been a mode that has never really grabbed my attention before, but there has been a real effort to make it worth your while in returning to it every day. Daily log in bonuses will grant you with tokens, new card packs, and other prizes, all which are expected to continue throughout the regular NBA season. The introduction of Evolution Cards are also impressive, allowing you to choose from one of 5 NBA stars and complete certain challenges especially for them which will make their ratings and Badges improve once completed.
Another mode which has seen some improvements is the MyGM mode. Action Points have been added which means every decision you make has to be thought out carefully. Talking to your players spends an AP point, as do certain moves in the back office. It does feel restrictive, but the difficulty you select before you start will either give you more or less depending on what you choose. There's also a Skill Tree that helps you to improve a wealth of options in your career, and I quite liked the ways in which they build your GM up as you played.
There's a whole lot to love about NBA 2K20, with the gameplay at its absolute finest. The good far outweighs the bad, with plenty of tweaks to gameplay that make it a joy to play on the court. Clutch moments are electric and stressful, with the AI helping to make these moments as realistic as possible. Load times are a pain in MyCareer, and the MyGM improvements stunt the freedom once felt in the mode, but overall I love Visual Concepts and 2K Sports' latest entry into their franchise. The introduction of the WNBA means we could see it become a bigger part of NBA 2K over the coming years, and the new additions to MyTeam mean players will keep returning, not only to play the improved 3v3 mode but also receive new rewards simply for playing.
Positives
Gameplay is at its finest
Story mode is the best yet
MyTeam has had some important improvements
Negatives
AI struggles on the offence
Load times are a pain
MyGM mode feels restrictive
NBA 2K20 is another fine entry into the franchise, with this year's story mode being its best yet. There are issues, but the good far outweighs the bad.