Release Date
November 2, 2018
I never thought I'd be reviewing a Taiko no Tatsujin localised release, but here we are. The Switch has allowed loads of Japanese releases that usually are restricted to Asian regions to see releases in the West such as Puyo Puyo Tetris and it is great to see Bandai Namco giving this series a proper shot in the West with not one but two different games releasing on the same day. This review will focus on Taiko no Tatsujin: Drum 'n' Fun! for Nintendo Switch, see our PS4 game review, here.
I discovered this franchise through the Vita entry when I was looking at buying more rhythm games for the best handheld and ended up importing it. I even wrote about it over two years ago. I imported the Asian-English release for the PS4 game and have been enjoying that on a regular basis since release. When the Switch version was announced for Japan, I resisted importing it in the hopes of an English release in Asia and Bandai Namco Entertainment announced a full localisation for Europe and North America soon after so I made do with the Japanese and then English demo ever since.
If you've never heard of this franchise before, your aim is to play a Taiko drum to the beat of whatever song you've selected. The newer games include much more than just the base Taiko mode, offering party games, multiplayer, and more. The controls are simple. As opposed to most rhythm games, Taiko requires you to hit a few kinds of notes using two buttons (for the button controls) for red or blue notes. Larger notes involve pressing two buttons for each note. There are also special notes like the Balloon and mallet notes that have you pressing notes like a drumroll.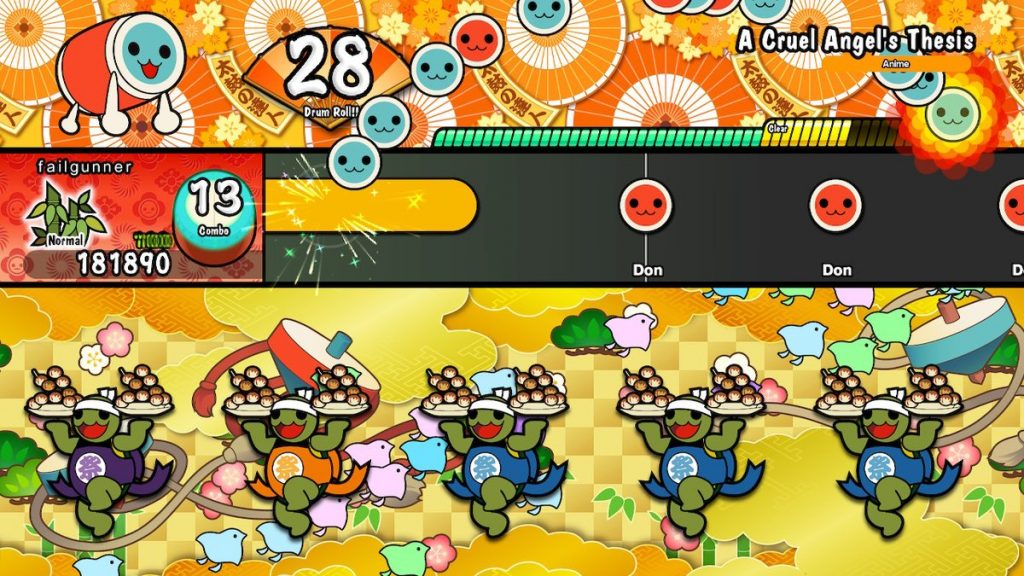 Song selection is important in rhythm games and while most of the ones on Switch have been focusing on single genres or lesser known music, Taiko has loads of big name licensed music from games, anime, and even pop in addition to originals, classic music, and even vocaloid music. It's a shame there's a lack of BABYMETAL since Gimme Chocolate was in the Vita and PS4 games but isn't here. The Switch version makes up for a few omissions with exclusive music like the Splatoon 2 medley, Jump up super star from Super Mario Odyssey, and a Kirby medley. You can even play as Kirby or the Squid instead of the usual Taiko characters like DON-chan. If you're worried about the track-list not having every song, you can relax because the European release has all the songs that were included in the base game and has been confirmed to get the DLC as well going by the main menu.
Taiko mode is the what you will likely spend the bulk of your time in but the party mode is surprisingly fun and varied. It actually makes this my preferred version of the game. While Taiko mode can be played by two people at most on the Switch, the party mode supports up to four at a time. You can even play solo against AI controlled opponents. The games are all rhythm focused but very well thought out. One of them sees you jumping along with the music to collect items while another has you eating noodle bowls or even scooping up fishes. I'm glad this didn't turn out to be just some random mode tacked on to buff up a feature list.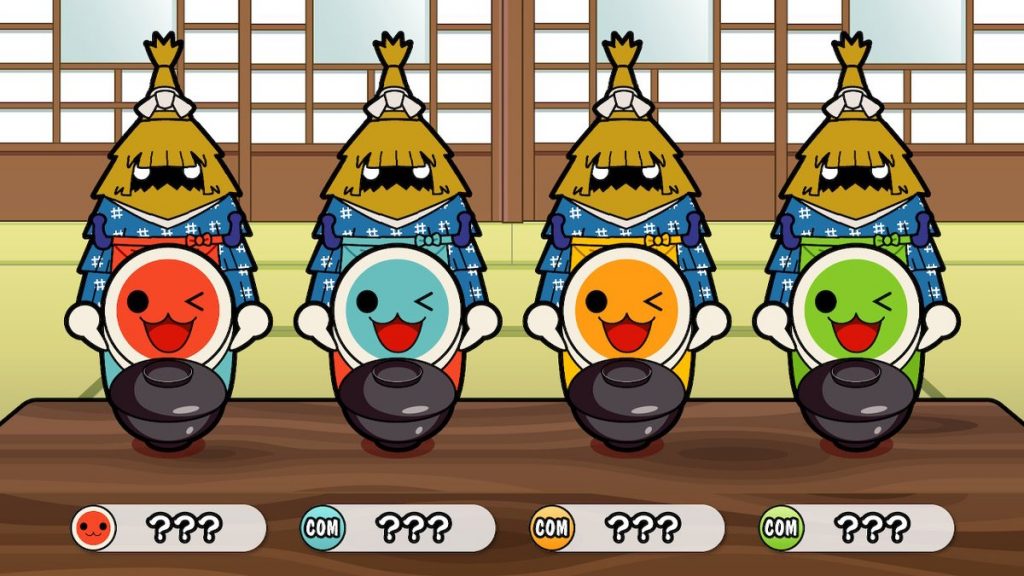 The best part about games on the Switch (when they actually use it well) is having tons of control options. Taiko embraces this by offering full touch support for gameplay in handheld, Joy-Con motion controls, full button controls in both modes, and even the drum controller that is sold separately. While the Switch offers more control options for the game than any other system, the motion controls don't work too well. It does take a little while to get used to them but they never felt intuitive even after a few hours. I stuck to touch and button controls for handheld and docked gameplay. I would've preferred a few more newer game songs for that category and while the inclusion of Pop Team Epic music is great, the anime selection for the Switch version is a bit lacklustre.
The Switch has become home to quite a few excellent rhythm games. Most of them have been ports from other consoles or mobile devices but the transition to Switch has been great for all of them so far thanks to the increase in control options allowing for more options during gameplay and the fact that most of the mobile free to play games have seen full premium releases on Switch. Taiko no Tatsujin's first Switch release is fantastic. While I would've preferred a few more tracks in some of the categories, this is easily my favourite rhythm game on the Switch for sure. It is surreal seeing these games released in the West, so don't miss out on a unique, fun music rhythm game.
Positives
More control options than ever before
Varied song selection
Looks and plays great in both modes
Uses the Switch features well
Negatives
Song selection from certain categories could be better
Motion controls don't work well
The best rhythm game on Nintendo Switch, and one with a surprisingly fun party mode.