Release Date
October 15, 2020.
Switch Re:port covers the Nintendo Switch port/version of a game newly released on the platform. The Witcher 3: Wild Hunt originally came out in 2015, and was awarded a score of 9/10 on PS4 by Adam Cook.
Sometimes, you've just got to eat humble pie. I have seen critiques of games ported to Switch that say things like "It's not great but hey at least it's on Switch!" and shuddered. I've listened to people say that 2016's Doom is "fine" on Switch, while shivering thinking of playing that amazing game at 30 frames per second. But sometimes… sometimes you have to say "fair enough, you win." The Witcher 3: Wild Hunt remains a masterpiece, and that it works as well as it does on Switch is, to someone who doesn't make games for a living, baffling.
Let's get this out of the way up front, however: I think this version of The Witcher 3 is designed to be played in handheld mode. Blowing it up to 42 inches and beyond the camera looks like it's been smeared in vaseline, and while it's playable, if you've ever played it before, it's very off-putting. It can still look gorgeous when the phenomenal lighting catches things just right, but know that you'll appreciate the game far more in handheld mode than you will in docked mode.
Now onto the only other major negative: the cut-scenes. While The Witcher 3 on Switch has a steady 30fps (or thereabouts as best I could see), the moments where you're not in control seem like they're in slow motion. Coupled with the general age of the game, and the lower resolution textures, and these moments are the worst parts of an otherwise fantastic game.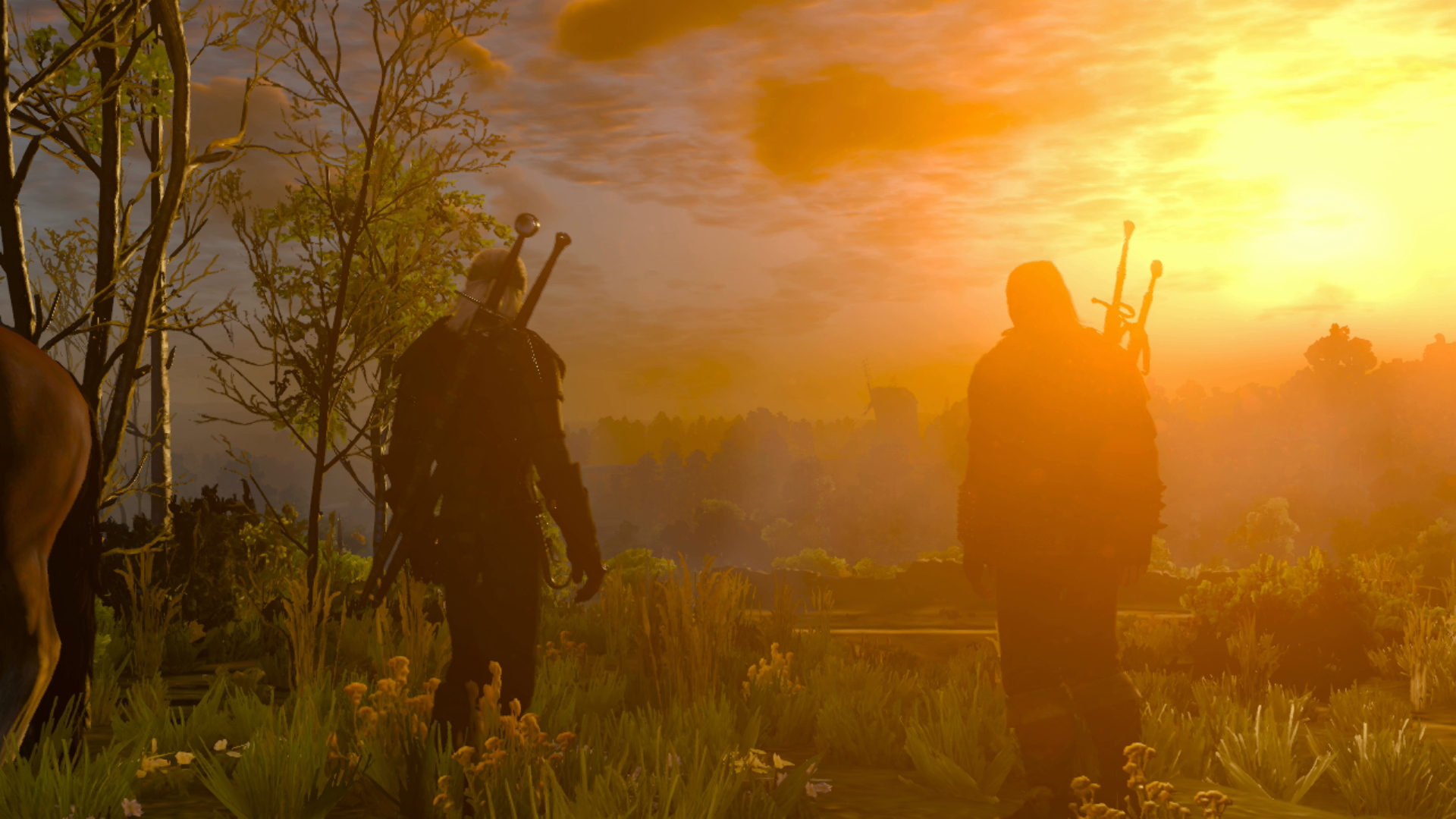 That said, playing with the console in your hands is a joy. It feels at home, and it quickly became my "couple of hours a night while the TV was occupied" game. In fact, something I wasn't expecting to discover was a new appreciation for the audio design. Your mileage may vary, but I prefer not to play games with headphones on, but with the Switch there's really no excuse. Hearing the trees creaking and the bushes blowing in the breeze helped me truly appreciate the incredible audio design. The clanking of sword on sword; the brilliantly read dialogue – if The Witcher 3 felt alive to me already, hearing the audio like this elevated it even higher.
What struck me the most, though, is just how much this Switch version reminded me what an incredible game The Witcher 3 was, and is. The deep RPG character building, coupled with the swordplay, dialogue options, overall story, and frankly, the ideal behind making you plan for big battles with potions preparation and study and, look, I ended up wanting The Witcher 4 more than Cyberpunk 2077 – and I desperately want Cyberpunk 2077. It's worth noting all expansions are included, and you can play them separately from the start if you choose, but they're woven into the main game once you get out of the first area, if you want to play that way, too.
Regardless, if you've never played this brilliant game before, I'd still recommend experiencing it on Xbox One X or PC for the highest visual fidelity, but if you're planning to get up close and personal with Geralt, Triss, and Yennifer, then handheld is the way to go. Modern life takes away so much of our time and Nintendo's Switch has given us some back in the evening. As the cold nights draw in and we close the curtains on the rain outside, I can't think of a better thing to do than spend some time with The Witcher 3. It's not as good looking, but it's still a glorious game.
Positives
A technical achievement
Still an incredible game
A huge package
Negatives
Docked mode can look rough
Cut-scene frame rate is poor
If you've never played The Witcher 3, you should try to play on Xbox or PC, but if you want to get up close and personal, this is a fantastic version of a truly brilliant game.