Release Date
14 November, 2019
Power-sliding is cool. It's just a fact that you'll have to accept. It's basically the entire premise of rally driving. Seriously though, it boggles the mind how fast World Rally Championship drivers barrel down the narrowest of narrow dirt roads, throwing their cars around like their lives aren't in the balance during every second of every run.
When it released two months ago on PS4, Xbox One and PC, WRC 8 did a stellar job of recreating the feeling of speeding through the woods and sliding around on the snow and ice of Sweden's stages. Its handling was excellent and responsive, it was filled to the brim with licensed content and looked great to boot. I really enjoyed it.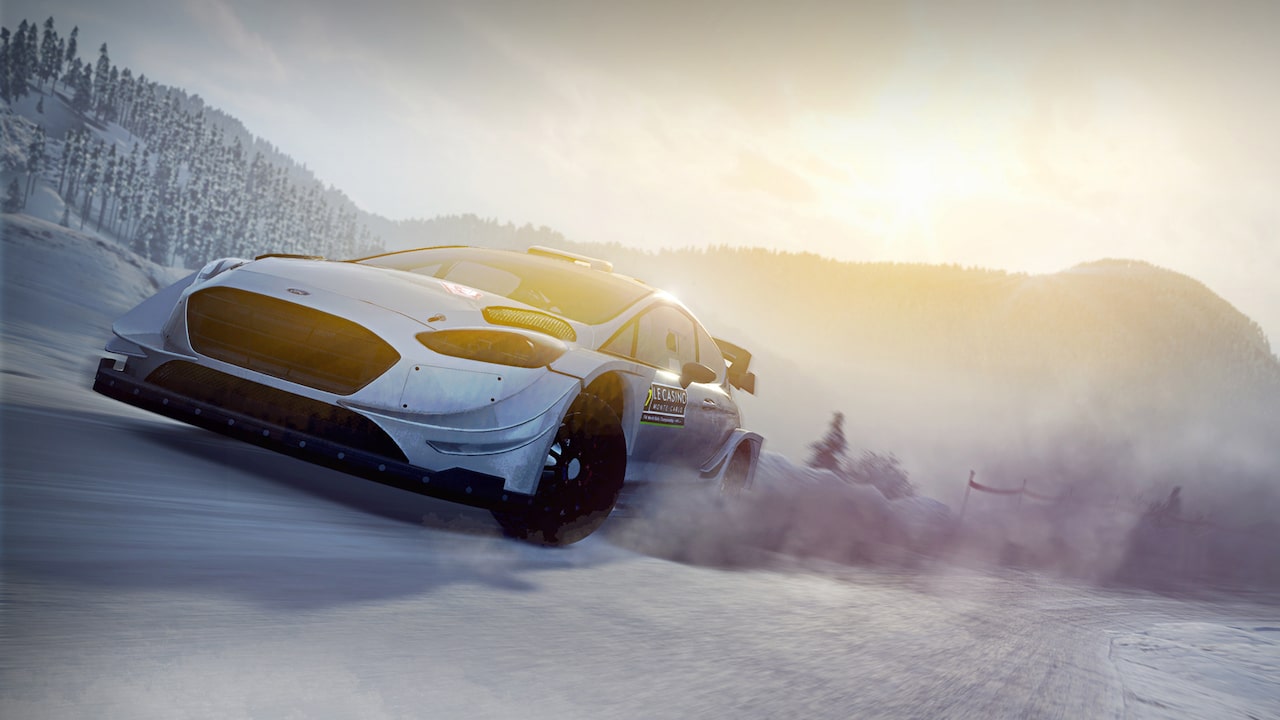 The same cannot wholly be said of the Nintendo Switch version, though. The content is all there, from the deep and involving career mode, to the official drivers and teams from the World Rally Championship. The WRC 2 and WRC Junior categories are well represented, too. Either of which can be chosen as your starting point in career. The problem with this port is not its content or presentation, but in its handling. I mean, the Switch is known for its overly sensitive Joy Con sticks, but it feels like developer KT Racing didn't really adjust the handling to account for this problem. As a result, correcting slides and straightening up out of corners often ends in spins or crashes because the sticks can barely tell the difference between half- and full-tilt.
Even the Pro Controller doesn't help, as it suffers from similar sensitivity issues. WRC 8 does offer some control settings to help, but as sensitivity is set to -10 (the lowest setting) by default, it's obvious this problem was known. You can still mess around with deadzone and saturation settings, but the best I managed was a feeling of just about being in control of my car. It's not really good enough.
Once you do finally get to grips with your car (assuming you can) it's still a good representation of the WRC. Visually, whether playing in handheld or docked mode, WRC 8 is still very impressive on the Switch. It runs smoothly and looks great, with some excellent lighting and shadows. This does come at the cost of long loading times, however. When playing in handheld, it can also be a struggle to see what's ahead sometimes, almost because of how good the shadows are. There were moments when my co-driver would tell me of an upcoming corner, but I'd be squinting trying to see through the shadows cast by the forest canopy overhead. This goes double for night races, which look as treacherous here as they are in real life, especially when it comes to places like the Welsh coast and its obscenely narrow roads atop terrifying cliffs. Your lights only illuminate so far ahead, which means you're at the mercy of your co-driver and your reactions. A shame you're probably also at the mercy of the Switch sticks, too.
While not unplayable, it is a shame that WRC 8's fantastic gameplay has been tarnished somewhat by the control issues of Nintendo's console. Perhaps with some tweaking and maybe a game update, the excellent handling of the other versions can make its way into this port. It would be a shame if it were left as it is, especially considering the quality of the PS4 version I played back in September. The Switch deserves better, WRC fans deserve better and honestly, KT Racing can do better.
Positives
Great light and shadow work
Power-sliding is awesome
Negatives
Sticks are too sensitive
Handles poorly on Switch
While not unplayable, it is a shame that WRC 8's fantastic gameplay has been tarnished somewhat by the control issues of Nintendo's console