We're looking forward to next year's release of GRID 2, the sequel to critically acclaimed 2008 arcade racer GRID. We recently had a chance to speak to a couple of guys from developer Codemasters Racing about all things GRID 2, so we sent Jonny along to ask the questions. Jonny spoke to Clive Moody, executive producer on GRID 2, and Gehen Pathiraja, a senior games designer, who it turns out has one of the most awesome sounding jobs ever – testing real life cars and inputting real world data into the game engine. Some people, eh?
It will be five years since the launch of the first GRID game by the time GRID 2 is released next summer, how does it feel to be working on a GRID game once again?
Clive Moody: Yea, it's really exciting for us. Of course we've been working on it for a long time in the background, but to be here [at Eurogamer Expo, London] and for people to finally get their hands on it on the show floor is brilliant. The key thing is we have taken our time, one of the reasons we've taken our time is that we have pretty big ambitions for the game, and our technology [the EGO game engine] was already in place so we could develop the handling and visuals slightly, meaning we could get all those things in place and begin to work on the game proper; so this is a big moment for us.
Yea, I loved the first GRID title, it was one of those games I couldn't put down! So as a follow on from the first question, why the wait between iterations? I know you have different franchises and teams working on different games, DiRT and Formula 1 for example.
CM: Yea F1 is a different team, they work independently from our Birmingham studio, but the studio that I oversee is responsible for both GRID and DiRT, so obviously we've had a bunch of guys working on GRID, and a load of other guys working on other iterations of the DiRT franchise. It's really great from a studio point of view because we get the best of both worlds, we get cool off-road stuff and really great tarmac track based racing as well.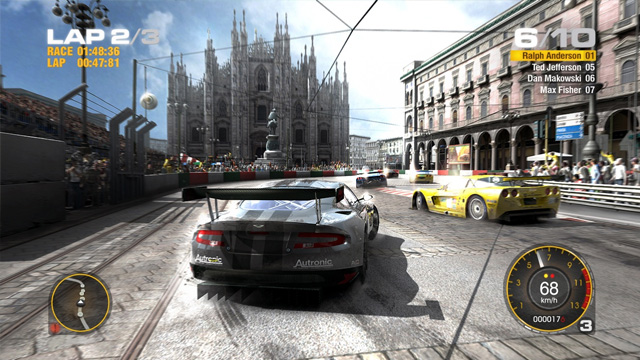 Great stuff. So one of the things that made the first GRID game so popular was how accessible it was to everyone, not just the hardcore racing game fan. Is that something you'll be looking to continue in GRID 2?
Gehen Pathiraja: Yea we've really developed the handling model, I'd say more so than we have before, and we've made some serious breakthroughs. The sort of things we've improved on are the level of feedback that you get. For example when playing on a pad the rumble feedback is really important as we try to let you know when you are about to break traction, as you feel it build and build and eventually stop when traction is lost. It's those little details that we are trying to push that really make the feel of the game. It's the same on the steering wheel.
So is that a difficult system to program?
Clive: No it really isn't, since the whole physics system is already there for us to input data into, which is a really comprehensive simulation. So we just need to cycle through all of the right values: What are the tyres doing? What is the engine doing? What sort of revs are you pushing? We have it all at our disclosure, so it's just a case of exposing through the extra layer of software needed to give feedback through your control pad, or steering wheel, etc.
GP: All of this stuff requires a really fast refresh rate, so our physics system actually operates at 1000Hz, so that really helps out when it comes to felling those details and revealing those surface details such as the gravel, tarmac and even things like the rumble in the engine.
So will the game cater for the hardcore race fan as well as the casual speedster?
CM: Yea absolutely, with the new handling yes it's accessible, but there is huge depth to it as well. That's really been an important factor in putting this game together, we do have a really solid simulation and we want to make our core fans happy, they are going to love the experience. Getting behind the wheel of these great cars is really going to please them.
Let's talk race modes, the original game wasn't short on game modes, will the sequel bring any new game modes to the table?
CM: We're not talking race modes today, but what I can say is there is a massive variety in the game. Just take the two experiences we've got out on the show floor, we've got the Chicago street racing environment, with a classic US layout with handling that's set up for overseer and drifting. Compare that with the California Coast environment, which has classic point to point road layout and has additional dangers. You lose things like the Armco barrier and you can end up in some crazy places. The third element is traditional motorsport, so closed circuits from around the world. Those three elements go into making the core of the variety, and within each of those we'll have different game modes that we're looking to implement. Not all of them will be about being first to cross the line, some of them are skill based and some of them are challenge based. We'll have a wealth of different modes in the final experience.
Sounds good, can you give us any specific tracks? Where will we be going?
CM: Well we've already announced circuits like Yas Marina, which is an F1 circuit. We'll be doing some more announcements on that in the coming weeks. Lots to come.
We'll look out for that. So finally, what additions will you be making to the game's career mode?
CM: Career mode is a really interesting one, it's at the heart of the solo experience. Again, we're being pretty light on what we're willing to reveal right now, but it's pretty important to get across the sense of journey, narrative that the career mode will give to players. Your successes as a driver in this game will be reflected back into the world around you. So you'll start with basic facilities, a small garage, car and so on, and the size and scale, and prestigiousness, of the events you can take part in will be a reflection your driving career.
Thank you to the guys at Codemasters Racing for talking to us. We will keep an eye on all things GRID 2 here at GodisaGeek.com and the final game is currently scheduled to be released on Windows PC, PlayStation 3 and Xbox 360 in the first quarter of next year; so stay tuned. Got any comments about what the guys had to say? Air them in the comments section, below!