While the original was near perfection, the new version of Resident Evil 4 is pretty faultless as well, and in this new game everyone's favourite merchant has been upgraded. Working out what the best things to buy in Resident Evil 4 Remake isn't easy, because the store (the merchant!) is constantly upgrading his shop, and updating his stock as the game plays out.
With that in mind, since we've finished the game, we've made a list of the best things to buy in Resident Evil 4 Remake. Complete your requests, and save those spinels for a bit, because while there are things to pick up early doors, you'll want to keep your shines safe and sound until the good stuff is ready. With that in mind, let's be having a look then.
Best things to buy in Resident Evil 4 Remake: Laser Sight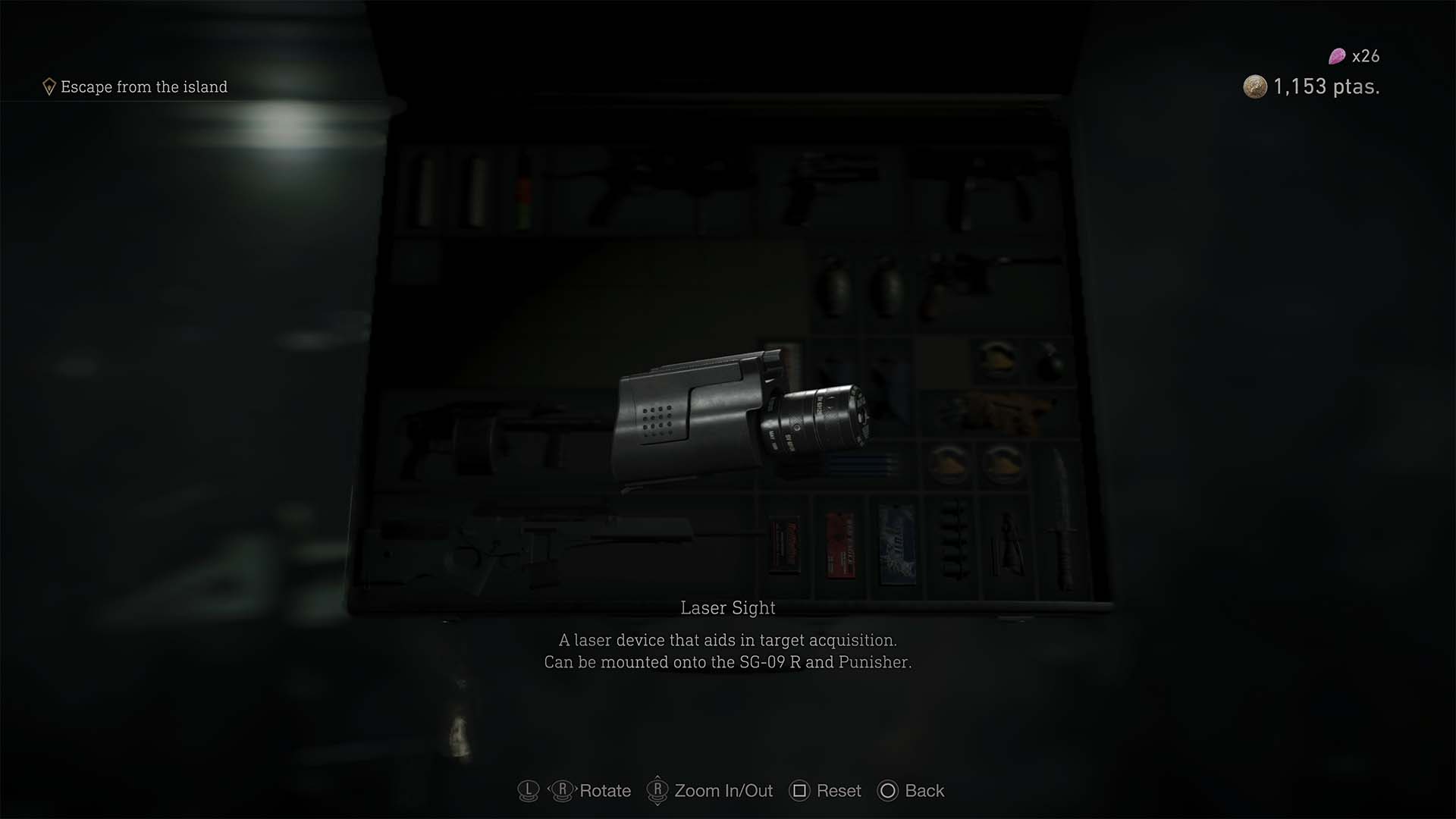 Costing 10 spinels, the laser sight isn't that cheap, but it can be mounted to the SG-09 R and the Punisher. It's an early unlock for the default, starting handgun, and as such you can spend those ten spinels without worrying too much about any ramifications later on. It's an iconic way to use the SG-09 R, and will aid you in popping enemies in the legs to get the melee in, early doors.
Any recipes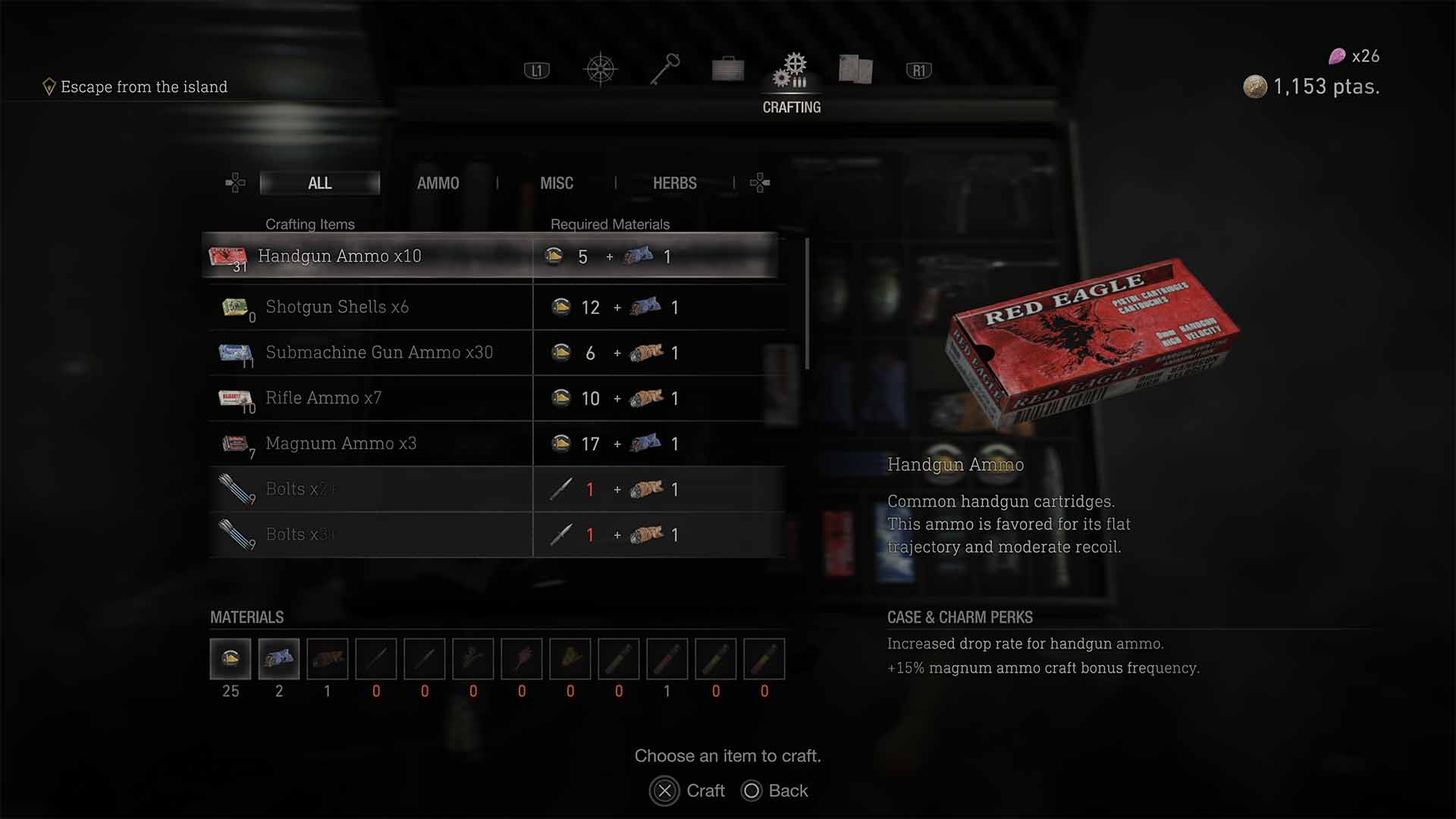 Recipes are an invaluable tool here, and as such are one of the best things to buy in Resident Evil 4 Remake. Whether it's early on or late into the game when you're buying the large grenade recipe, these mean you can craft ammo, items, and throwables that will make you hugely more offensive, but also make you a lot more survivable. Never pass up a recipe, and sometimes you'll even get them free if you buy a guy.
Chalice of Atonement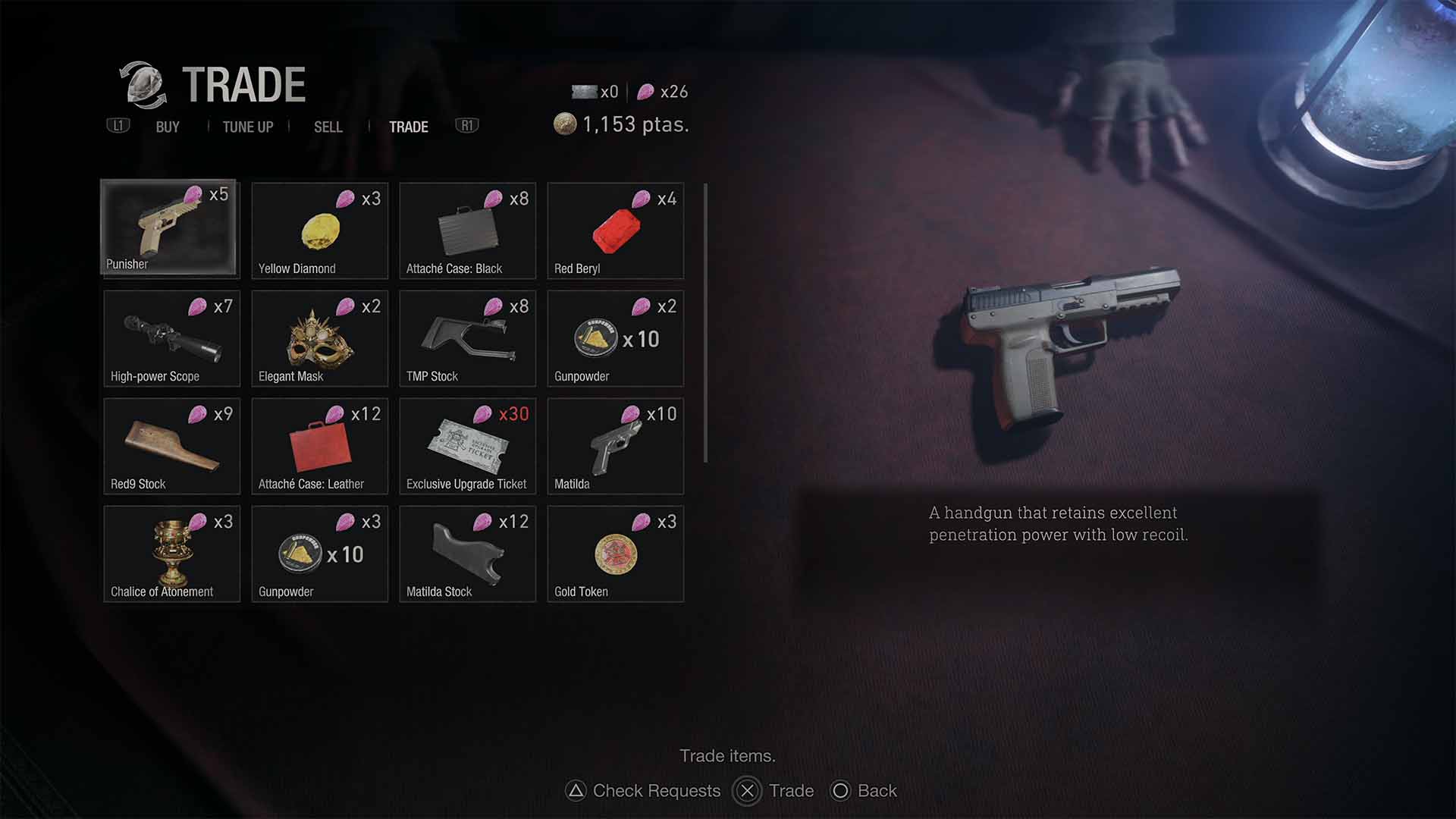 A simple treasure that costs three spinels to trade for, but allows you to inlay three gemstones. This is a simple choice of economy: there are loads of spinels to get from requests, and this treasure, slotted correctly, will net you more ptas than three spinel are worth. There's also an elegant mask available for two spinel, which allows three gemstones to be inlaid as well. Easy money!
Best things to buy in Resident Evil 4 Remake: Red9 Stock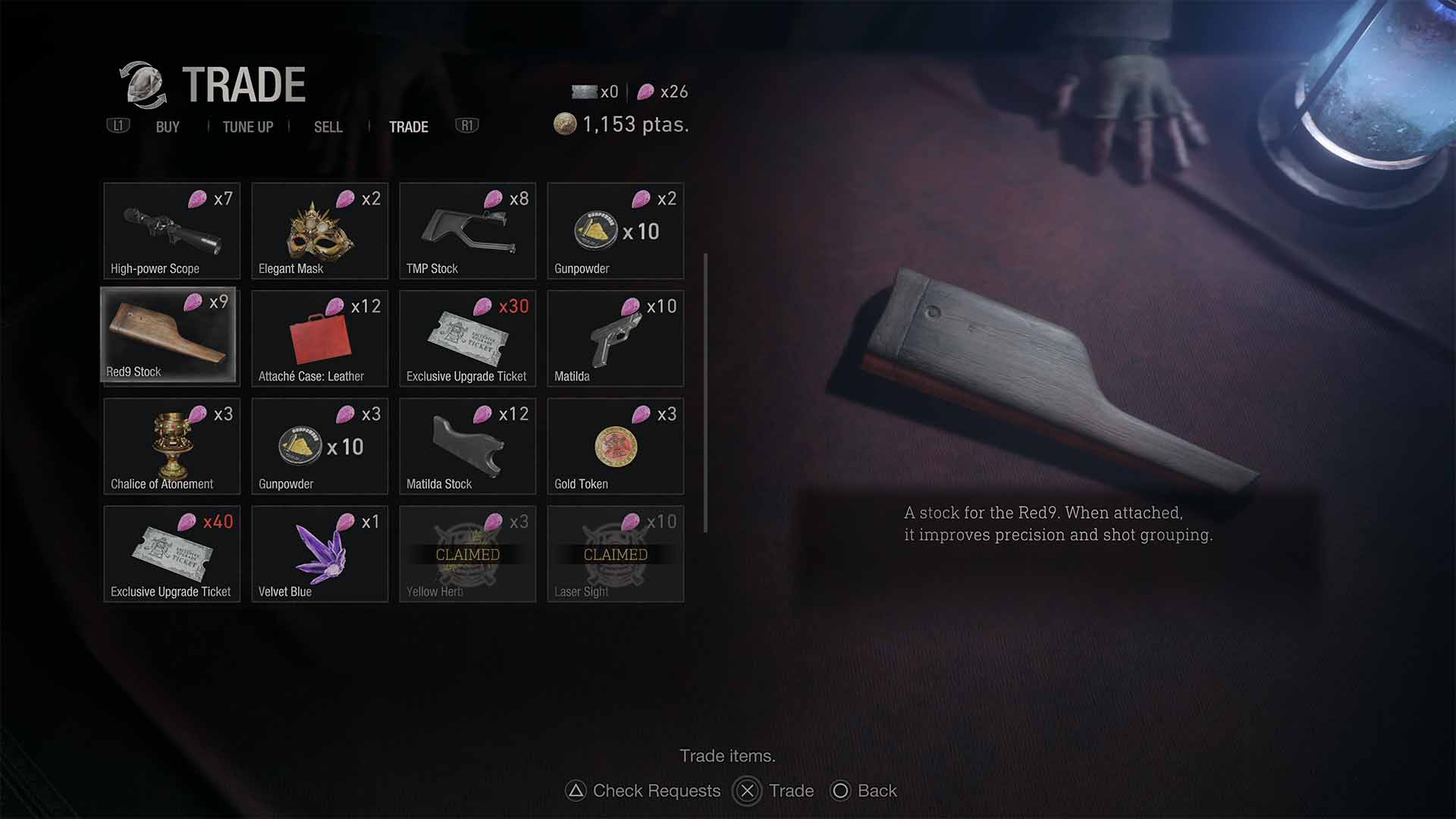 Another early trade, the Red9 is the best handgun in the game and upgraded will see you through to the very last boss. The one trade-off you have to make is that it lacks precision, which this stock improves. It's a hefty costing 9 spinels to trade for, but you have really ought to get this, unless you miss the Red9 and buy it later in the game.
Treasure maps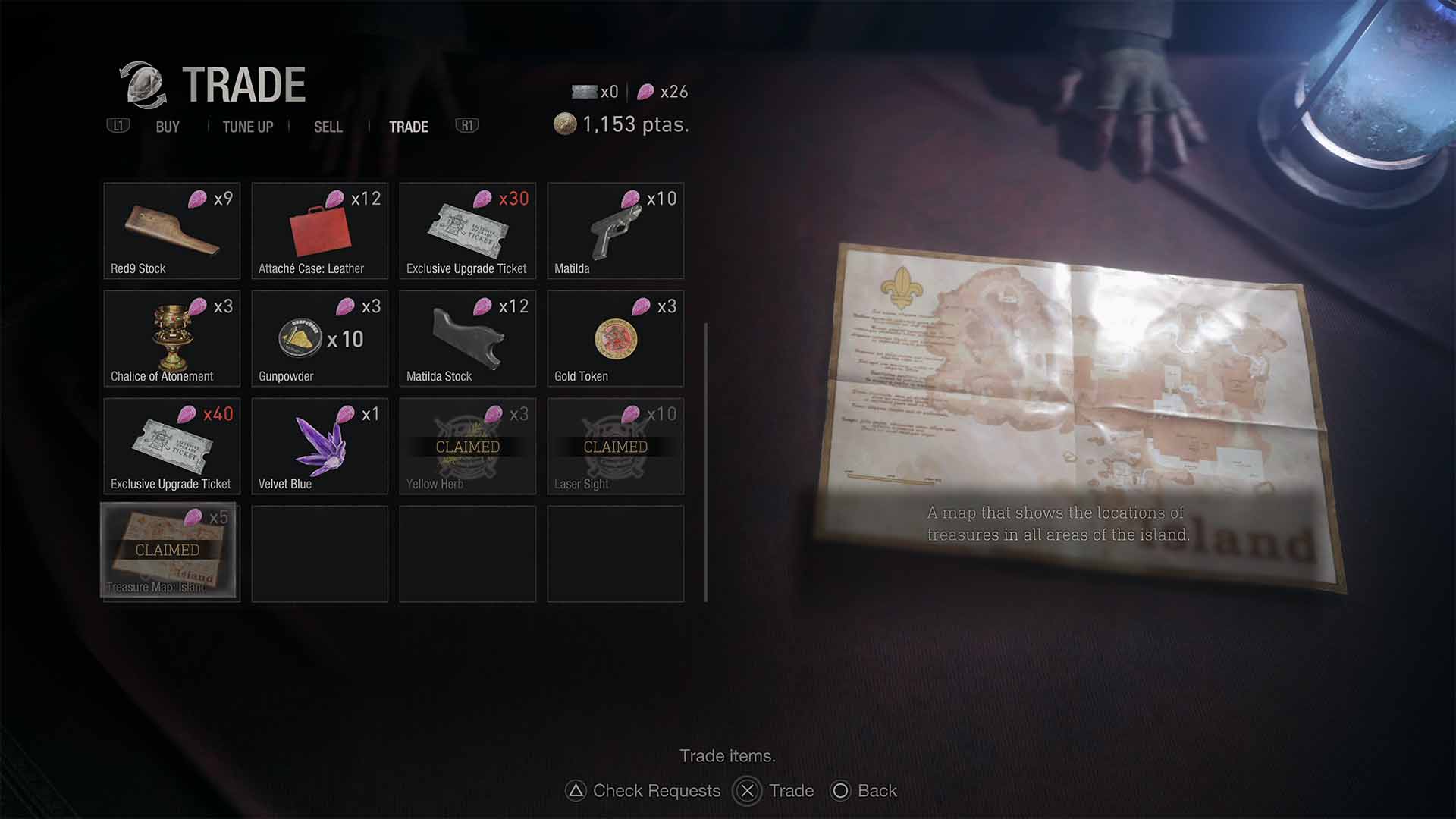 Arguably the most invaluable trade available in the game. Costing 5 spinel each, these maps reveal treasures in all areas they are applicable to. In other words, if you buy the island treasure map, you'll instantly see where every treasure is located. A no brainer, and a must buy whenever you see them in the shop.
Best things to buy in Resident Evil 4 Remake: Striker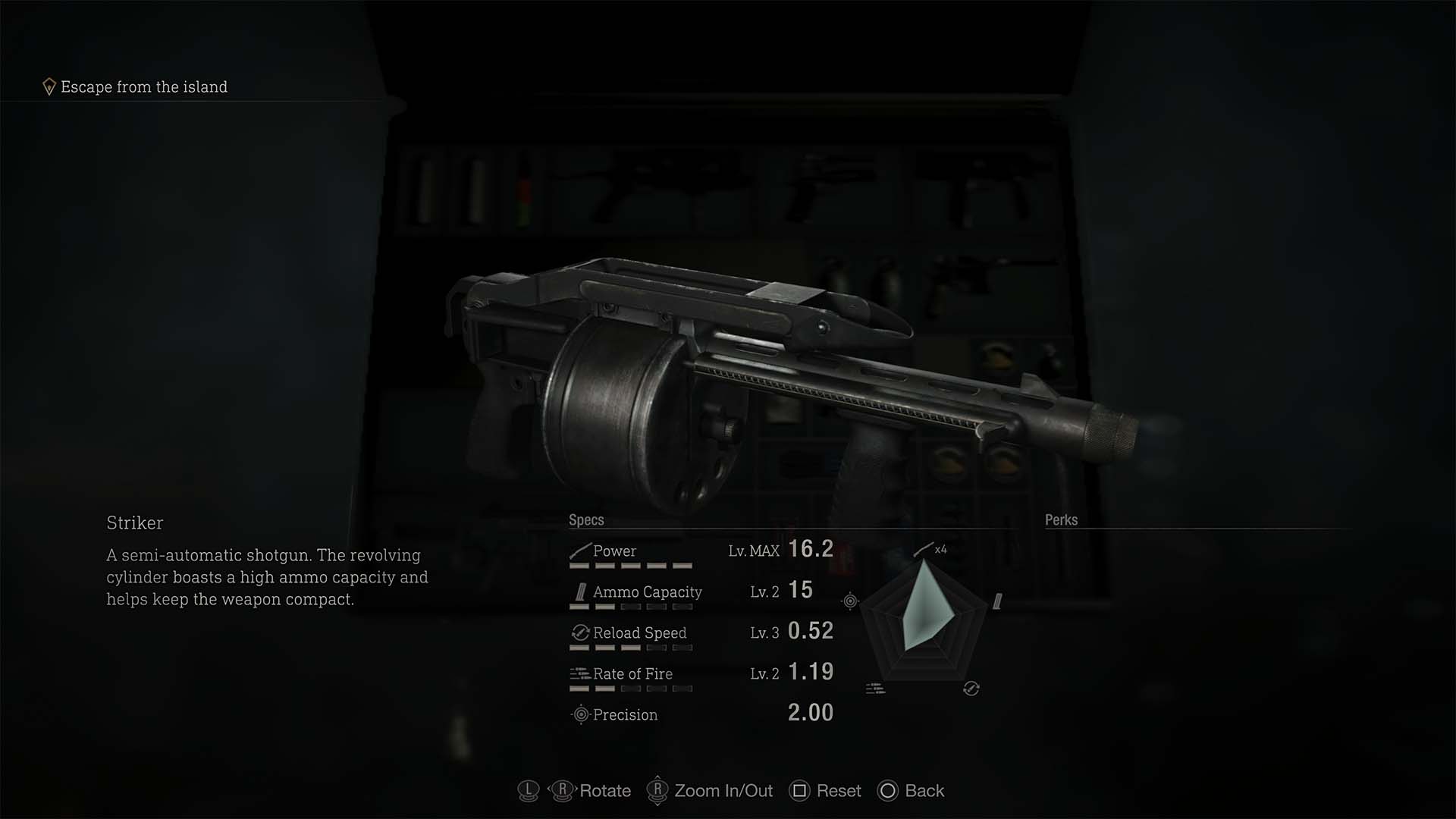 Easily the best shotgun in the game, the very second you see this on sale: buy it. Then, assuming you've also been upgrading your Red9, make sure you focus on turning the Striker into a mega-powerful weapon. When you get to bosses like Krasuer, the Striker can make mincemeat of the final stage against him. Do not ignore this early, and buy it as soon as you can.