Until pretty recently, the idea of a handheld gaming PC had been a bit of a white whale to most, but after seeing what the Asus ROG Ally has to offer in a hands-off presentation, it seems the arena is about to get pretty competitive. For those unaware, ROG is "Republic of Gamers" and if you have a PC, there's a high percentage chance you have some components in your setup from the brand. Monitors, motherboards, gaming laptops: the Asus ROG brand has done the lot, but the ROG Ally is going up against a fellow brand that everyone seems to adore, and is taking a slightly different approach and, in truth, isn't even being subtle about the competition.
With a tagline of "playALLYyourgames", it's both a play on the ROG Ally name, but also a gentle dig at Valve's Steam Deck which requires knowledge of Linux and some tinkering to play anything other than Steam-based titles, as it runs a custom Steam OS. The Ally, well, it's a Windows-based PC. Asus was keen to stress that it's got full compatibility with Steam, Epic Games, Xbox Game Pass, EA Play, Ubisoft Connect, Battle.net, and more. And yes, that means you can play Overwatch 2 on it without any tinkering. That may not matter to everyone, but it's just an idea of what a Windows-based handheld PC could do. In fact, so convinced is Asus of the Ally being the handheld that plays everything, it's even being bundled with a three month subscription to Xbox Game Pass Ultimate if you buy it.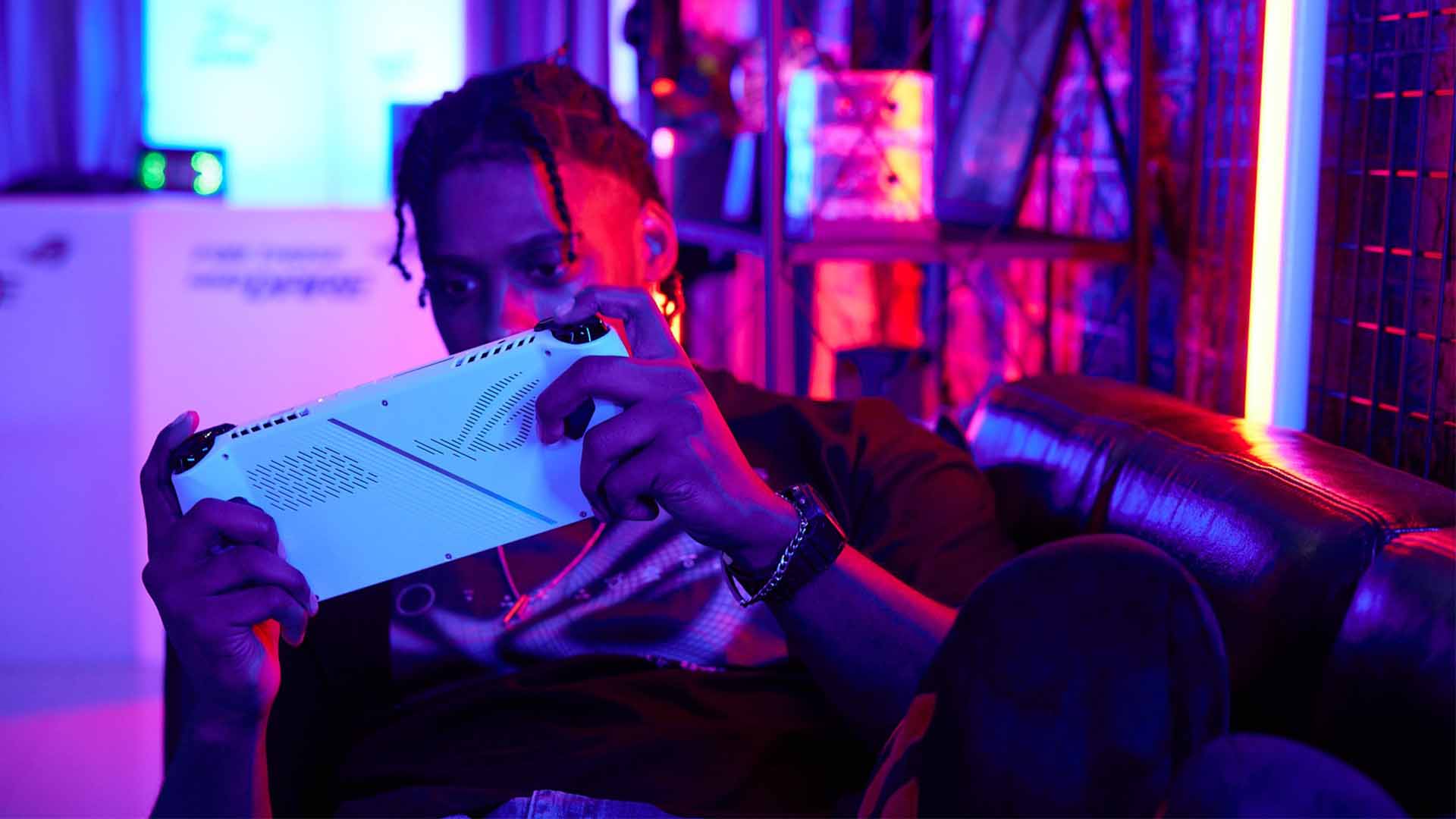 The Ally's journey to market has been one that's lasted five years. There have been "hundreds of concept / prototype" models, and in showing them, it's a reminder of how the market for handheld devices has changed over the years. The final model, then, has curved shoulder buttons with a textured surface, flat dome face buttons, slip-resistant textures, curved sides, and macro keys that are designed for comfort. It's basically an Xbox controller layout, with the macro keys (rear buttons in this case) that are small an unobtrusive, similar to the DualSense Edge's smaller back buttons. Asus also revealed some details about the form-factor which, in truth, I'll need to actually get a hold of to judge, but it does look comfortable. It weights 608 grams, which, yes, for those counting, is about 60 grams lighter than the Steam Deck.
Onto the stuff that you'll notice, then, the screen is 1080p and 7 inches, at a 16:9 widescreen aspect ration, with a 7ms response time. One of the worries I imagine many will have had is the lack of games being made, or altered specifically for this version of a PC, but with Freesync, I would suggest that the screen is designed with a decent frame rate in mind. It has virtual 5.1.2-channel surround, powered by Dolby Atmos tech, so should be loud enough, and curiously, Asus also says it's a "great outdoor gaming experience", citing the 500nits high brightness, and it'd be great if this thing was playable outside without major glare.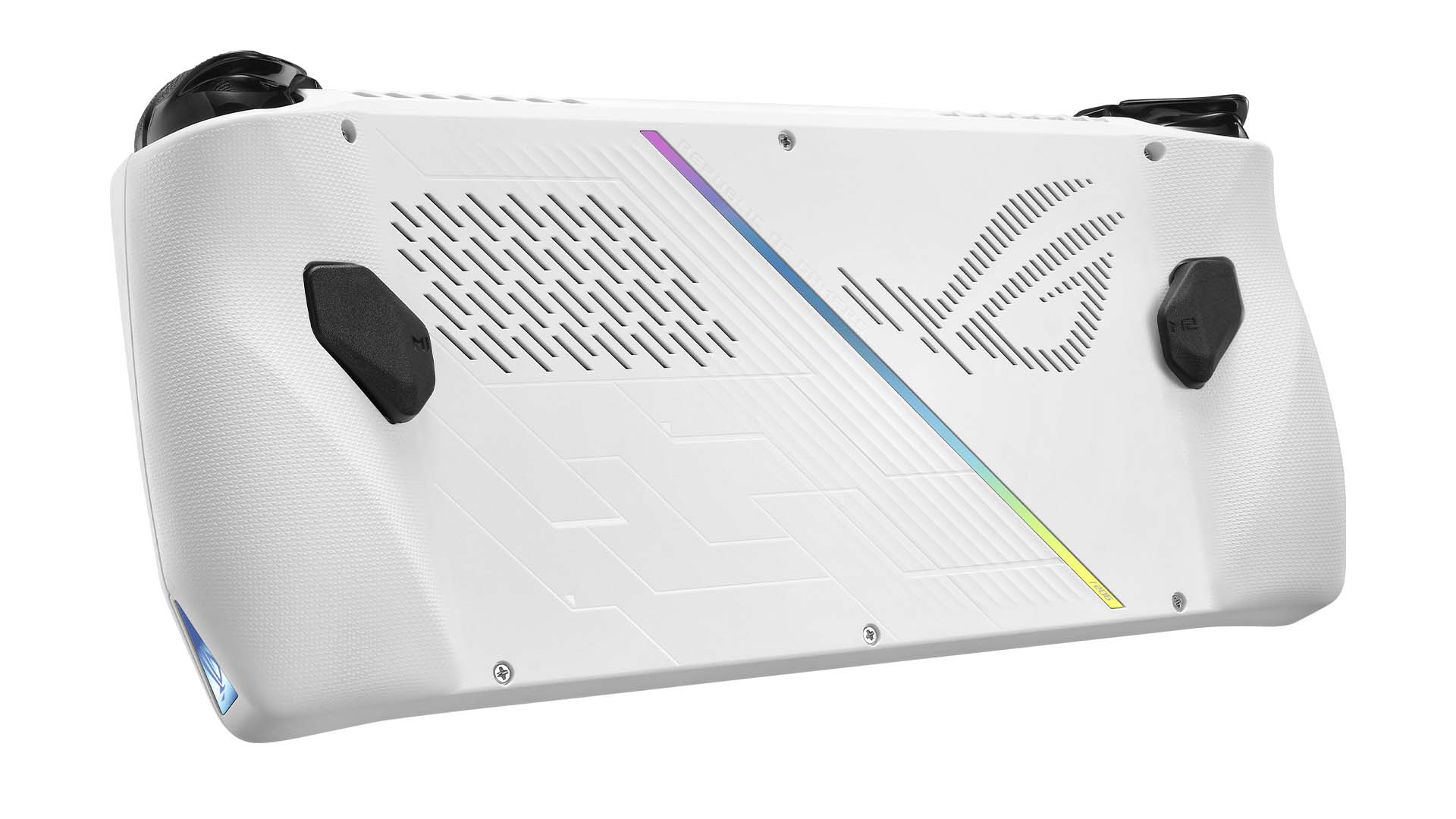 Power wise, it's hosting an AMD Ryzen Z1 series CPU and 16GB of RAM, and Asus says this device will be capable of playing high-end games, specifically listing Death Stranding, Cyberpunk 2077, Battlefield 2042, and Call of Duty: Modern Warfare II, to name just a few. There are two fans inside the Ally, which Asus says makes for "Zero Distraction", but again, this is something I'll need to experience first-hand before reporting on, properly. Heatmaps provided show that the dual fans definitely make the device cooler, and Asus says the inclusion of two drops the noise level from 30dB to 20dB.
One area where Asus might start with a lead is the accessories. Out of the game there are cases, docks, headphones (with active noise cancellation), controllers, and more. The ROG Gaming Charger dock is 3.0 fast charging, HDMI 2.0, and has a USB-C to USB-C cable included. But there is also a bit of a secret in the potential that is genuinely exciting. For a while now, ROG has made use of what it calls "XG", and for the ROG Ally, this is being used for "Pro Time".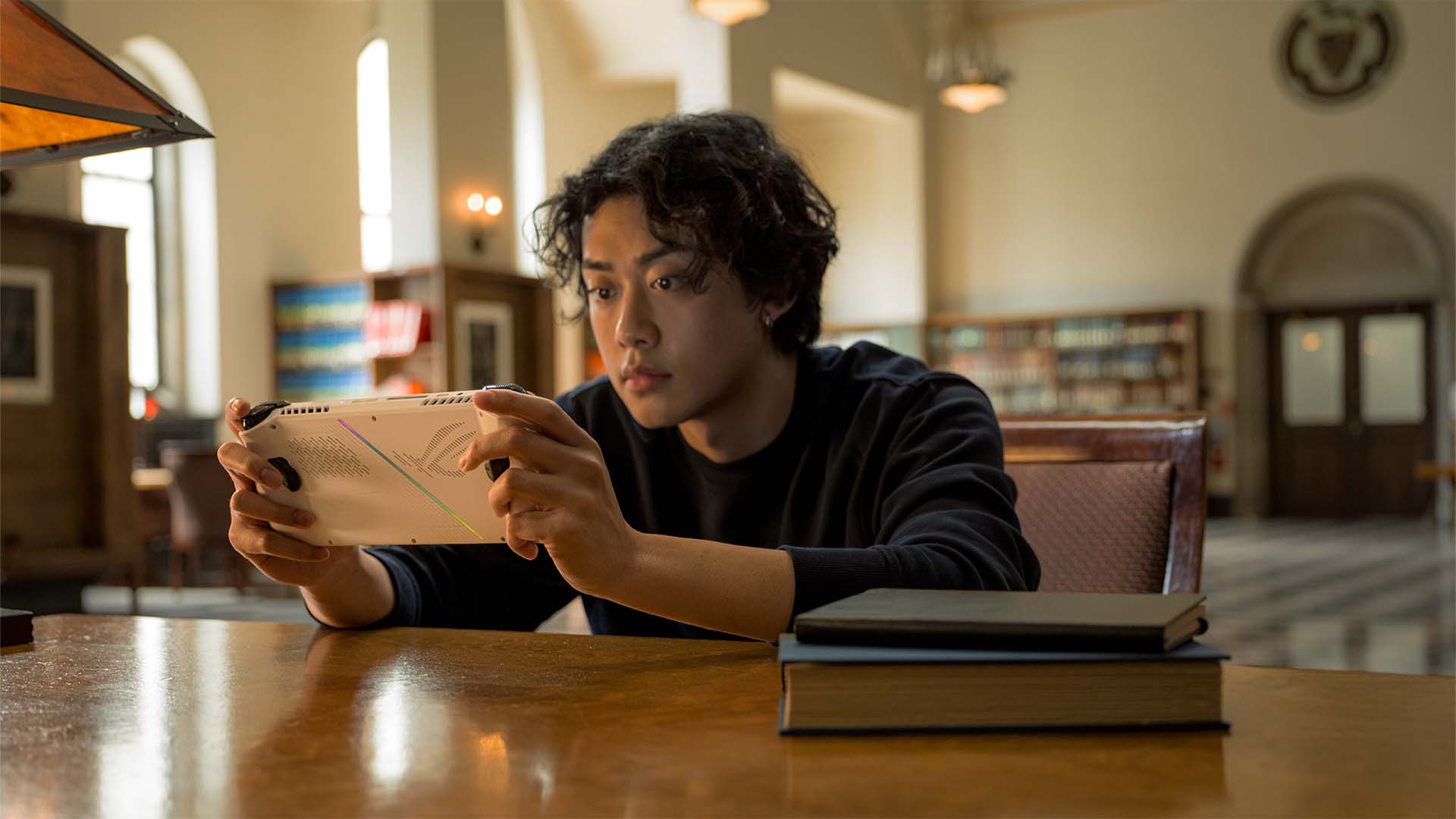 The XG is basically a mobile graphics card. I've used one of these with a laptop from Asus before (the ROG Flow), and it's a smaller box you can plug your laptop into which basically gives it super powers. While not specific, it seems the XG Mobile is going to be available with a choice of GPUs. The one shown to us was the GeForce RTX 4090, and given these XG mobile hubs contain built in hubs that include SD card readers, HDMI 2.1, and more, you are turning your ROG Ally into a hugely powerful high-end PC. Now of course, this will come at a cost. A 4090 is going to cost a fortune, but the fact it can be done; or rather the fact it's all already in place to be able to be done, shows foresight and a serious attitude towards a market that's fairly new.
As you'd expect, the device also includes SSD for storage, though in examples used (Cyberpunk 2077 and Control) the load times were only increased by one second using an added SD card. Wi-Fi 6E rounds out the feature set, along with all the usual Asus ROG armoury crate software that can let you set up deadzones, trigger settings, and haptic feedback intensity. The software which, let's be honest, can be a bit of an annoyance on a laptop, may be usable here with a one-tap selection, offering multiple options to adjust games as you play them. Oh, and the Ally has a fingerprint unlock option, if that's of interest, too.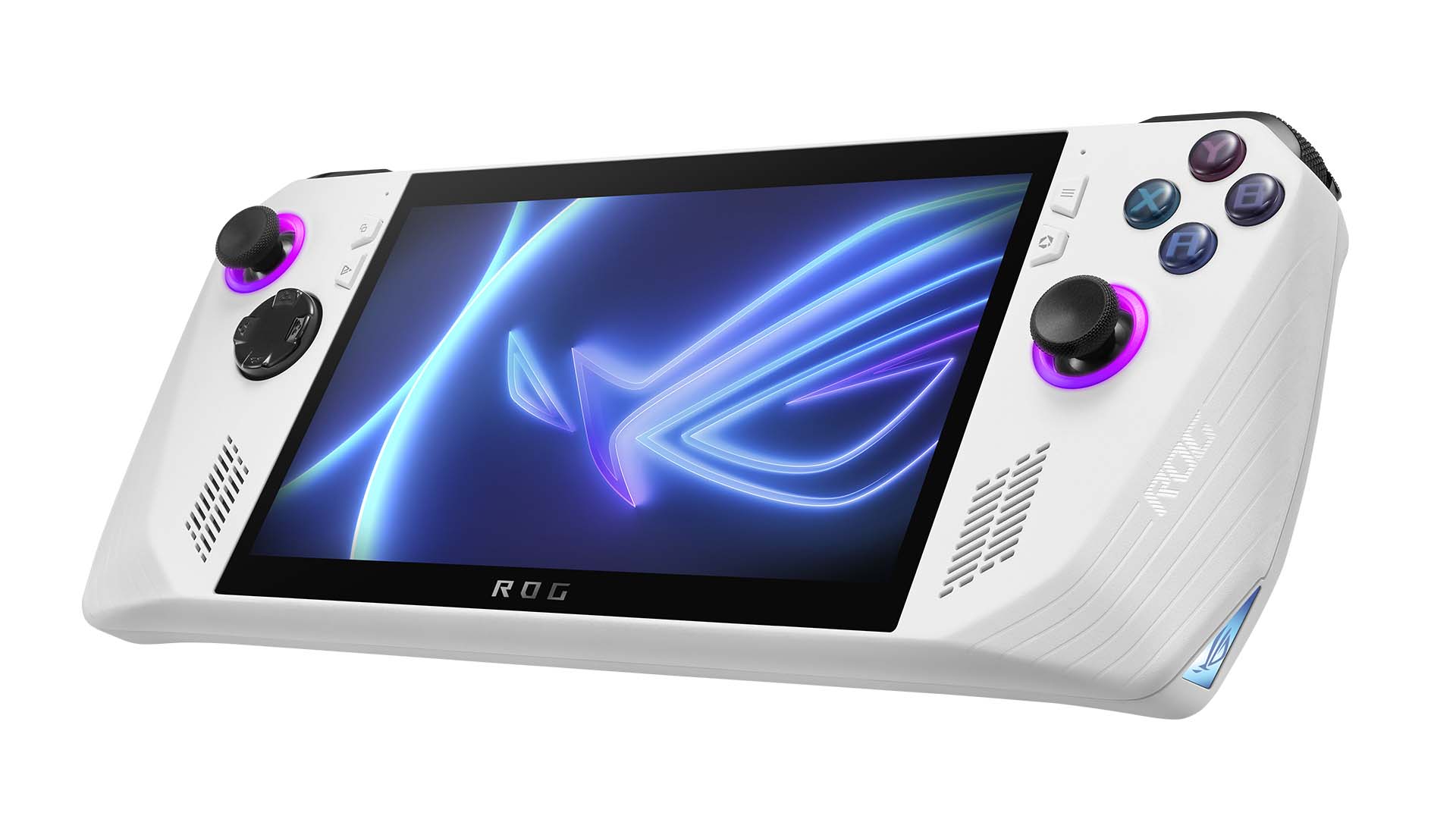 While a lot of this sounds amazing in theory, it remains to be seen how it all plays out in person. But I have to say, having used a Steam Deck for a while now, even being pretty familiar with computers and getting things like the Epic Games Store onto the device, if a Windows based handheld can do what Asus says this one can do, I'm going to be paying serious attention. Valve's device has changed the way a lot of people play games, offering access to smaller titles that otherwise wouldn't be possible, but also the larger, big-budget games that might be tied to platforms, like the recent spate of previously PlayStation-exclusive games that have come to PC.
Game Pass is also a massive draw, because combined with the Play Anywhere mantra that lets you pick up a game on Xbox and continue your save on a device like the ROG Ally, well, that makes for an attractive proposition. Asus is saying all the right things, and has the pedigree and knowledge to make a device that can do everything it claims to. Frankly, this device looks incredible, and I cannot wait to see it in person, and give it a thorough testing. There's no shame in not being first to market, and we all know things can be improved with another look, so I'm confident that if the Ally hits the right price point, the pedigree involved here will make for a serious contender, and a product that's compelling to players everywhere.