Dirt Rally was fantastic, but let's face it, it wasn't accessible in the slightest. It was about as hardcore as you can get. I consider myself fairly competent when it comes to driving games, but I'm not ashamed to admit that Dirt Rally challenged me well beyond my limits. That's where Dirt 4 comes in. With a new handling model that caters to the hardcore and casual gamer and everyone inbetween, Codemasters' latest attempts to bring the series back to its popular best.
 
Unlike the ill-received Grid 2 (which I still loved), Dirt 4 doesn't resort to removing assists altogether in order to make it easier for everyone to play. Instead, it gives the player a choice of handling style, either Gamer or Simulation, with both still having full control over which assists to enable/disable. The difference between the two styles isn't as severe as you might think, but it is noticeable. Simulation is looser, with cars requiring a more deft touch to stop them spinning, and a better understanding of braking distances, weight transfer, etc. Gamer handling is much more forgiving, aimed at allowing anyone to enjoy the feeling of tearing up the countryside in an Impreza or even a good ol' Mini Cooper, without compromising the feeling of playing something realistic.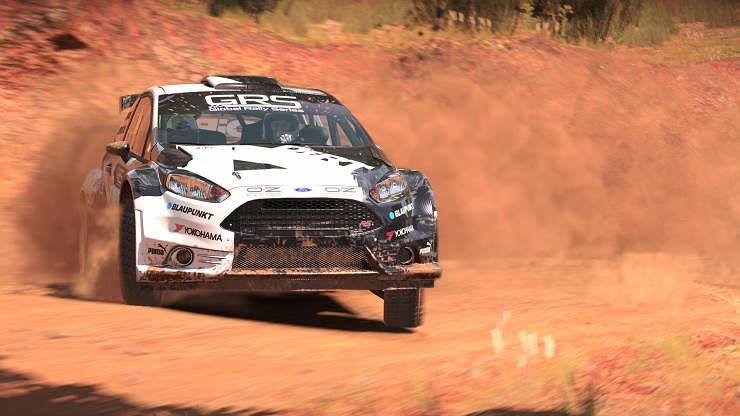 Once you've chosen your handling mode and tailored the assists to suit your preferences, the DirtFish Rally School beckons. Luckily, gone are the irritating dudebro voices of Travis Pastrana and Ken Block, replaced by the likes of real co-drivers Jen Horsey and series old hand, Nicky Grist. They'll talk you through the basics (and beyond) of rally driving in an extensive library of tutorials that, although quite lengthy, are really helpful in teaching the player about how front wheel drive cars handle compared to rear wheel or four wheel drive. Veterans like myself will know this, but it's actually a clever way of letting you get a feel for how the game plays, before it throws you into the career proper. Even experienced drivers might learn a thing or two!
 
Upon starting your career, you'll find yourself driving for other teams, because you can't afford to drive for yourself yet. This means that a massive chunk of your earnings will go to the team, but they will also foot the bill for any repairs required between stages/events. Eventually you will have built up enough funds to buy your first car, and you'll have a choice between going to the dealership and picking up a nice, shiny new vehicle, or perusing the classifieds in order to find a cheaper, used alternative. Now, this I remember from Race Driver Grid, as that did the same thing, and you'll have to decide whether it's worth taking the risk of buying a used car or not. You'll be informed of how many events it has taken part in, how many of those it actually finished and how successfully, plus how many times it has been declared "terminal" – basically, how many times it has been crashed so hard that it couldn't continue a rally. The worse state it is when you buy it, the more likely it will be to develop malfunctions.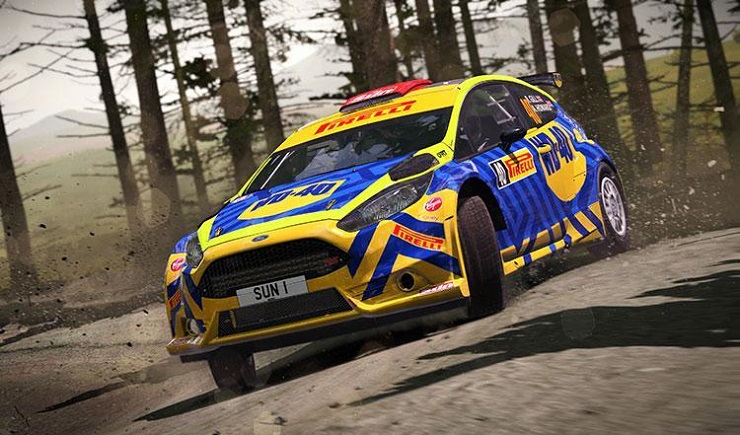 Buying a car is only the beginning, because now you have to bring in staff and sponsors to your team. You have limited funds, meaning you can only do so much when starting out, and you'll have to learn to keep on top of micromanaging your entire team. Contracts only last so long, so you'll periodically have to renew deals or find new sponsors and staff, and you'll also have to build new facilities to keep them happy too. If this is all beginning to sound a bit Football Manager, don't fret, you'll soon get into the habit of checking emails between championships and keeping abreast of team affairs. It rarely takes more than a few minutes anyway. Once your team is set up and your livery is designed, you can begin earning the big bucks at championships. You won't have to pay out half your earnings to a third party, you'll only be paying out repair bills and team salaries, so you'll start building up more and more cash for upgrades and new cars.
 
Obviously, the meat of the game doesn't lie in finances, you'll be glad to know. Driving fast is the name of the game and you'll do just that in a number of different disciplines. Rally is the main event, as you race against the clock (and the elements) on a series of stages, with the fastest overall time winning the event. Historic Rally is much the same, albeit using classic vehicles from ages past, and Land Rush takes place on small circuits of sand and dirt, in big trucks and smaller, more agile karts. These are more traditional races, comprised of two heats. lastly, Rallycross brings traditional racing together with mixed surfaces on licensed WRX championship circuits across the globe. The difference here is that everyone must complete one "joker" lap per race, which means taking a specific, longer route. It's a fast and intense sport that is arguably the best part of Dirt 4's repertoire.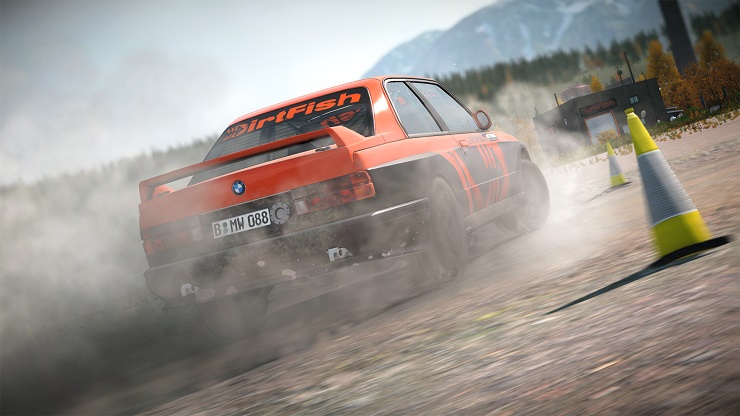 Rallycross racing is so much fun, as you fight the AI for position, all while trying to keep your car pointed in the right direction. Your opponents can sometimes be a little single minded in their approach to preventing you from passing, bashing the side of your car or weaving around the track, but it's not exactly a non-contact motorsport after all.
 
Rally stages are the biggest part of the game, as you might expect, but Codemasters doesn't have the World Rally Championship licence so the team came up with an ingenious solution: Your Stage. Every rally stage in Dirt 4 is procedurally generated using this new system, meaning that replayability is almost infinite, and you can even create your own rally stages using the simple creator. Considering this has to take into consideration things like time of day and changeable weather, it really is a stunning achievement when you realise that no two stages will ever be the same. The downside to it is that sometimes you'll notice the same stretches of road appearing in different stages, so there are a couple of cracks in the Your Stage generator.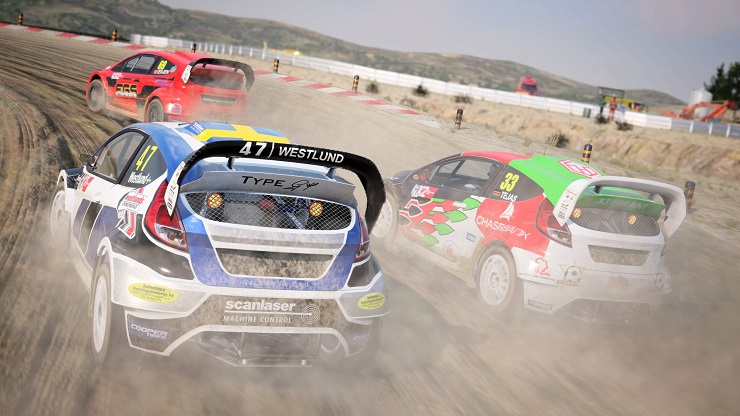 On a visual level, Dirt 4 is extremely pretty to look upon. The cars are detailed and fully modelled, inside and out, and they'll get muddy or dusty throughout each stage, possibly even getting scratched up if you make a mistake. Damage is persistent too, carrying over stages if you can't repair it, and the attention to detail is incredible. Even minor things like radio malfunctions are present, as well as slow punctures that cause vibrations that unsettle the car, and of course the effects of major accidents will cause bodywork to crumple and will affect the performance of your vehicle. It all runs at a silky smooth sixty frames per second as well, even in Rallycross with five other cars on screen. The lighting is equally impressive, from sunset bathing forests in an orange glow, to the spotlights illuminating the bare minimum in the darkness of night stages, it all looks quite remarkable.
 
The presentation in general is of high quality, from the graphical finesse to the attention to detail that ensures the game is as realistic as possible. Camera helicopters sometimes hover overhead, sending out clouds of dust that can block your view of the road ahead, and you'll even notice camera drones buzzing just above the height of your vehicle, from time to time. And let's not forget the sound, either. Engine notes are spot-on, the co-driver's pace notes are read out smoothly and none of them sound robotic, and the environmental audio keeps things sounding authentically natural as you speed through along the country lanes. The whole package is very impressive indeed.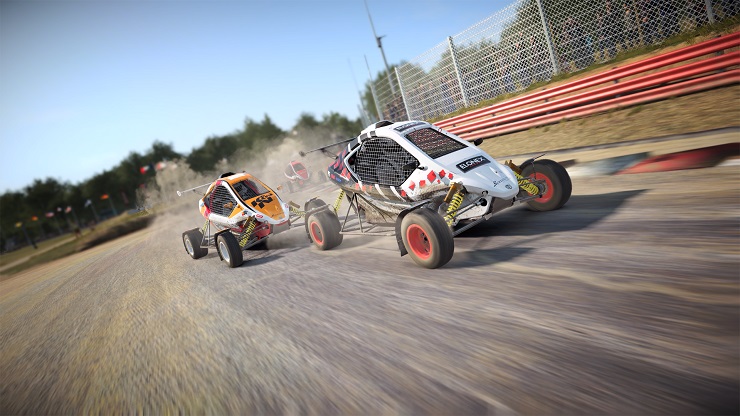 If you fancy a change of pace, Joyride offers something a little different. Taking place at the DirtFish compound, you can enjoy a bit of freeroaming to wind down (or even get used to that new car you just bought) or take part in several minigames designed to challenge your car control and scratch that hi-score gaming itch. You can smash boards or beat time attack events, wherein you collect green tokens to reduce your time, but avoid the red ones as they'll add seconds to your time! It's great fun and the courses increase in difficulty as you progress, offering more than just a simple minigame experience. Online leaderboards (cross-platform, I might add) will keep friendly rivalries going for a while too, as well as providing yet more replay value to the game.
 
Codemasters has long been the king of rally games, from the very first Colin McRae Rally on PSOne, through to the reinvention of the franchise in Colin McRae Dirt last generation, and this generation hasn't changed that. With Dirt Rally the simulation game changed and now, with Dirt 4, Codemasters has beaten the opposition to the top of the podium once again. After nineteen years, this rally series is stronger than it has ever been.
Positives
Two separate handling styles to cater for all players
Your Stage offers near infinite replayability
Impressive career mode
Rallycross is a highlight
Negatives
No official WRC licence
AI can be a bit single-minded
From the comprehensive career mode to the fun of Rallycross and Joyride, Dirt 4 is one of Codemasters' best. And it's the best rally game by quite some distance.