Release Date
April 7, 2023.
It is a strange time for golf, and indeed EA Sports PGA Tour. The acrimony around the sportswashed LIV Tour has left a bad taste in the mouth of many fans. The Masters has been a memorable one, but not necessarily for the golf; with falling pines interrupting proceedings and the sight of perhaps the jewel in the LIV's crown, Brooks Koepka, leading the field after his morally reprehensible decision to align with Greg Norman.
The world of golf video games has been a bit in the doldrums for a while now. The 2K titles have been a sort-of replacement for the classic Tiger Woods fronted sims of yore. In fact, the recent 2K23 left me reaching for the nearest copy of Everybody's Golf, just so I could have some fun. There is a place for a technical, nuanced simulation of the sport, however, and as soon as I finished the recent preview of EA's Tiger-replacing EA Sports PGA Tour, I had an inkling it was going to be a corker. Even the inclusion of some of the defectors, including Brooks himself (presumably as the game was already in production beforehand), cannot take the shine off this one.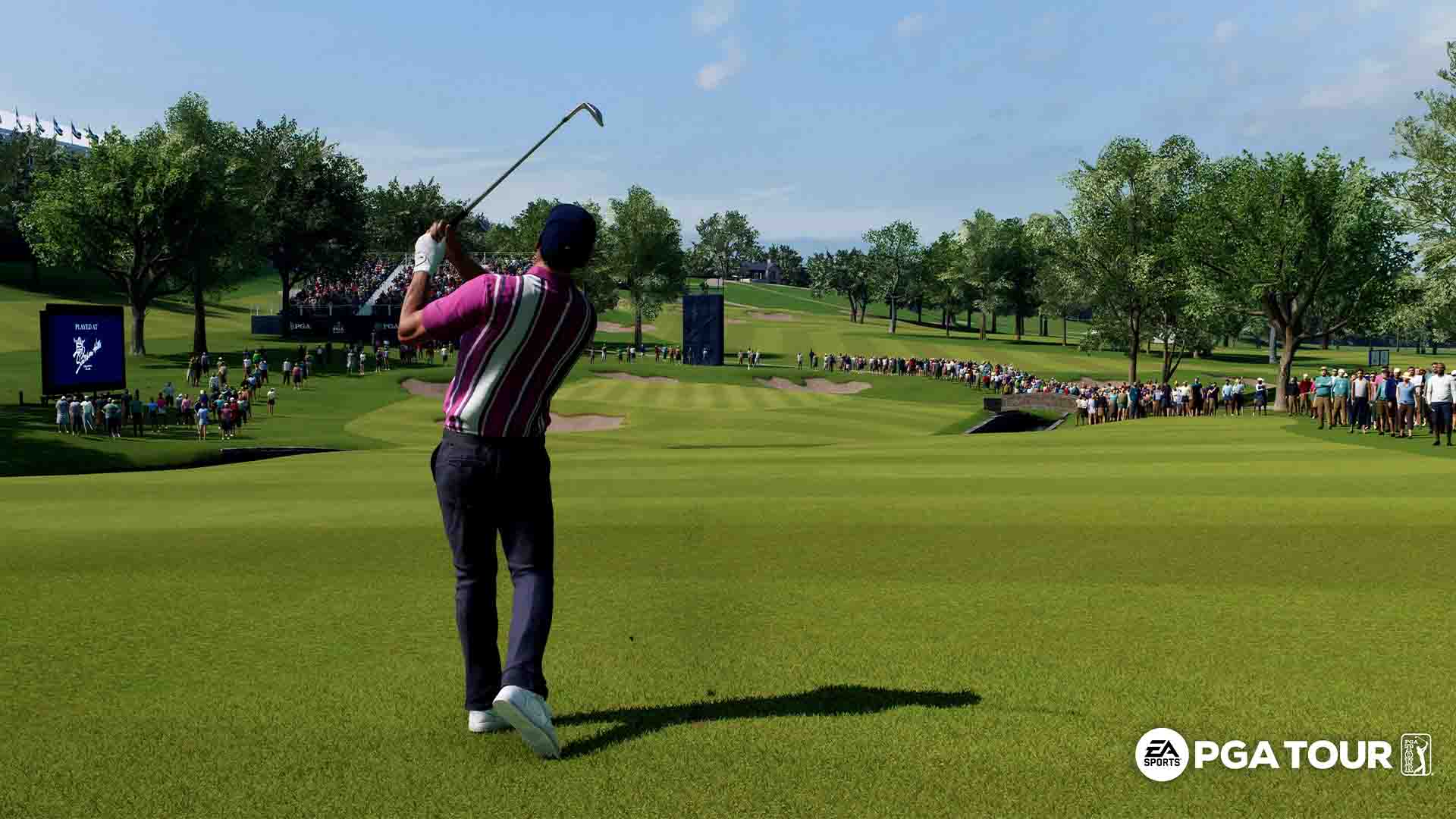 Straight away you notice that this is a stunningly presented game. Peering into the many meticulously constructed courses and seeing the animations as your player swings for the tee is the closest you will come to vicariously living out an actual high definition sports broadcast. The team behind it were keen to emphasise just how much work has gone into mapping out every inch of every course using a painstaking amount of technology and attention to detail. Apparently, it is accurate down to the individual placement of certain flora, which tells you all you need to know about the dedication and commitment to giving players the ultimate PGA experience.
Sometimes you will find yourself just gazing longingly at the beauty of these iconic venues: the unreal weather and lighting effects making each round a unique experience, the birdsong, chirruping crickets and even crashing waves adding to the ambiance. The first-rate production values are not just cosmetic either. The voiceovers from UK great Nick Faldo are insightful and classy. The commentary team are equally impressive, serving up a lovely mix of cutting-edge insight and wistful historic trips down memory lane.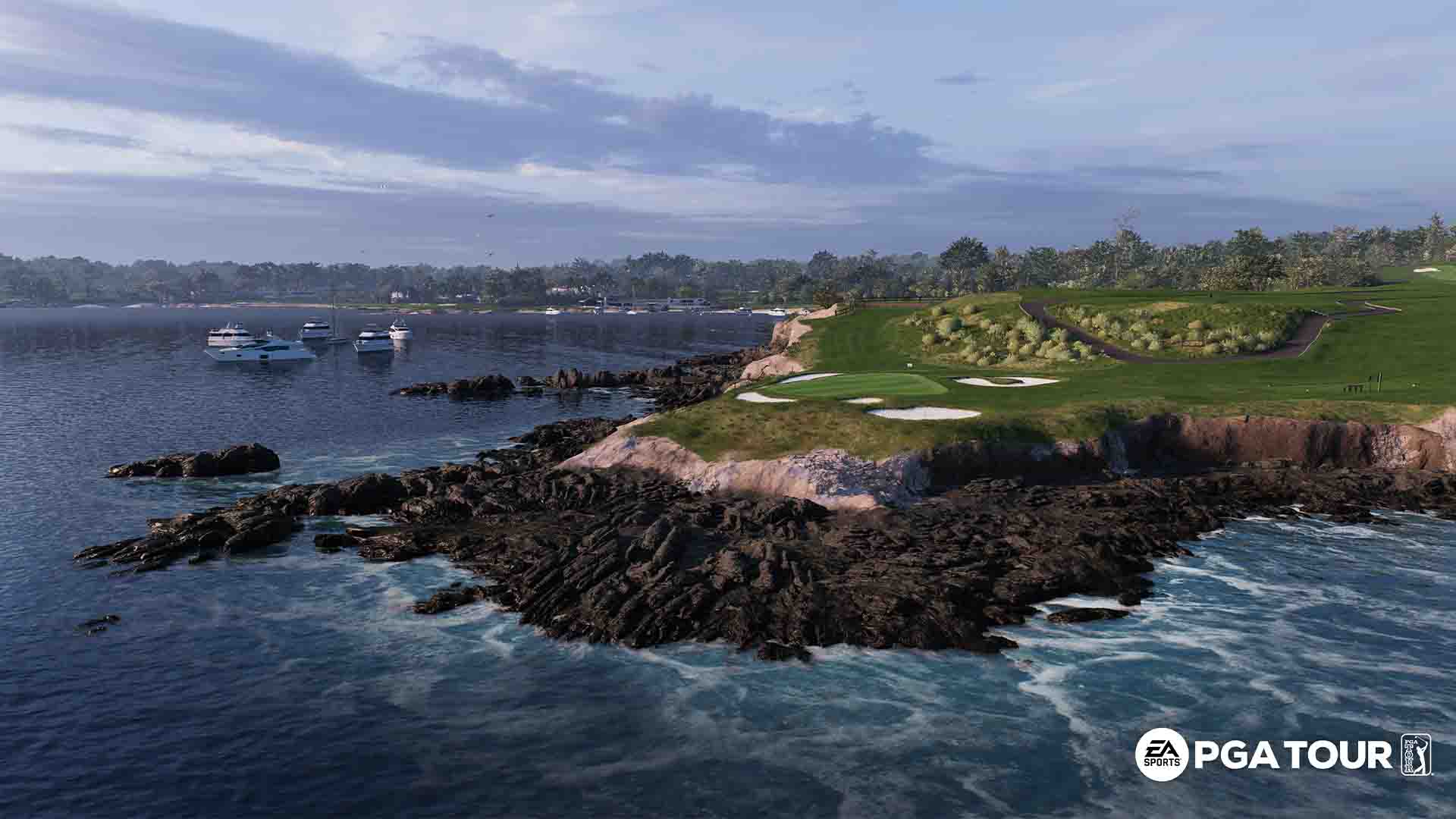 The core gameplay takes some getting used to if like me you are more used to playing historic arcade golf games. The only way to connect with the ball is by using the thumbsticks to replicate the swing of the club with a down/up motion. As the game is locked at 30fps, there is a noticeable lag which takes a while to come to terms with. It is tough at first, but you can turn on some in-game assistance and there are varying difficulty levels. I am reliably informed that somewhere down the line, a button-based swing method will be implemented as an option, which is nice to know.
EA Tiberon has made a big song and dance about the real-life ShotLink and Trackman tech that have undoubtedly made a difference to the way EA Sports PGA Tour plays, however as someone coming into this one after a fair few years away from a proper golfing sim, the biggest difference that I could tangibly feel is the way the ball reacts differently depending on the terrain type and the course being played. There are big differences between the likes of links, seascape, and parkland, for example. I have seen pro golfers eulogising this, which is a seriously impressive accolade for the developer.
Anyone who has played golf will tell you that it isn't an easy job developing and mastering a consistent swing. Thankfully, EA has included an excellent skills tree that enables you to unlock new types of shot, spin and other trickery. You soon realise that there is an absolutely mind-boggling array of different shots for any situation, to the point that in the game is almost infinitely customisable.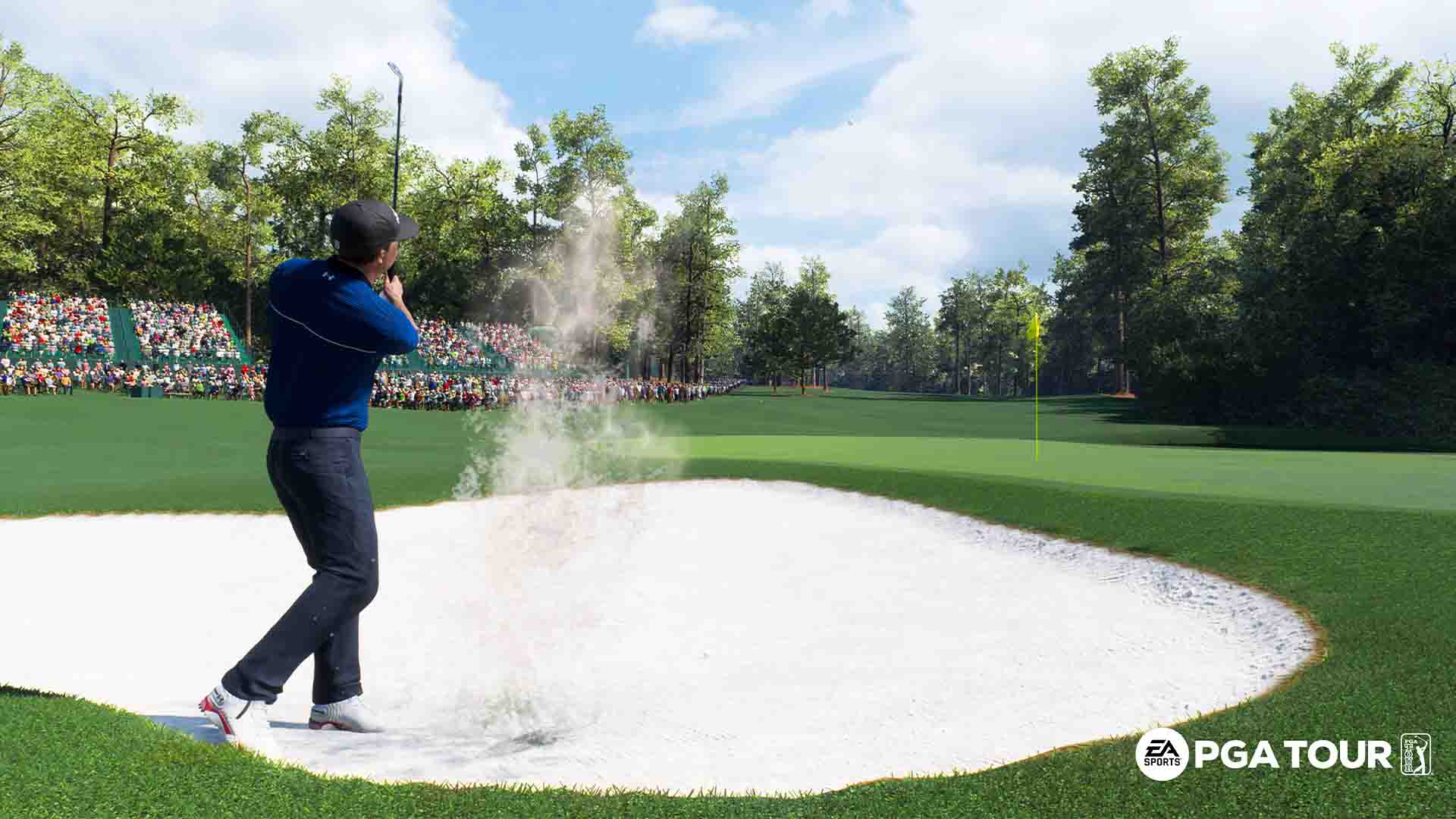 The Career mode is beautifully structured and has a nice drip feed of XP and a day-by-day approach to the many PGA Tour events, which splits things up nicely as you aren't always expected to play vast amounts of holes, often just bite sized segments to make the cut and progress to the following day. There are a tonne of challenges included, some of which are based on famous historic moments, and including some coaching elements which will help you improve your game.
There are loads of licences on board which means a wide range of designer golf clobber and gear, and whilst the actual physical customisation options when you create your golfer are limited, sartorially you can have them looking more ready for the catwalk than the driving range.
Once you begin to level up and master (no pun intended) the subtleties of swing, and gain confidence in your abilities, this really starts to open up and become compulsive. Best of all it looks like there will be a steady stream of future content, including courses and tournaments. It has to be said, EA dazzles here with its re-entry onto the fairways with EA Sports PGA Tour, which is comfortably the best golf game in years.
Editor's note: An earlier published version of this review said the LPGA wasn't included. This is not the case, and the review has been updated. Apologies for the error.
Positives
Looks astonishing
Excellent mechanics, physics and attention to detail
Tonnes of courses and content
Negatives
Stick based controls only
Some may find lag distracting
EA dazzles with its re-entry onto the fairways with EA Sports PGA Tour, which is comfortably the best golf game in years.