The last Nintendo Direct had one of the best simulation games this generation get shadow dropped for the Switch in the form of Cities: Skylines. I've also been playing the superb Velocity 2X from Curve Digital and Futurlab that hit the Switch recently and Subaracity which is a very relaxing match 3 like game. If you're new to the Re:Port Review, I look at the Switch ports of older games, how games use Switch specific hardware, and just Switch games in general in a feature that is supposed to be weekly. I say supposed to be because release schedules and embargoes make the schedule go a bit haywire.
Cities: Skylines Nintendo Switch Edition
Originally released on PC platforms (9/10) before seeing ports to Xbox One (8/10) and then PS4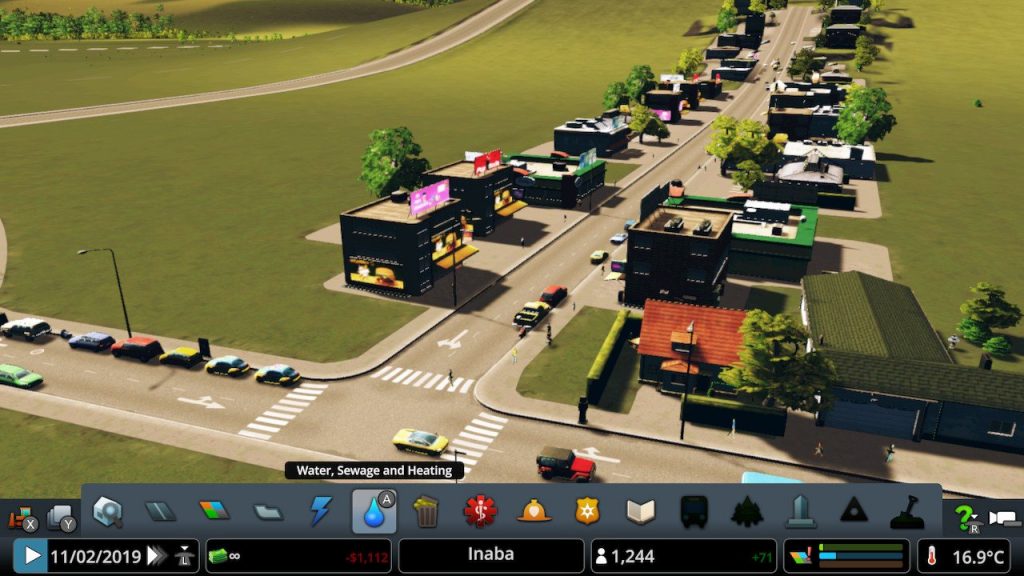 Cities: Skylines is a game I never thought would see a release on any non PC platform outside of maybe iPad. The iPad is the best platform for these kinds of games so I was pretty excited to check the Xbox One port out. Tantalus did a great job of adapting the complex control scheme of Colossal Order's Cities to a controller on Xbox and then PS4. That has carried over to the Switch version but the overall experience is not ideal.
Cities on Switch is called Cities: Skylines Nintendo Switch Edition and it has the base game with 2 DLC packs included. After Dark and Snowfall are in the Switch port from the get go. There are 3 problems with the Switch port in its current state. I'm super disappointed that there's almost no touch screen functionality. You can use three fingers to pan but I feel like that's a bug more than a feature given how badly it works. Games like this would benefit considerably from offering a touch option for various things like camera control and even precision selection. Visually, things look bad when you zoom in and while the game itself doesn't really suffer from this, it can get ugly. It does look very good in some situations but these are few and far in between. Performance is the other problem. While it slows down here and there almost all the time, zooming and panning in a crowded city brings this to a crawl. The one nice addition is HD Rumble reminding you of a good location to build something as a hint.
I've had a ton of fun playing Cities on a portable for nearly 15 hours but this is not worth buying in its current state unless you can stomach the visual and performance issues. I hope this improves like the Xbox One version did post launch because given the control options and portable nature, this has the potential to be the best version of the game. As of now, it is the worst version.
6.5/10
Velocity 2X
Originally released on PS4 and PS Vita before seeing ports to PC and Xbox One platforms and scored 8/10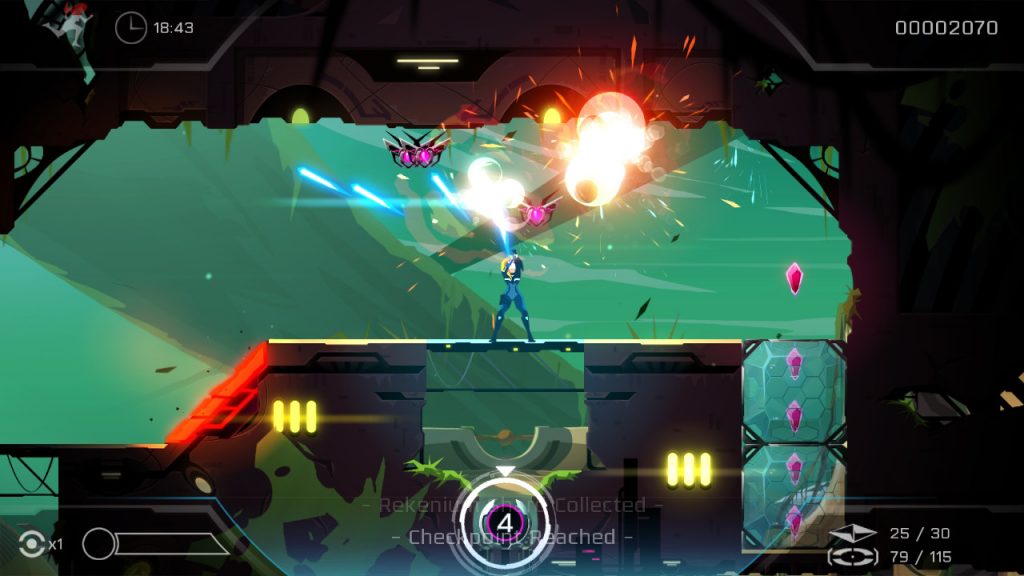 Futurlab's Velocity Ultra was a great game on the Vita but the initial reveal of Velocity 2X had me pretty hyped for it. The hybrid shoot em up that blended platforming side scroller into the core levels was an essential on Sony's now discontinued handheld and I was interested to see how it held up today. I have a list of games I need to see on the Switch and with Velocity 2X, the list grows shorter.
Velocity 2X on the Switch makes great use of the various features like HD rumble that is a bit subtle and the touch screen. The one problem with this port is that the in game touch functionality is a bit awkward given the size of the Switch. While it worked great on Vita, things are not as great here thanks to the physical size of the Switch. Other than that, this is a perfect port that runs and looks flawless in both modes. Compared to the Vita version, this port offers rumble and all the input options the Vita offered in addition to being able to play it on the big screen docked. This port basically takes the best of the PS4 and Vita versions and brings them together which is exactly how indie game ports should be handled. Curve Digital did a great job here.
If you've never played this before, now is the time to get it. The game rewards you for replaying levels and the aesthetic alongside the sublime score from Joris de Man make for an unforgettable experience. I'm glad more people will get to play this gem. Hopefully Curve Digital can get a physical release done for it so I can quadruple dip.
9/10
SubaraCity
Originally released on iOS, Android, and Nintendo 3DS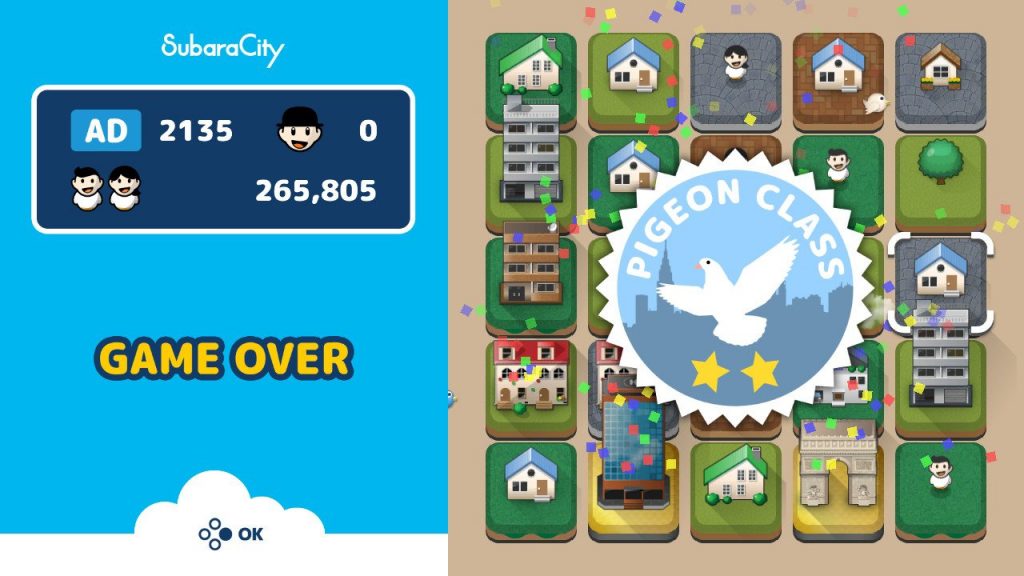 A lot of the smaller game developers who usually have been putting out stuff on iOS and 3DS, have slowly been releasing their bite sized games on the eShop for Switch. While I'm a big fan of the super long JRPGs like Octopath and Xenoblade, there's always room for breather games. SubaraCity from Flyhigh Works is just that.
Having never heard of it before, I went into it with no expectations but have been playing it for a few minutes daily since it launched last month. SubaraCity is a puzzle matching game where you select or touch blocks of the same colour to level up said blocks into buildings. Your aim is to raise the population of your city through levelling up buildings. Level 10 buildings are special and combining them results in something unique. The normal mode has four different types of blocks but you can earn a mayor point that lets you destroy a single block with each 100 years or 100 turns. The casual mode is a lot easier with only 3 block types but you can't earn new mayor points. The only real downside outside of the fact that you might get bored of the gameplay and lack of other modes, is that the normal mode doesn't have a catchy music track like the casual mode.
The Switch version can be played with the touch screen like the iOS port but it runs a lot smoother. I was surprised to see the performance on the iPhone for a simple game like this. You can even play docked with a pro controller or use the Joy-Cons. SubaraCity is a good casual puzzle game that is worth the low asking price.
7/10